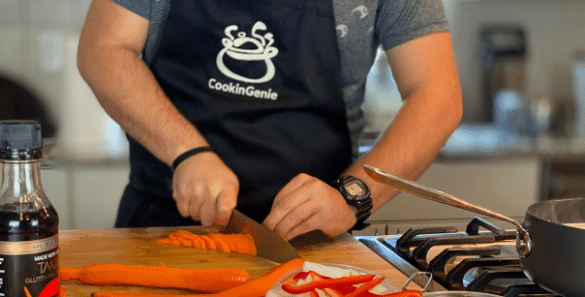 If you're a talented chef, you probably know the rewarding feeling of cooking for friends and family and being met with rave reviews. They might ask you when your restaurant is opening, half-seriously urge you to start a catering business, and proudly proclaim that they would pay good money to eat your food. But even as a chef, the idea of opening a restaurant or catering company is daunting. It certainly is fulfilling to share your cooking with people, but you may not want the risk or commitment of trying to launch your own business.
What if there was an easier way, a way to earn money cooking the food you love, but in a casual setting, without the all-consuming obligation of running your own business? Well, for professional chefs and skilled home cooks alike, CookinGenie is just that.
(Also Read – What is CookinGenie)
With CookinGenie, chefs have a platform to essentially manage their own business but in a flexible manner. CookinGenie allows chefs (genies) to create their own menus, set their own prices, and make their own schedules to fit around their busy lives. They can do all this while building their personal brand and establishing a base of regular clients. At CookinGenie, the genies have total creative control of the food. They can change menu items seasonally and can source ingredients from the local stores they love. To fulfill an order, they arrive at the client's home, cook a meal, clean up, and earn money sharing their talents with satisfied customers.
This setup is dramatically different from most traditional chef jobs. Typically, the life of a restaurant chef entails working long hours in a hot, sweaty commercial kitchen, all while under the pressure of trying to satisfy a packed dining room. It's hectic, stressful, exhausting, and often doesn't pay well. Plus, most chefs in a restaurant are preparing someone else's menu, either the head chef's or the owner's, so it's hard to let creativity and passion flourish. Although the hours may be a little more normal, working in a catering company offers many of the same challenges.
CookinGenie, on the other hand, provides all the joy and excitement of cooking for others without the serious drawbacks of other chef jobs. The genie decides what's on the menu and when they want to be available to cook. All of the cooking is done in a relaxed setting in the client's home; there's no pressure to keep up with the pace of service. The genie gets the personal satisfaction of interacting directly with the people enjoying the fruits of their hard work, instead of the food being sent out into the void of a dining room. CookinGenie chefs are compensated competitively and even have the opportunity to collect tips from happy customers.
(Also Read – Fresh Home Cooked food: A CookinGenie Perspective by Michael Booth)
All told, CookinGenie is a fantastic way to make money and manage your own business as a chef. The flexibility allows chefs to continue other pursuits while also earning extra income as a genie and building a following. From a work perspective, there is simply no beating the creative liberties and stress-free atmosphere CookinGenie provides. In the crazy world of cooking, CookinGenie proves that there really is a better way to be a chef.
If you're a talented local chef or home cook and CookinGenie sounds great to you, then we'd love to hear from you! Send us an email at: careers@cookingenie.com