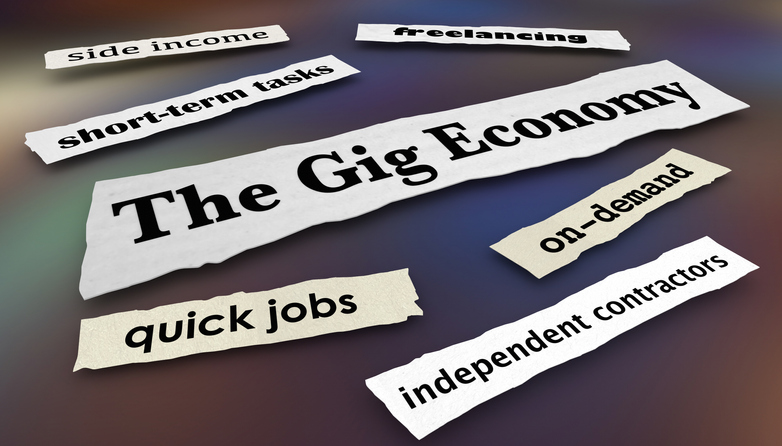 Gig economy is a term that has been gaining in popularity for the past few years. Also sometimes referred to as the freelance economy. It's describing a new financial path where workers support themselves with a variety of short-term projects or jobs that do not provide traditional benefits such as healthcare or retirement. This phrase gained traction around the financial collapse in 2009 when many unemployed workers made their way by "gigging" or working as many small jobs as they could to string together an income.
By 2015 the gig economy had shifted again. With the rise of technology and the emergence of companies such as Uber & Lyft. Public opinion on this type of work changed. Now it's drawing a larger pool of people by offering things like flexible hours. It tends to attract professionals who want location freedom and the ability to set their own schedule. Then there are people who only occasionally gig to earn a few extra dollars. This has been a lucrative avenue for those who have a regular income but don't mind taking on an extra task to make a little extra green. This has become common for retirees who might rent out a spare room with AirBnB every now and then, or a commuter who can pick up an extra passenger using one of the many ride hailing apps.
Factors of a gig economy
A gig economy can benefit both individuals and businesses by making work more adaptable to the needs of the consumers. It allows people to both specialize in something and move between industries along with their interests. The benefits of a gig economy include cheaper and more readily available services.
Gig economies tend to thrive in urban environments and America is one of the leading countries with a growing freelancer economy. Some estimates say as much of ⅓ of the workforce is working in a gig capacity already. With the spread of high-speed internet this is allowing more and more people to work remotely with an independent contract. It's attractive for businesses too as they can hire someone more specialized for the work they need to get done. By not having to only hire from a local pool of professionals they have many more choices of who they'd like to work with.
Challenges with the gig economy.
As many positives as there are associated with this growing trend, there are also challenges. For some workers it can be feast or famine as your next job or contract is dependent on you finding your next client or project. Of course, all industries go through cycles of growth and decline, this can be particularly difficult for those who gig. Some workers complain that there is a lack of work life balance. Then of course there is a lack of benefits, and retirement.
There is certainly a lot to consider when entering this new market. While for some professionals it can offer lucrative earnings and freedom, with others it can lead to challenges and insecurity. What do you think about cooks entering the gig economy?
References:
https://www.investopedia.com/terms/g/gig-economy.asp
https://www.ft.com/content/b5a2b122-a41b-11e5-8218-6b8ff73aae15