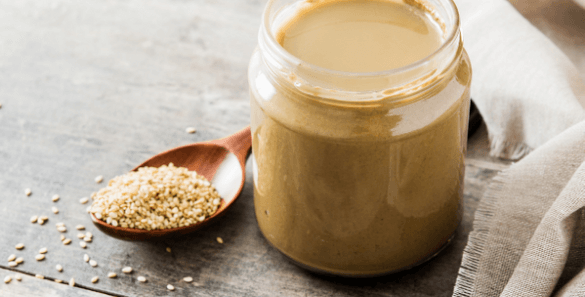 If you've ever dipped a carrot or pita chip into a bowl of hummus, you've likely been the lucky beneficiary of tahini — an extremely common, yet not commonly known ingredient that serves an integral role in middle eastern and Mediterranean cuisines. This incredible ingredient is a tasty, healthy, and versatile food that you'll want to get to know.
A smooth paste made from grinding hulled sesame seeds, tahini is essentially sesame butter. With a delightful nutty flavor and a rich, creamy texture, tahini is almost the middle eastern equivalent of peanut butter, although tahini is a little bit looser, with an earthier, slightly more bitter flavor.
The appealing taste and texture of tahini lends itself to many tasty iterations in middle eastern cooking. Tahini is most well-known for being the glue that holds together quintessential middle eastern dips like hummus and baba ghanoush, (smoked eggplant dip) but it's also be used in numerous other applications. It can be served as a stand-alone dip for crackers and vegetables, mixed with olive oil and lemon to make a full-bodied salad dressing, spread on toasted bread or pita, used as a marinade for grilled meats, slathered over roasted vegetables, blended into healthy fruit smoothies, or even used in desserts such as cakes and cookies.
Aside from its delicious taste and endless culinary utility, tahini is loaded with health benefits. It boasts high levels of healthy fatty acids and it's a good source of protein, iron, calcium, antioxidants, dietary fibers, and a host of other important vitamins and minerals. This varied and impressive nutritional profile renders tahini a bona fide superfood and its rich levels of iron and protein make it an excellent ingredient for vegan and vegetarian cooking.
Among many other benefits, tahini can reduce inflammation, is good for weight loss, can strengthen the immune system, and may even help protect against heart disease and some cancers.
(Also Read – Healthy ingredients – turmeric)
You should be able to find tahini at your local grocery store in the international section, although it may sometimes require a trip to a specialty market or health foods store.
With all of its wonderful culinary variations and incredible health benefits, tahini is a great ingredient to start incorporating into your life. But with all new ingredients, sometimes it can be difficult to know where to begin.
That's where CookinGenie comes in. Whether it's folded into a creamy homemade hummus, drizzled over crispy hand-rolled falafel, or topping a hearty chickpea shawarma salad, our genies offer an array of healthy, delicious, family-friendly dishes that will help you seamlessly blend tahini into your diet. Book one of our talented genies today to taste and experience this magical ingredient from the comfort of your own home.