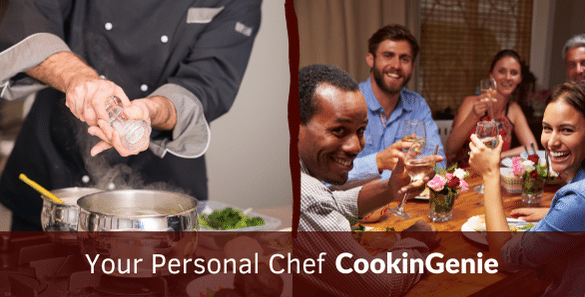 One of the hardest things about the pandemic is that we haven't been able to celebrate the significant events in our lives the same way. Gathering for birthdays, anniversaries, and holidays has become much riskier and with restrictions in place, much harder too.
With all of those events, one of the best ways to celebrate has always been going out to eat. For a special occasion, there's nothing better than having someone else cook delicious food for you, while you sit back and relax. But in the era of Covid, celebrating with a dinner out may not be something you, or your family, would be totally comfortable with, especially with an infectious new variant swirling around.
But what about that birthday party? Wouldn't it be nice to still have someone take care of all the cooking and cleaning for you, even if you don't want to go out? Well, you could do takeout, but by now, we're all pretty well sick of opening up Styrofoam boxes. Instead, why not book a personal chef with CookinGenie?
A CookinGenie chef will do all the shopping, arrive at your home, and cook a delicious restaurant quality meal for you and your guests. CookinGenie has a wide variety of delicious chef-inspired dishes to choose from, representing a multitude of different cuisines.
Many of the dishes we offer are great for sharing, making them excellent for a casual or formal gathering. Get a bowl of genie Christian's Guacamole and Chips to pass around, or perhaps dazzle your guests with genie Dylan's artisanal charcuterie board.  For the bacon lovers in your group, genie Jared offers delectable appetizers of bacon-wrapped dates and water chestnuts. Whatever your party needs, our chefs are very adaptable and can tailor the amount of food to fit your number of guests.
When you choose to hold your gathering at home, you have much more control over everything. At a crowded public restaurant, you may be seated indoors, you'll be unsure of the vaccination status of the people around you, and there may or may not be mask wearing. At home, you can choose to eat outside, choose to enforce masking, and you can reduce the risk of your gathering by keeping it just between close friends and family. At home, whatever you're comfortable with, you can do.
But the best part is that even with all those added health measures, there's no comprising the quality of the food! CookinGenie will still deliver a restaurant quality meal from your kitchen and there's no cooking or cleanup that you have to do. You can feel comfortable having a CookinGenie chef come cook for you. Each of our genies undergoes a health questionnaire the morning of the cooking appointment and are required to wear masks the entire time they're in your home. You will also see our genies practice frequent handwashing and other good hygiene and food safety measures.
In these crazy times, we all just want a little bit of normalcy. So, for your next celebration, book a genie and experience a safer way to celebrate.