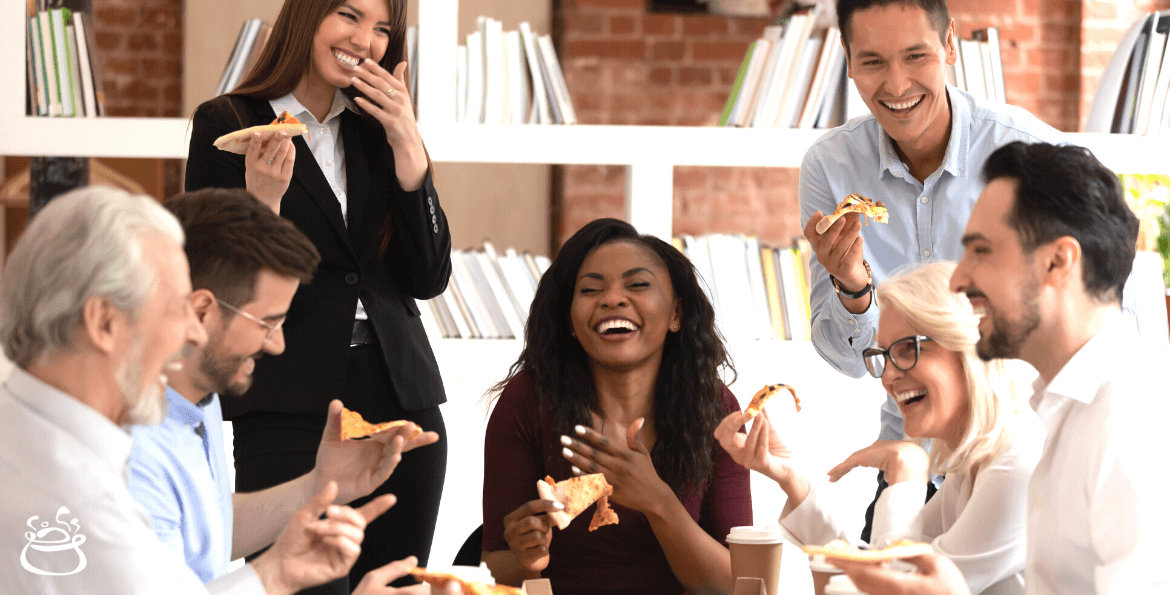 For some, going through the motions of getting to work and clocking out is as much effort as they want to put into their job. Often, they don't feel that connection with their coworkers that makes them want to do more than the bare necessities to get their paycheck. For managers and leaders that want to inspire their employees to feel more like a family and a true team, it's important to implement a workplace that has a more personal touch. One excellent way to do that is to organize team dinners to celebrate work anniversaries and other events.  
Why does Team Dinner Matter?
There is something special about food and the act of sharing food. Throughout the past, there have been rules about breaking bread and how it can be a bonding action to the point where it could bring opposing parties together. Team dinners can be an amazing opportunity that offers more benefits than meets the eye. It can be more than a meeting outside of work hours to have a meal.    
Increase Retention by Developing Friendships 
One of the biggest expenses that companies can have is turnover. Having to go through the motions of recruiting new talent only to have them leave later on is expensive. It's also can be costly when you consider that your loyal employees can often start to feel burnt out by having to pick up the slack for open positions or helping out with new trainees. It can turn into an unhealthy cycle. Celebrating work anniversaries and other work events with dinner parties thrown at your home can help to make your existing employees feel seen and important. It's great for their morale while also being great for increasing your employee retention. 
Foster Highly Engaged and Productive Teams
It's hard to be dispassionate about the people that you work with when you know each other on a more personal basis. You can create a team that's engaged and productive when you find ways to build a team spirit. Each member of a team will be more willing to work with each other and ensure that their work helps to support each other. It's easy to put off working on a task or not put your best effort in if you don't care about the next person that will be working with the product you created, such as a report or data collection. Creating camaraderie can help people feel more involved and want to be productive.   
Exchange Ideas
You may find that your team has great ideas, but sometimes, these ideas can be lost in the shuffle at work. Organizing a team dinner can be an excellent place to talk about work with the exchanging of ideas. You may find that team members in a different area that have other tasks may have ideas that impact other portions of the team. In a regular work setting, these ideas might never see the light of day, but you'll be creating a more comfortable setting where it can be discussed. 
Communication Links 
Communication is a skill that a lot of people feel is easy, but good communication can be hard. It takes practice. There is more to communication than meets the eye. Active listening is essential with communication. Hosting team dinners for work anniversaries and other occasions is the perfect opportunity to work on the communication skills among everyone in a more relaxed setting. 
How To Turn Team Dinners into a Meaningful Experience 
Food Tours
You can make your dinner about more than just a mandatory meeting outside of work, but make it fun. Food tours are a great way to incorporate a fun element that turns your dinner into a worthy occasion to celebrate a work anniversary or other event. Food tours are when you take a particular country's food and create dishes that only come from that area. Often, during food tours, you learn a little about the culture of the area along with getting to try out the most popular dishes from the area. Sometimes, the food tour may be a specific region in a country, like creating dishes from Tuscany, or from around the country.   
Personal Chefs
Personal chefs can be a great idea for your at-home work dinner. It's hard to handle ice breaker games, friendly chats, and relaxing with your coworkers when you're trying to handle all of the cooking. Utilizing a personal chef allows you to host your dinner without being absent from all of the festivities. Why miss something fun by being trapped in the kitchen? You could get takeout, but why risk the food being cold when personal chefs are a comparable option price-wise with all of the benefits of your food being cooked in your very own kitchen. It's a win-win for everyone involved. 
Team Building Activities 
As your team is sitting around eating dinner, it's the perfect time to enjoy team-building activities. The food and conversation can help to relax your team members while they get to know each other better. Throwing in some team-building activities can be a fun way to spend time with everyone in a more personal setting without work tasks hanging over everyone's head. You get the benefit of helping your group of workers feel more like a team while enjoying themselves. Some fun team-building activities include two truths and a lie, office trivia, blind drawing, virtual escape rooms, and you could even have a murder mystery or similar games. Any activity that makes you come together to problem solve, work as teams, or learn more about each other can be good activities to enjoy during your time outside of work.  
 CookinGenie can be an excellent way to explore the possibilities that are available when it comes to team dinners. It can be stressful enough getting your home ready to host a team of coworkers in your personal space, so why add to your to-do checklist before the event? When you use CookinGenie, you free up a lot of time to handle all the other last-minute tasks. Your private chef will do all of the shopping, meal prep, and even clean your kitchen after they are done preparing your dinner choices. What could be easier? Check out the CookinGenie website today to find your new favorite personal chef to cook for your upcoming work dinner party or other events.