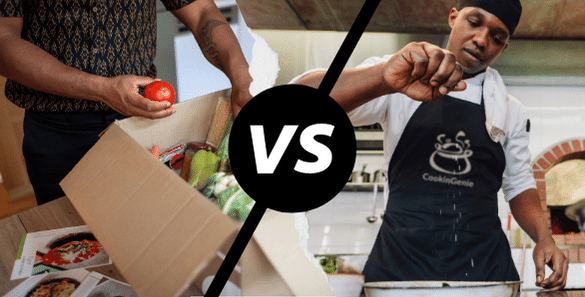 In this day and age, there are seemingly endless options to feed ourselves. One popular method is the do-it-yourself meal kits. There are hundreds of companies offering this service; therefore, a variety of options.
Another option, personal chef services, are gaining traction and becoming a trend for their unique and incredible dining experiences.
Today we compare and contrast the two most amazing services here.
Meal Kits:
 We talked to one of our friends about her experience with certain popular meal delivery services.
We asked her if the experience of using a meal kit was easier, tastier, healthier, and cheaper than the companies advertise?
Overall, she said she had a positive experience with the service. There's a great collection of healthy, fresh dishes. The boxes came with conveniently sized, pre-portioned ingredients and straightforward, easy-to-follow recipes that came together in 45 minutes or less. It was much quicker and easier than meal planning, grocery shopping, and cooking for yourself.
She could customize her orders to have more or fewer meals per box. As soon as the next day, the boxed food would arrive at her door. The service accommodates those with allergies and dietary restrictions, with plenty of vegetarian, vegan, keto, gluten-free, and paleo options.
When the boxes arrive, the ingredients are of good quality and taste, but it depends on the expertise of the person cooking. She spends about sixty dollars a week to get six meals. Some premium items cost a little more, but generally, you can expect to pay about 10 dollars per meal. It is a bit more cost-effective than eating out.
She also mentioned that the ingredients come with excess packaging, leaving boxes, plastic sleeves, and disposable containers. Occasionally boxes come with missing ingredients or items that are wilted, moldy, or otherwise spoiled.
For her and her family, the portion sizes are mostly sufficient. There are no leftovers.
Finally, while the dishes are simple and easy to make, she has to cook herself. She spends about 45 minutes cooking a typical dish from the box and about another half hour or so cleaning up afterward.
Personal Chef Service:
Personal chefs have been around for a long time. Traditionally used by the rich and famous, now there are more options for affordable personal chef services. Personal chefs provide many helpful services. Some chefs specialize in meal prep for busy families, while some create special occasion multi-course meals for an in-home dining experience for you and your guests. The costs vary depending on the special occasion and the amount of food needed. Meal prepping is comparable to Meal kits, whereas the multi-course meals will depend on the number of guests and the number of courses on the menu.
Personal chefs shop groceries for you, come to your house, and cook for you right in your kitchen. After cooking, they clean up after themselves. With a personal chef, you can customize your meals based on your dietary needs. They can take care of meal prep for the family and create a custom menu for your dinner party as well. They hand-select the ingredients and cook them in front of you. Quality and fresh food are always a priority. With a personal chef, you don't spend time cooking or cleaning up. Time-saving is a huge bonus.
Personal chefs are gaining traction as more and more people are working longer hours and have demanding lives. People are focused on health and also looking for enriching experiences. The focus is not only fresh, wholesome food, but a personal chef strives to provide a unique dining experience for you, your family, and your friends.
Conclusion:
In the above, we discussed both meal kit service and personal chef service. Let us know in the comment section, which services are your favorite and why.
If you are​ planning to host a dinner party or looking for an unique dining experience with a personal chef, please​ try CookinGenie.
Personal chef service by CookinGenie:
CookinGenie offers a wide variety of delicious foods from different cuisines, in family-friendly sizes. Like these services, they are very accommodating of allergies and dietary restrictions. They tailor a meal to fit your exact needs. You can use the website to book a chef, pick out the menu, schedule a time, and pay in just a few clicks. The chefs ('genies') are friendly, professional, and lend a personal touch to your dining experience. With a varied lineup of talented home cooks and trained professional chefs on the platform, CookinGenie strives to provide a delicious wow factor. When you order from CookinGenie, you are supporting a local family-run business and local chefs. If you're looking for an easy, affordable way to have fresh, healthy meals while saving time, personal chefs provided by CookinGenie are worth a try! Book your chef here.