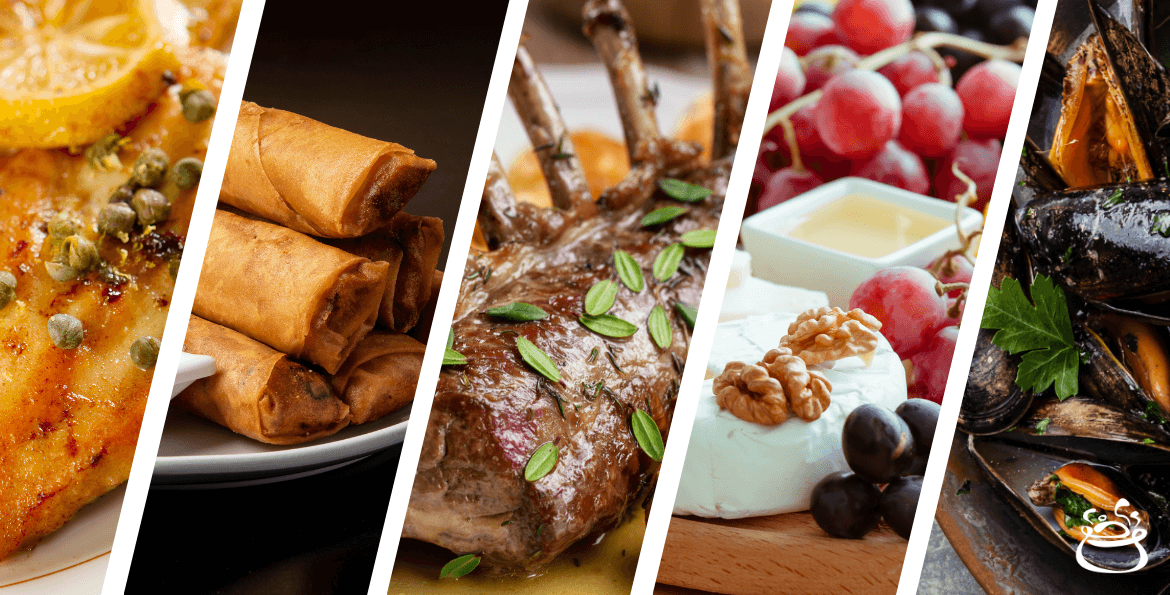 One of the most amazing things that separate CookinGenie from visiting any restaurant is the variety of the available chefs and their menus. To help you narrow down your delightful choices, we'll go over some of the best Valentine's Day Menu we have available for your upcoming date night. To make your Valentine's Day date night even better, we're offering a limited-time complimentary dessert: chocolate mousse. The perfect finish for any of these great selections. 
Delectable Valentine's Day Meal Selections

Everyone loves something to nibble on, so why not explore this excellent fruit and cheese board with a selection of fruits, vegetables, cheeses, and jam? The variety of tasty morsels on this board will keep you happily snacking as you enjoy your evening. 

Are you looking for a tasty vegetarian dish? Don't skip spring rolls because you think it's a side dish. They make a great entree, especially when they're jammed full of tasty ingredients. You can't go wrong with these crispy spring rolls that are just packed with flavor. 

When you're looking for a wholesome meal that will tickle your tastebuds, you can't beat chicken marsala. A rich flavorful chicken dish is sure to warmly fill your stomach just like the love in your heart. The chicken pairs perfectly with a rich wine sauce, mushrooms, nutty brown rice, and broccolini. 

A classic favorite, the rack of lamb, is sure to please. The thick-cut fondant potatoes and roasted carrots round out this delicious meal. The elegance of this meal is sure to please even the most discerning diners. 

Is your Valentine sticking with their resolution to eat healthier this year? You can't go wrong with a beautiful salmon dish that's sure to please. This glazed fish dish comes with rice and veggies that complement the flavor.  

There's an unspoken rule that Italian dishes are the height of romance for some people, so checking out this Sicilian favorite is sure to please. The pan-seared chicken matched up with yummy tortellini will make your kitchen smell amazing, leaving you excited for your meal. 

Seafood is one delicacy that you can't ignore. If you and your partner love a taste of the sea, mussels may make for a flawless dining experience. Plus, who doesn't love a meal where you can savor every drop with delicious toasted baguette pieces? 

When you're looking to go all out for your Valentine, there's something to be said about the classics. Steak and lobster is the perfect pairing for a fancy dinner. Add in the creamy garlic mashed potatoes and roasted asparagus, and you'll create the ideal extravagant meal for your sweetheart. It might be the exact meal you need to set up a pristine evening to pop the question.   
Make Your Valentine's Day a Little Sweeter
Also, don't forget that for a limited time, you and your date will enjoy a complimentary chocolate mousse to enjoy after your main course when you book for Valentine's Day. Just our way of saying thanks for using CookinGenie for your special events.  
Experience the CookinGenie Difference
New to CookinGenie? This Valentine's Day is the perfect occasion to give CookinGenie a try. Experience all of the luxury of having a personal chef cook in your kitchen at an affordable price and skip all of the problems that come from going out to eat on Valentine's Day. You'll be wondering why you waited until a special occasion to enjoy a professionally cooked meal at home after you've experienced the difference CookinGenie provides. 
What to Expect
You may have avoided using a personal chef in the past because it's completely different from what you've experienced. But, once you book your Valentine's Day meal, you'll be able to sit back and relax while the magic happens in the kitchen. There is no shopping for ingredients or having to clean up. Instead, your chosen chef will arrive, prepare the meal using your kitchen, and you'll be able to enjoy a professionally cooked meal right in the comfort and privacy of your own home. 
Book Now
These are some of our most requested dishes. Of course, once you find a suitable dish for your Valentine's Day dinner, you'll want to book your spot before it's not available. But, don't miss out on the perfect dining experience by waiting. Are none of our featured Valentine's Day dish selections working for you or your special someone for one reason or another? All of our other dishes are available for you to choose from to help personalize your personal chef experience. 
Skip the hassle of going out to eat this Valentine's Day. You may worry that you'll let your loved one down by not going to a restaurant like you do every year. It's time to switch things up. You may surprise them with an even better way to spend the holiday. CookinGenie is here to help create a lovely Valentine's Day for you. Check out some of our featured selections for this very romantic occasion to find the right menu for your date night. Don't forget about the special complimentary chocolate mousse that's being offered for a short time to round out the perfect evening. Start scrolling through the different dishes offered today to find the right one for your next celebration of love. You won't regret not having to deal with parking, long waits for tables, or other Valentine's Day fails.