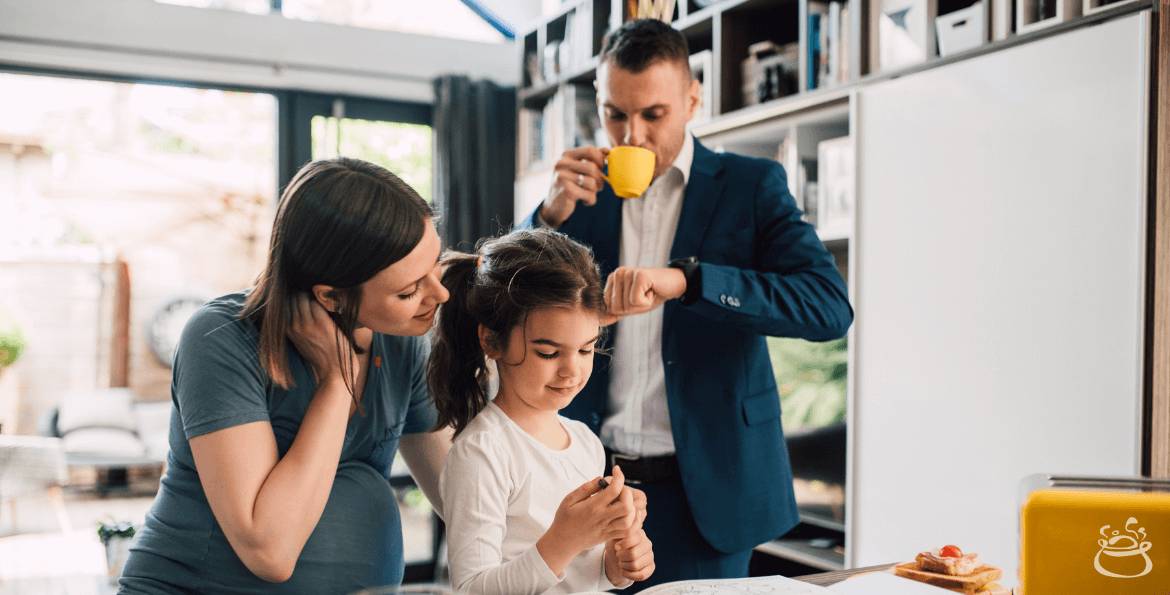 Imagine a typical weekday in your house. First, you have to ensure that everyone gets up and ready for the day. Next, there's breakfast and lunches to be made. Then, it's time for everyone to go to school or work. Once work and school are done, there are typically errands to be run, like getting groceries, afterschool activities that kids need to be dropped off at, homework that needs to be finished, and dinner that needs to be started. Plus, all the other things that can pop up during the day. That is a lot to handle on top of spending quality time with the ones we love. 
Do you ever feel like you don't have time to sit and help with homework because you're making dinner? 
Do you feel so sluggish after a long day that you pop a frozen pizza into the oven for dinner even though you wish you were making something fresh? 
A personal chef could be precisely what you need to help your busy family. 
Top 6 reasons why your busy family should hire a personal chef:
Spend more time with your kids rather than at the grocery store and the kitchen. You can be more involved in your kid's homework and learning about their day at school when you don't have to focus on making sure a nutritious and delicious meal gets made. Your children probably would love to be able to get more time with you.

 

Give yourself some time to yourself. As a parent, your life is typically go-go-go. If the pandemic has taught us anything, it's that self-care is a vital part of life and that everyone should ensure it's part of their life. Giving yourself the night off from cooking or having to pack your family into the car to go to a restaurant to have a fresh and hot meal prepared right in your kitchen can be exactly what you need to hit the reset button. Plus, your dishes are done for you, so you don't even have to worry about clean-up afterward.

 

Create a better evening routine for your family. Your nights can be just as hectic, if not more so, than your days. Why not make it easier on yourself by having a personal chef come in occasionally as needed to help create a better evening routine for everyone in your household?

 

Everyone can relax. Have you ever noticed that your kids can feel it when you get worked up and upset? Giving yourself the evening by booking a personal chef to handle a tasty meal can help you to de-stress, and by extension, your family to de-stress can be just what you need on a Wednesday night. Plus, there's the added perk of no dinner dishes for anyone.

 

Expand your family's horizons when it comes to food. It can be fun to try a new meal or dish that you wouldn't prepare for yourself. Having a professional chef whip it up in your kitchen can make new foods fun for the whole family.

 

Add an easy and healthy meal to your life. Many parents feel guilty about the meal they serve at the end of the day to their family. Maybe you didn't have time for something fresh and had to turn to a frozen meal? Perhaps you're not great at cooking healthy. A personal chef offers a great way to improve the quality of what you and your family eat, even if it's just one day a week or a few times a month.

 
Myths stopping your busy family from hiring a personal chef:
Myth: It's too expensive. Fact: A personal chef can fit just about any budget. If you go out to eat, you can afford a personal chef. Many chefs and menus you can book on CookinGenie cost about the same as you'd pay at a restaurant without having to leave your home. Of course, some meals may cost more than others, but that's typically due to a few factors, such as ordering a larger serving size or the ingredients for the meal are more expensive at the grocery store, such as an expensive cut of meat. The beauty of CookinGenie is that you can see the price before you book.

 

Myth: You have to employ a chef on a weekly basis to get food cooked in your home. Fact: While many private chefs only cook for one family, a personal chef can be booked for any many or as few days as you'd like.

 
Myth: You need to upgrade to a fancy kitchen or buy unique items for your kitchen to use a personal chef. Fact: Your personal chef can prepare your meal using your kitchen and existing equipment. There may be a time when a special tool may be needed for a specific dish that you may not have, but accommodations can be made if necessary.

 

Myth: You have to be a gourmet foodie to use a personal chef. Fact: There are many dishes prepared by professional chefs, meaning it's easy to find a meal that will work for your family. You'll be surprised by how many different types of food dishes you can find on CookinGenie. You can select an old family favorite or switch things up with something new.

 

Myth: My family is too big (or small) for a personal chef. Fact: You can order as much or as little food as you need to feed your family. There is no minimum or maximum food requirement for ordering on CookinGenie. Some families take advantage of ordering more than is necessary for dinner, as then you'll have leftovers for lunch tomorrow. 

 
Considering using a personal chef to help your busy family? No matter if you're looking to utilize a personal chef once a week or once a month, you can find a chef and menu that works for your family. Check out the CookinGenie app today to see what's possible. You'll love having the opportunity to eat a great meal at home prepared by a professional chef that costs about the same as a meal at a restaurant while being able to spend more time focused on what's important.