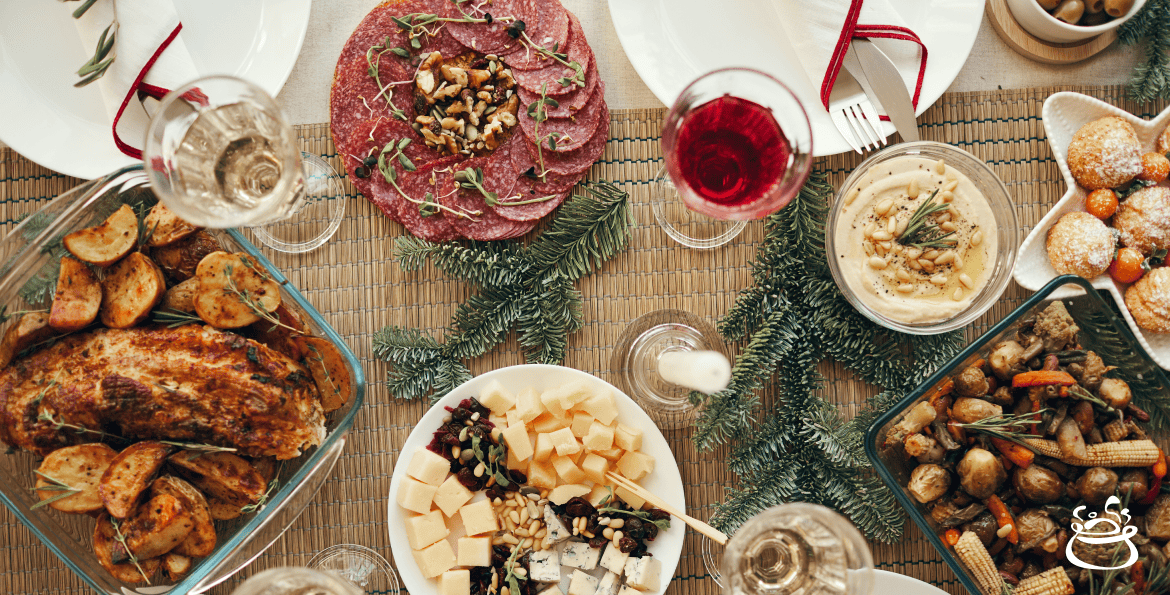 One of the best things about winter is enjoying cozy dinners by the fireplace. There's something about the combination of crackling flames and delicious comfort food that makes the cold months seem a little less daunting. Whether it's a hearty stew, a comforting casserole, or a simple bowl of soup, there's nothing quite like a winter meal to chase away the chill. And, of course, no winter dinner is complete without a warm slice of freshly-baked bread. So if you're looking for a reason to love winter, here are some cozy fireside dinners that are definitely at the top of the list for many. 
Winter Dinner Recipes to Keep You Warm
As the weather gets colder, we all crave warm, comfort food. This list of some winter dinner inspiration has something for everyone, including soups, entrees, drinks, and desserts. Whether you're snowed in or looking for a cozy meal, these recipes should hit the spot. Bon appetit!
Also Read: A Quick Guide For The Perfect Brunch Party
Delicious Winter Soup 
Winter is the perfect time to curl up with a bowl of soup. Not only does soup provide a hearty and warming meal, but it can also be customized to suit your taste. Check out these delicious soups to keep you warm all winter long. 
Potato and Leek Soup:

This classic soup is the perfect comfort food. The creamy potato base is complemented by the fresh flavor of leeks, making it a satisfying and warming meal.

 

Roasted Butternut Squash Soup:

This soup is bursting with fall flavors. The roasted butternut squash combines aromatic spices like ginger and nutmeg, making it the perfect cozy meal for chilly nights.

 

Tomato Basil Soup:

This bright and flavorful soup is a great way to enjoy the taste of summer in the middle of winter. The sweet tomatoes are balanced by the savory flavor of basil, making it a soup sure to please everyone.

 

Chicken Noodle Soup:

This timeless soup is perfect for when you're feeling under the weather. The chicken broth is comforting and soothing, while the noodles provide a filling and satisfying meal.

 

Lentil Soup:

This hearty soup is packed with protein and fiber, making it a filling and nutritious meal. The earthy flavor of lentils is balanced by adding carrots and celery, making it a delicious and easy-to-make soup.

Golden Potato Soup:

You can prepare this comforting potato soup with Yukon gold potatoes, onion, celery, garlic, chicken broth, and half-and-half. Garnish with shredded cheddar cheese, diced bacon, and chives for extra flavor. Serve with crusty bread for dipping.




 
Winter Dinner Entrees
Winter is the perfect time to break out the slow cooker and whip up some hearty comfort food. Here are some great recipes to keep you warm all winter long. 
Slow Cooker Honey and Sriracha Garlic Pork Loin:

This dish is packed with flavor, thanks to a sweet and spicy sriracha honey glaze. You can serve it with roasted Brussels sprouts or sweet potatoes for a complete meal.

 

Herb-Crusted Rack of Lamb:

This recipe is perfect for special occasions. It's impressive yet surprisingly easy to prepare, and the combination of fresh herbs and garlic makes it taste genuinely gourmet. Serve with mashed potatoes and green beans for a classic pairing that never gets old.

 

Parmesan Risotto:

This rich and creamy risotto is the epitome of comfort food. Made with white wine, chicken broth, and plenty of Parmesan cheese, it's guaranteed to satisfy your cravings. Serve as a main course or side dish.

 

Spice-Rubbed Pork Tenderloin:

This spice-rubbed pork tenderloin is juicy, flavorful, and easy to make. Just rub a spice blend over the pork, roast it in the oven, and enjoy. Serve with roasted vegetables or a simple salad for a complete meal.

 

Roasted acorn squash:

Acorn squash is roasted until tender and then topped with a brown sugar-balsamic glaze in this recipe. It makes an impressive yet easy side dish for any winter meal.

 

Chicken Pot Pie:

This classic chicken pot pie is guaranteed to hit the spot on a cold winter night. It features a flaky pie crust filled with chunks of chicken, carrots, peas, and celery in a creamy sauce. Serve warm, garnished with parsley or thyme.

 

Cabbage Rolls:

These cabbage rolls are first stuffed with beef and rice and then simmered in a tomato sauce until they're nice and tender. They make a delicious and hearty main course that keeps you warm all winter. 

 

Beef Stew:

This classic beef stew is full of tender chunks of beef, carrots, potatoes, and celery, all simmered in a rich gravy.

 

Mac and Cheese:

This comforting dish features creamy macaroni and cheese, made even better with the addition of bacon or ham.

 

Chili:

There's nothing like a big bowl of chili to warm you up on a cold day. This recipe features ground beef, beans, and plenty of spices.

 

Beef Stroganoff:

This Russian classic features tender chunks of beef in a rich sour cream sauce, served over egg noodles.

 

Shepherd's Pie:

This English classic features ground lamb or beef in a savory gravy, topped with mashed potatoes, and baked until golden brown.

 

Salmon Chowder:

This hearty chowder is full of salmon, potatoes, and corn, all simmered in a creamy base. Serve with some crusty bread for dipping.

 

Vegetarian Chili:

A vegetarian chili is a mix of beans, vegetables, and plenty of spices. It's a great Meatless Monday option that will satisfy you all winter.

 

French Onion Soup:

This soup features caramelized onions simmered in beef broth, then topped with cheesy croutons and baked until golden brown.

 

Tomato Soup:

This comforting soup features ripe tomatoes simmered in chicken broth and finished with a splash of cream.

 

Crockpot Cheesy Bacon Ranch Potatoes:

These addictively good potatoes feature chunks of Yukon gold potatoes cooked in a ranch-flavored sauce until tender, then finished with crispy bacon pieces and lots of shredded cheese. Slow cooker recipes are perfect for winter because they require minimal effort but yield big flavor payoffs.

 
 These recipes will become new favorites to help you get through the colder months. So fire up your slow cooker and enjoy! 
Also Read: Top 10 Foods to Boost Your Immunity System
Winter Drinks
Winter makes for an excellent time to curl up with a cozy dinner and a warm drink. Many different drinks can help to keep you warm on a cold winter night. Here are five of the best winter dinner drinks to keep you cozy: 
Hot Chocolate:

Hot chocolate is always a classic winter favorite. Add a little bit of peppermint extract or marshmallows for an extra-special treat.

 

Hot Cider:

A mug of hot cider is the perfect way to warm up after a long day in the cold. Use fresh cider for the best flavor, and add a cinnamon stick for extra warmth.

 

Mulled Wine:

If you're looking for something with a little more kick, try making mulled wine. This warming drink simmers red wine with cinnamon, cloves, and nutmeg. It's perfect for sipping by the fire on a cold winter night.

 

Hot Tea:

A steaming cup of tea is the perfect drink for chilly evenings. Choose a strong tea like Earl Grey or English Breakfast for added warmth, or go for a lighter herbal tea if you prefer. Add a splash of milk and honey for added sweetness.

 

Hot Toddy:

For something truly unique, try making a hot toddy. This classic Scottish drink combines whiskey with boiling water, honey, and lemon. It's said to be an excellent cure for a cold winter evening.

 
Winter Desserts
Looking for some comforting desserts? Here are some wintertime favorites that are sure to please your taste buds and keep you feeling satisfied:
Apple Crisp:

This classic dessert is prepared with thinly sliced apples, spices, and a crisp, crumbly topping. Serve it warm with a scoop of vanilla ice cream for a truly delicious treat.

 

Brownies:

There's nothing like a rich, fudgy brownie to take the chill off a winter's evening. Top your brownie with a scoop of mint-flavored choco chip ice cream for an extra special treat.

 

Peach Cobbler:

This Southern classic is a mix of fresh peaches, sugar, flour, and butter. The result is a light, fluffy cobbler perfect for satisfying your sweet tooth. Serve it warm with a scoop of vanilla ice cream or whipped cream.

 

Chocolate Pudding:

This childhood favorite is always a welcome treat on a cold winter's night. Top it with whipped cream or shaved chocolate for a touch of decadence.

 

Rice Pudding:

A creamy pudding is packed with rice, milk, spices, and raisins (optional). It's the perfect comfort food to enjoy on a chilly evening. Serve it warm or cold, whichever you prefer.

 
Well, there you have it! Our top picks for winter dinner recipes. We hope you'll find something here that you and your family will enjoy. With so many delicious options, there's sure to be something for everyone. So go ahead and give some of these recipes a try. We guarantee you won't be disappointed. Happy cooking!