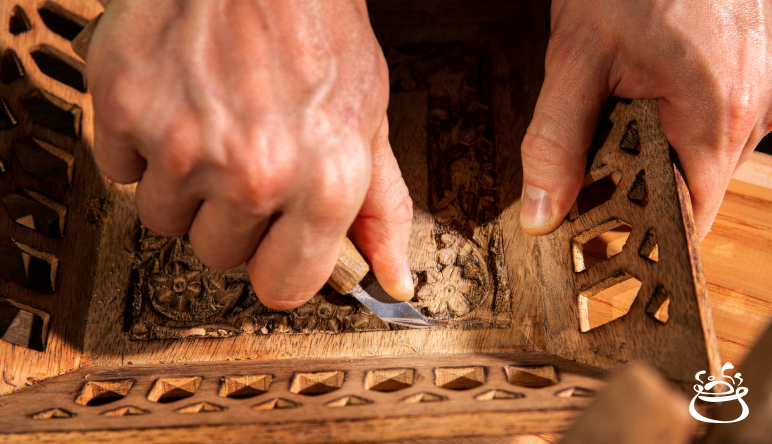 Gift-giving is a cherished tradition that allows us to express love, appreciation, and thoughtfulness toward our loved ones. With the holiday season approaching, it's an excellent opportunity to discover distinctive and heartfelt presents from local Columbus businesses. This Columbus gift guide will make your task easy, effortless, and hassle-free. 
The city of Columbus values its thriving gift culture, where every gift is a story and a symbol of the local community's identity. From high-quality handmade goods to delicious food and drinks, beautiful experiential gifts, fashionable accessories, and meaningful community engagement initiatives, there is something for everyone on this gift list. 
In this blog, we will delve into ten diverse gifting options that highlight the offerings of local entrepreneurs, showcasing the talent, craftsmanship, and entrepreneurial spirit that make Columbus truly special. By choosing gifts from local businesses, we find the perfect presents and play a vital role in supporting the local economy and fostering a strong sense of community. 
Let's get started.  
Section 1: Local Artisanal Goods
Columbus is a city that takes pride in its local artisans and handmade creations. From handcrafted soaps, candles, and pottery to locally made jewelry, textiles, and artwork, the local artisanal goods in Columbus showcase the skill and creativity of talented artisans. By gifting these artisanal goods, you not only support the artists but also bring a touch of local artistry into the lives of your loved ones. 
Section 2: Culinary Delights
Columbus is known for its exceptional culinary scene, and it's no surprise that culinary gifts make for delightful presents. Explore the flavors of Columbus by choosing gourmet food baskets featuring locally sourced cheeses, jams, spices, and cured meats. Consider gifting a selection of craft beers or wines from local breweries or wineries. Locally roasted coffee beans, specialty teas, artisanal chocolates, and confections made with the finest ingredients also make for decadent treats that capture the essence of Columbus. 
Section 3: Experiential Gifts
Columbus offers a wide range of experiential gifts that create lasting memories. Consider gifting experiences such as cooking classes in Columbus, where your loved ones can learn new culinary skills and savor delicious dishes. Brewery or winery tours allow them to explore the city's craft beverage culture and enjoy tastings. Workshops in pottery, woodworking, painting, or glassblowing provide hands-on experiences that encourage creativity and personal growth. Spa and wellness packages, concert tickets, or theater show vouchers are other options that offer relaxation, entertainment, and memorable experiences in the heart of Columbus. 
Section 4: Fashion and Accessories
The fashion and accessory scene in Columbus is thriving, with local designers and boutiques offering unique and stylish options. By choosing style and accessory gifts, you support the local fashion industry and give your loved ones a taste of Columbus culture and lifestyle. Explore local shops for trendy clothing, handcrafted jewelry, fashion accessories, handbags, footwear, and luxury leather goods, allowing your gift recipients to express their individuality and embrace the spirit of Columbus fashion. 
Section 5: Community Engagement Gifts
Giving back to the community is a core value in Columbus, and community engagement gifts allow you to make a positive impact while gifting a thoughtful present to your near and dear ones. Look for businesses that prioritize social initiatives or donate some of their proceeds to local charities. Consider eco-friendly and sustainable products that promote a greener lifestyle, artwork sales that raise awareness and funds for important causes, or participating in community service activities that provide volunteering opportunities and promote social change. By choosing community engagement gifts, you contribute to the betterment of Columbus and inspire others to do the same. 
Section 6: Home Decor and Furnishings
Enhance the living spaces of your loved ones with unique home decor and furnishings sourced from local businesses in Columbus. Explore shops that offer handcrafted furniture, decorative items, artwork, and textiles that reflect the spirit of the city. Consider gifting locally designed throw pillows, candles, wall art, or one-of-a-kind pieces of furniture that bring a touch of Columbus charm into their homes. 
Section 7: Health and Wellness
Encourage a healthy and balanced lifestyle for your loved ones by selecting gifts that support self-care and relaxation. Look for local businesses offering natural skin care products, aromatherapy candles, organic bath and body products, and wellness kits. Yoga or fitness class passes, meditation accessories and wellness retreat vouchers are excellent gifts for those seeking balance and rejuvenation. 
Section 8: Books and Literature
Celebrate the literary culture of Columbus by selecting books and literature-related gifts from local bookstores. Explore works by local authors, poetry collections inspired by the city, or novels set in Columbus. Consider gifting book club subscriptions, literary-themed merchandise, or tickets to author readings and book signings. By supporting local bookstores, you give the gift of reading and contribute to preserving the city's literary heritage. 
Section 9: Pet Care and Accessories
For the pet lovers in your life, consider gifts that cater to their furry friends. Look for locally made pet accessories like stylish collars, leashes, and pet clothing. Natural and organic pet treats, toys, and grooming products from local pet stores are also excellent options. Additionally, consider donating to local animal shelters or participating in pet adoption drives as a meaningful way to give back to the community. 
Section 10: Arts and Cultural Experiences
Columbus is a city brimming with art and cultural experiences. Consider gifting tickets to art exhibits, gallery openings, or live performances by local musicians and theater groups. Support local artists by purchasing original artwork, prints, or photographs that capture the essence of Columbus. Look for memberships or season passes to museums, botanical gardens, or cultural institutions, allowing your loved ones to immerse themselves in the city's vibrant arts scene. 
Conclusion
Columbus is a city that thrives on its entrepreneurial spirit, creativity, and sense of community. By exploring the ten gift categories from businesses in the city, you can find the perfect presents that bring joy to your loved ones and support the growth and success of the local economy. Let's embrace the gift culture of Columbus and celebrate the talent, flavors, experiences, fashion, and community engagement that make this city truly special. Choose local gifts from this Columbus gift guide and become a part of the collective journey toward a prosperous and vibrant Columbus.