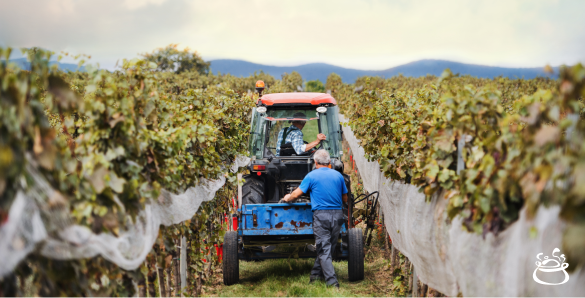 Ohio has a proud and rich tradition of winemaking that dates back to the early 18th century. With its expansive vineyards, rolling hills, and cool climate, Ohio is an ideal wine-producing region, producing some of the best wines in the world, including Riesling, Chardonnay, Cabernet Sauvignon, and more. Ohio's wineries and vineyards are renowned for their unique varietals of award-winning wines that reflect the diverse terroir of the state. Whether a novice or a seasoned oenophile, you can explore all Ohio offers by visiting its many wineries and vineyards. In this post, you will learn everything you may need to know about Ohio's Aromatic Wineries and Stunning Vineyards.
History
Today, Ohio's winemaking roots are still alive and thriving, with a wide variety of vineyards and wineries spread throughout the state. Many can thank the person credited as the father of Ohio's wine industry: Nicholas Longworth, who cleared acres of land along the Ohio River during the 1800s to make room for grape vineyards. With these first steps in place, viticulture flourished during this era. The most successful varieties were Catawba grapes grown by Longworth, prized for their sweet flavor. As these grapes became popular, more vintners followed suit, planting acres between Cincinnati and Ripley along the Ohio River.   
By 1859 production peaked, and Ohio surpassed Europe to become the nation's leading wine-producing state, with over 3,000 acres (about half the area of JFK Airport) devoted solely to wine grapes. And although European production eventually achieved what Ohio achieved during this period, many of today's local wineries continue to honor the viticultural heritage set forward nearly 200 years ago. From Catawba wines to light dry Rieslings and even bubbly ciders made from apples or pears harvested in small batches across locations like Cleveland – each offers its unique spin on history that can still be tasted today. So let's explore Ohio wineries and discover what will become one of your favorite outdoor activities here.  
For more information, read – The History of Wineries and Vineyards in Ohio
Different types of wines produced in Ohio 
Ohio is home to many vineyards and wineries, producing various red, white, and sparkling wines. The state's climate is well-suited to wine production, and the soil is rich in minerals, providing essential nutrients for the vines. Ohio wines are known for being complex and well-balanced, with a distinctively crisp flavor. The most popular varieties include Riesling, Chardonnay, and Cabernet Sauvignon. Ohio also produces dessert wines from native fruits such as apples and cherries. Whether you're looking for a dry red or a sweet dessert wine, you will find something to suit your taste in Ohio.  
Top wineries and vineyards in Ohio 
Wine enthusiasts seeking to explore the winemaking world need to look no further than Ohio, home to some of the region's most beautiful and unique vineyards. The top 5 wineries and vineyards in Ohio are Debonne Vineyards, Ferrante Winery and Ristorante, Gervasi Vineyard and Italian Bistro, The Winery at Spring Hill, and Maize Valley Winery.  
Debonne Vineyards is a family-owned estate that produces high-quality wines and ciders for those looking for something different. 

 

Ferrante Winery & Ristorante is a National Historic Landmark located in Geneva, OH. Guests can sip their carefully crafted award-winning wines while enjoying delicious Italian cuisine. 

 

Gervasi Vineyard & Italian Bistro is nestled in Canton, OH, and offers guests a unique combination of fine wine and exquisite cuisine from their Tuscan-style villa. 

 

The Winery at Spring Hill allows visitors to explore their 200-acre farm while indulging in signature varietals made with estate-grown grapes. 

 

Maize Valley Winery is near Hartville, OH, offering samples of high-end wines and hosting events such as music nights and BBQs throughout the year. 

 
Whether looking for an intimate getaway or exploring the breadth of Ohio's wineries, countless vineyards offer unforgettable experiences!   
Tips for visiting Ohio Wineries and Vineyards 
Ohio is home to many wineries and vineyards, making it the perfect destination for a wine-tasting trip. Here are some tips to help you get the most out of your visit:  
Do your research beforehand:

Look up Ohio wineries and vineyards online and read reviews to see which ones are worth visiting. It's also a good idea to check out individual wineries' websites to find out what they offer and their tasting policies. 

 

Plan:

Once you've narrowed your list of potential wineries, it's time to start planning your route. If you're only visiting for a day or two, you'll need to be selective about which wineries you want to include on your itinerary. Consider the distance between each one and map out the most efficient route. 

 

Call ahead:

Many wineries require reservations for tasting sessions, so it's essential to call before heading out. The reservation will save you precious time and ensure you are not turned away at the door. Many wineries now require reservations for tasting sessions; however, some places may allow drop-ins if they have space. Reservation systems can differ from winery to winery, so it's wise to double-check all details on their website or over the phone beforehand. 

 

Dress appropriately:

Some wineries have dress codes, so check before packing your bag. Generally, it's best to avoid wearing flip-flops or other beachwear and anything too casual or revealing. 

 

Pace yourself:

Tasting wine can be fun, but getting carried away is easy. Remember to drink plenty of water between tastings, and don't hesitate to take a break if you have had enough. 

 

Buy responsibly:

It's tempting to buy a bottle (or two) of everything you try, but beware of overindulging. Not only is it expensive, but carrying around a bunch of wine can be cumbersome (and potentially dangerous). Instead, focus on buying a few bottles of your favorites that you'll drink. 

 
Importance of Food Pairing with Wine 
Wine and food have been enjoyed together for centuries, and there is good reason for this. The right wine can enhance the flavors of a dish, while the wrong wine can distract from them. When pairing wine with food, there are a few basic principles to remember.   
First, it is essential to consider the weight of the wine and the dish. A light white wine will be overpowered by a heavy steak, while a hearty red wine will overwhelm a delicate fish.  

 

Second, it is essential to consider the acidity of the wine and food. Pairing a high-acid wine with a high-acid dish can create an unpleasant sourness while pairing a low-acid wine with a rich dish can make the wine taste flabby.  

 

Finally, it is crucial to consider the level of sweetness in both the wine and the food. A sweet dessert wine will be cloying if paired with a savory dish, while a dryer wine may taste too harsh if paired with something sweet.  

 
These factors will help you find the perfect wine to complement any meal.  
Popular Ohio wine festivals and events 
In Ohio, wine festivals and events are a highlight of the season. From local orchard celebrations to acclaimed statewide tastings, these events give enthusiasts a chance to savor handcrafted vintages from all over the state. During Ohio's summer months, many wineries host open house days that feature expanded interiors with complimentary tastings and customized pairings. Meanwhile, the most significant wine event in the state is undoubtedly Vintage Ohio. This annual celebration at Lake Metroparks Farmpark features over three dozen wineries offering rare vintages and award-winning selections. Other popular festivals include:
The Ice Wine Festival, Debonne Vineyards.  

 

The Columbiana Wine Festival, TownCenter at Firestone Farms.  

 

The Wine & Walleye Festival, Ashtabula Harbor.  

 

The Columbus Summer Wine Festival, The Kelley Green.  

 

The Toast of Ohio Wine Festival, Jackson Street Pier.  

 

The Dandelion May Fest, Breitenbach Wine Cellars.  

 

The Kent Art & Wine Festival, Main Street Kent, Kent.  

 

The Valley Vineyards Wine & Beer Festival, Valley Vineyards, Morrow.  

 

The Cleveland International Wine Festival, Cleveland.  

 

The Annual Summer Solstice Festival, Sarah's Vineyard Winery, Cuyahoga Falls.  

 
With its variety of venues, atmospheres, and impressive selection of wines from around the region, it's no wonder that Ohio wine festivals are some of the most popular in the country.  
Conclusion
In conclusion, the Ohio wineries and vineyards scene is a must-visit. With over 450 to choose from, there is a winery or vineyard for everyone. From small family-owned businesses to large commercial operations, these businesses offer a variety of wines and experiences. So next time you want a unique wine-tasting experience, check out one of the many Ohio wineries or vineyards. Cheers!