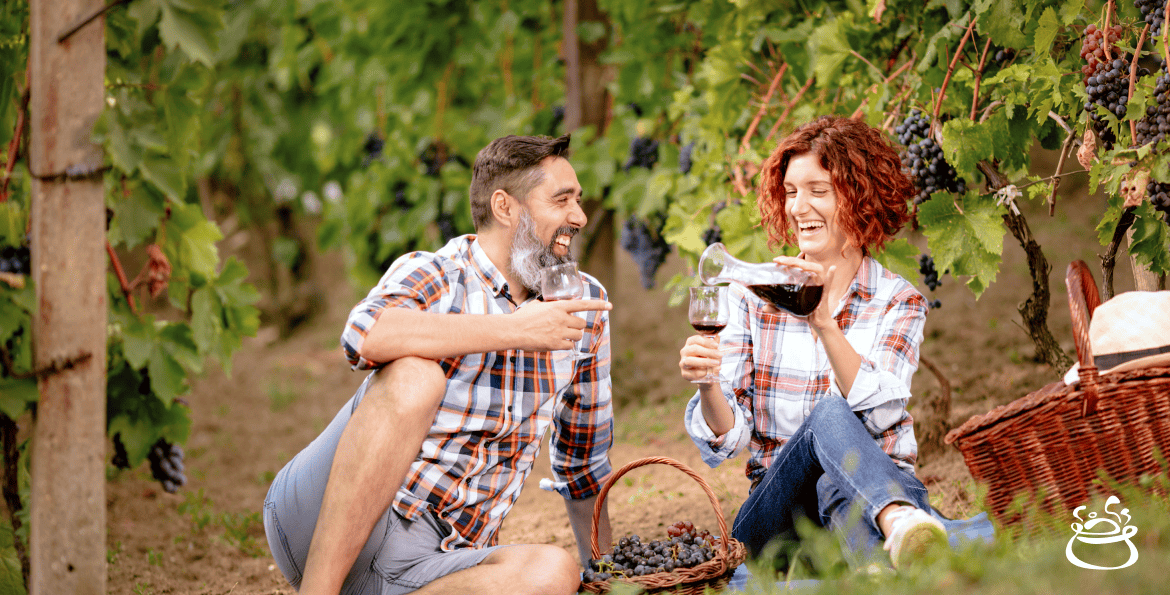 A visit to Ohio's wine country is a perfect way to spend a day or two exploring this beautiful state's countryside. With over 250 wineries and vineyards spread out across the state, there's sure to be one (or more) that you'll find worth exploring. Whether you're a seasoned oenophile or just starting your wine journey, Ohio's wine scene has something for everyone. So don't wait; grab a map and plan your next adventure.  
Types of Ohio Wines
Ohio is home to various vineyards and wineries, producing a wide range of wines. The state's climate is well-suited for growing wine grapes, and the soil is rich in nutrients. As a result, Ohio wines tend to be fruity and full-bodied. The most famous wines produced in Ohio include Cabernet Sauvignon, Chardonnay, Merlot, and Riesling. In recent years, Ohio wineries have also begun experimenting with alternative grape varieties, such as Norton and Traminette. As the state's wine industry grows, more unique and flavor-packed wines emerge from Ohio's vineyards. 
Tips for Visiting Ohio Wineries/Vineyards
Ohio is an excellent destination for wine lovers. Here are some tips for planning a visit to Ohio's wine country: 
Do your research:

Ohio's wine region is spread across five distinct areas, each with its wineries and vineyards. Spend time researching which site you'd like to visit, and then list the specific wineries you're interested in seeing.

Plan your itinerary:

Once you've decided which wineries you'd like to visit, map out your route and plan your itinerary. This planning will help ensure you make the most of your time in wine country.

Pack appropriately:

Be sure to pack comfortable shoes, clothing, and any snacks or food you might want while exploring Ohio's vineyards. And don't forget your camera – you will find plenty of photo ops among the vines!

Taste before you buy:

Many wineries offer free tastings, so be sure to take advantage of this opportunity to sample the wines before making any purchases.

Know your limits:

It's easy to get carried away when tasting different wines, so be sure to pace yourself and know your limit. Designated drivers are always a good idea when touring a wine country.

Ask questions:

The staff at Ohio's wineries are always happy to answer questions about the wines or the winemaking process. So don't hesitate to ask – they can help make your visit more enjoyable.

Buy local:

One of the best things about visiting Ohio's wine country is having the opportunity to purchase wines that aren't available in other states. So be sure to stock up on your favorites while you're here!

Support small businesses:

Many of Ohio's wineries are family-owned and operated. When possible, buy directly from the source – your support helps keep these small businesses thriving.

Enjoy the scenery:

Besides being home to some excellent wines, Ohio's wine country is also incredibly scenic. So take some time to enjoy the views as you tour different vineyards.

Have fun:

Ultimately, the best thing about visiting Ohio's wine country is simply enjoying yourself and discovering some new favorite wines along the way. So relax, explore, and most importantly, have fun!

 
Places to Stay and Eat Near Ohio Wineries/Vineyards
Ohio is home to a burgeoning wine industry, with hundreds of wineries and vineyards scattered across the state. Whether looking for a romantic getaway or a fun weekend with friends, there are plenty of great places to stay and eat near Ohio's wineries. Here are our top picks: 
The Inn at Cedar Falls:

Nestled in the Hocking Hills region, The Inn at Cedar Falls offers breathtaking views of the surrounding countryside. The Inn also features a restaurant serving locally sourced cuisine, making it the perfect spot to relax after a day of exploring Ohio's wine country.

Sun Retreats Geneva on the Lake:

This chic boutique hotel is in the heart of downtown Geneva, just minutes from some of Ohio's best wineries. It offers luxury accommodation and an on-site gourmet restaurant, The Loft Restaurant & Lounge, making it the perfect base for your wine country adventure.

The Safe House Bed & Breakfast:

This charming bed and breakfast is in Mansfield, "The Fun Center of Ohio." Within a short drive from many of Ohio's top wineries, The Safe House Bed & Breakfast offers comfortable accommodations and a delicious breakfast, making it the perfect place to relax and recharge after a day of tasting wines.  

Mapleside Farms:

Located in Brunswick, Mapleside Farms is a working farm and cidery that offers a variety of activities for visitors to enjoy. In addition to sampling their award-winning ciders, you can also go on wagon rides, tour the farm animals, or take a scenic hike through the property. Make sure to save room for one of their fresh-baked pies!  

The Winery at Versailles:

If you're looking for something more upscale, consider staying at The Winery at Versailles. This elegant bed and breakfast is located in the heart of Ohio's Amish Country and offers exclusive access to the on-site winery's tasting room. In addition to beautiful rooms and delicious wines, guests can enjoy a gourmet breakfast each morning.

Deer Ridge Bed and Breakfast:

This bed and breakfast is in the heart of wine country, within a few miles of many of the area's top wineries. The Inn offers beautiful views of the surrounding vineyards, and the rooms are well appointed and comfortable.

Gervasi Vineyard & Italian Bistro:

For those who want to drink local while they sleep local, consider booking a room at Gervasi Vineyard & Italian Bistro. This Tuscan-inspired estate features vineyards and wineries, an upscale hotel, and an award-winning Italian restaurant. So whether you're looking to sip some wine or savor some pasta (or both!), Gervasi has you covered.

The Lakehouse Inn:

For a more luxurious experience, you can check out The Lakehouse Inn, Geneva. This historic Inn is located on the shores of Lake Erie and features elegant accommodations and palatable cuisines. And, of course, you'll have access to the Inn's private beach and dock.
A Few Can't-Miss Ohio Wineries and Vineyards  
Each Ohio winery and vineyard comes with its unique atmosphere and offerings. Here are some of the best that you should not miss: 
Buckeye Winery:

This award-winning winery produces a wide variety of red, white, androsé wines, sparkling wine, and dessert wine. They also offer a selection of local craft beer and cider.

Chateau Tebeau:

Visitors can tour this beautiful century-old castle and taste various estate-grown red and white wines. The property also features an on-site restaurant serving French-inspired cuisine.

Debonne Vineyards:

This family-owned winery offers tastings and tours of their picturesque vines and various red, white, and rosé wines. They also host several special events throughout the year.  

Gervasi Vineyard:

This Tuscan-style vineyard is set on 55 acres of rolling hillsides and features a diverse selection of red, white, and dessert wines. They also have an on-site café serving Italian-inspired cuisine.

Maize Valley Winery & Craft Brewery:

In addition to offering tastings and tours of their property, this picturesque winery also has an on-site brewery and distillery. They offer a wide range of reds, whites, rosés, sparkling wines, beer, cider, spirits, and more.

The Winery at Versailles:

This family-owned winery produces a variety of reds, whites, rosés, ports, sherries, and sparkling wines made from Ohio grapes grown in the Grand River Valley Viticultural Area (AVA). They also offer DIY winemaking kits. In addition to its many excellent wines, The Winery at Versailles is also known for its locally sourced food items, such as jams, jellies, sauces, and salsas, through its Country Gourmet shop.

Three Oaks Vineyard:

This scenic vineyard is set among rolling hillsides blanketed with native wildflowers. Wines produced here include Chardonnay, Cabernet Sauvignon, Merlot, Riesling, Vidal Blanc, and several fruit wine types. Three Oaks also has an on-site restaurant serving lunch & brunch items made from seasonal & locally sourced ingredients.
Final Tips  
Ohio may not be the first state that comes to mind when you think of wine country. Still, it is home to many outstanding wineries and vineyards offering stunning views and a chance to learn about the state's rich viticultural history. However, when planning a visit, take the time to research the different regions and wineries in Ohio. Each area has its unique climate and soil, resulting in wines with distinct flavor profiles. 
And remember, many wineries only offer tours and tastings by appointment, so make sure to get reservations in advance. Finally, don't forget to pack a picnic lunch! Ohio's wineries are in some beautiful countryside, and there's nothing better than enjoying a glass of wine surrounded by nature. With these tips, you will have a memorable experience at Ohio's top wineries.