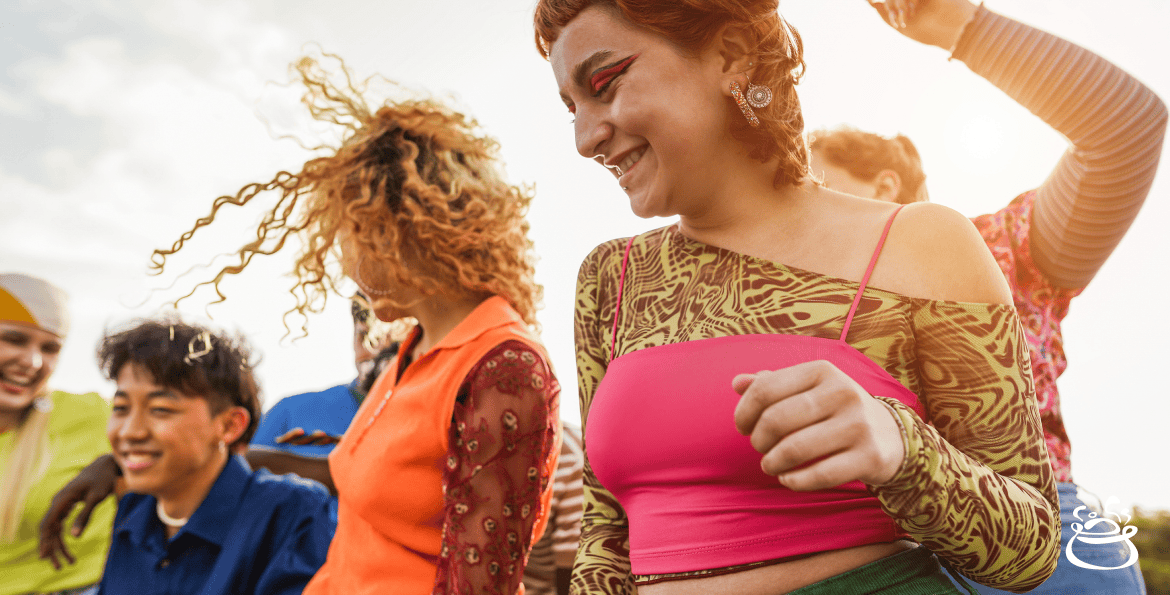 Ohio is home to many great wineries, and wine events are the perfect way to sample some of the world's best wines. From small, local festivals to large-scale events, there is something for everyone in the Buckeye State. Wine festivals provide an opportunity to meet the winemakers and learn about their processes.  
There is also a wide variety of food available at these events, allowing you to pair your favorite wines with some delicious dishes. And because they are typically outdoor events, you can enjoy the beautiful Ohio scenery while you sip your way through the offerings. Best of all, many wine festivals also feature live music and other entertainment, making them the perfect way to spend a fun-filled day with family and friends.   
So next time you look for a new and exciting way to explore Ohio's wine country, check out a wine festival near you. You are sure to have a 'Grape' time!     
Also Read: A Guide to Visiting Ohio Wineries and Vineyards
Most popular wine festivals in Ohio 
Every year, Ohio holds some of the best wine festivals in the country, offering unparalleled grape tastings, gourmet food pairings, and educational seminars. With close to 500 wineries around the state, there is a festival for everyone's palate.  
Here are some yearly wine festivals in Ohio, along with their venues. Be sure not to miss them!  
The Ice Wine Festival, Debonne Vineyards.

 

The Vintners in Northwest Ohio (V.I.N.O.) Wine Festival, Wood County Fair Grounds.

 

The Vintage Ohio South Wine Festival, Clark County Fairgrounds.

 

The Vintage Ohio Wine Festival, Lake Metroparks Farmpark.

 

The Columbiana Wine Festival, TownCenter at Firestone Farms.

 

The Wine & Walleye Festival, Ashtabula Harbor.

 

The Columbus Summer Wine Festival, The Kelley Green.

 

The Toast of Ohio Wine Festival, Jackson Street Pier.

 

The Dandelion May Fest, Breitenbach Wine Cellars.

 

The Kent Art & Wine Festival, Main Street Kent, Kent.

 

The Valley Vineyards Wine & Beer Festival, Valley Vineyards, Morrow.

 

The Cleveland International Wine Festival, Cleveland.

 

The Annual Summer Solstice Festival, Sarah's Vineyard Winery, Cuyahoga Falls.

 

The Wine & Walleye Festival, Historic Ashtabula Harbor, Ashtabula.

 

The Geneva Area Grape Jamboree, Geneva.

 
At each event, you can sample some of the nation's finest wines, admire breathtaking scenery, and get valuable information from experts on wine-making techniques. The overall experience will be memorable as you learn more about some of your favorite wines while enjoying delicious food and live entertainment. Whether it is a day trip or an overnight adventure you are looking for — make sure to attend one of these fabulous wine festivals! 
Additionally, if you wish to know about more fun wine events in Ohio, here's a table with a list of upcoming wine tastings and festivals. Whether you are looking to sample some classic vintages or hunt down rare selections, we have something for the oenophile in you.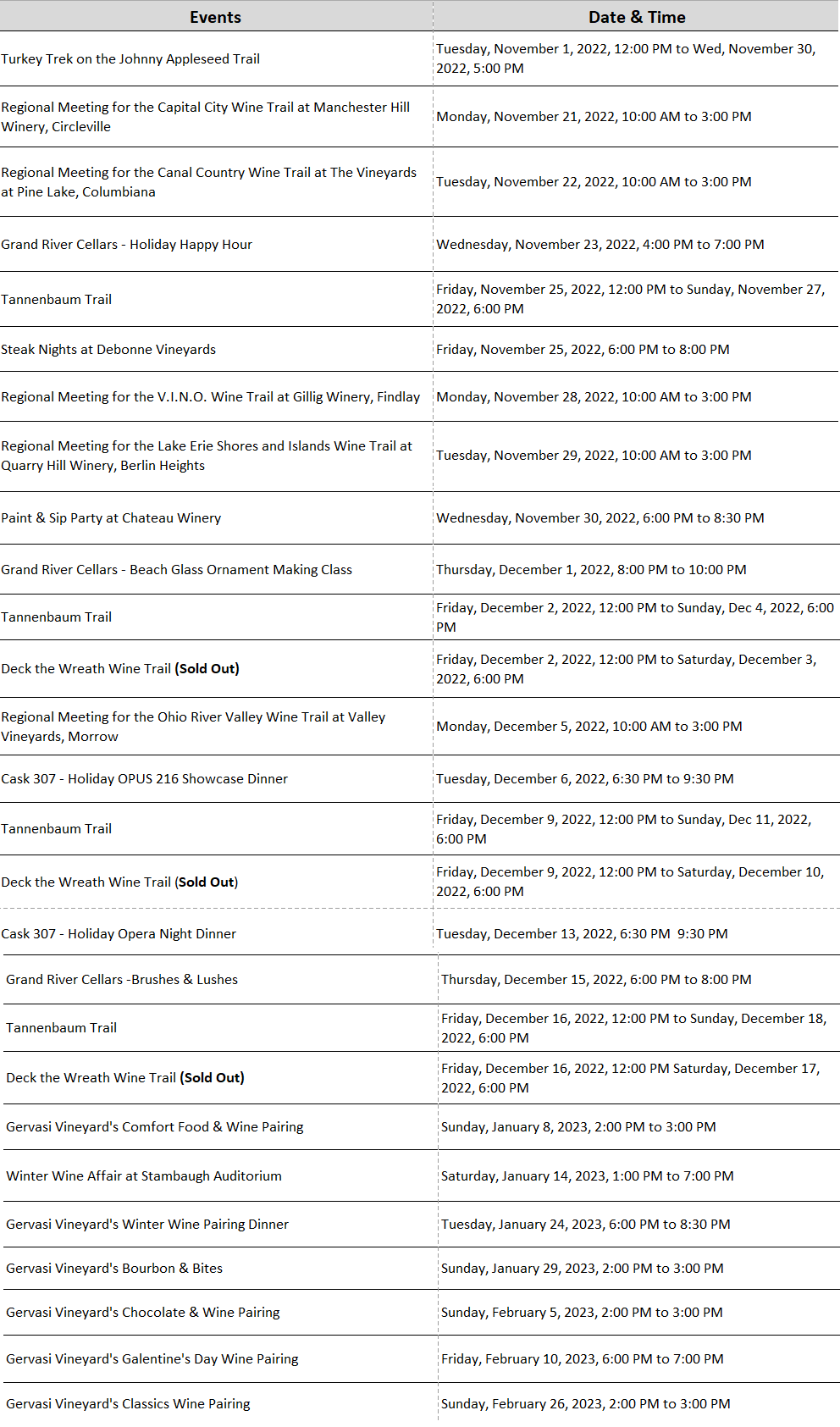 Source: https://www.ohiowines.org/events 
Make the most of your experience 
Wine festivals are a fantastic way to explore new wines and meet other people who share your interest in wine. However, knowing how to make the most of your experience can be tough with so many wine festivals. Here are some tips that can help you make the most of your wine festival experience:  
Do your research:

With so many different wine festivals, it is essential to research before selecting one. Look for events that feature the types of wines you are interested in exploring. 

 

Make a budget:

Wine festivals can be expensive, so it is best to set a budget before you go. Decide how much you will spend on wine tastings and souvenirs, and stick to it. 

 

Dress properly:

Wearing suitable clothing can make a significant difference at a wine festival. Choose comfortable shoes and clothes that will not show spills, and remember a hat or sunglasses to protect yourself from the sun. 

 

Arrive early:

Many wine festivals offer V.I.P. experiences or early access tickets that allow you to avoid the crowds and get the best possible tasting experience. If possible, arrive early to take advantage of these opportunities. 

 

Pace yourself:

It is easy to get carried away when tasting wine at a festival, but it is essential to pace yourself so you do not get drunk. Stick to one-ounce pours and take breaks between tastings by grabbing food or water. 

 

Spit it out:

Many people feel they must finish every drop of wine in their glass but spitting out excess wine is perfectly acceptable (and encouraged!) at a wine festival. Not only will it help keep you from getting drunk, but it will also prevent your palate from becoming overwhelmed. 

 

Talk to the experts:

Wine festivals are an excellent opportunity to meet winemakers and other experts in the field. Strike up a conversation and ask them for recommendations on what to taste (and what to avoid). 

 

Take notes:

With so many different wines to taste, it can be hard to remember what you liked (and did not like). Be sure to take notes on each wine so you can reference them later when stocking your home cellar or buying gifts for friends. 

 

Do not wear strong cologne:

Attending a wine-tasting event requires being mindful of your choice of fragrance. Wearing strong colognes or perfumes can interfere with the smell of the wines, making them seem unpleasantly perfumed. A whiff of fresh spring flowers is all you need. It will also make it much easier to focus on picking up subtle notes and nuances of flavor as you explore different wines throughout the day. 

 

Have fun:

At the end of the day, remember that wine festivals are for enjoyment! Do not worry about trying to taste everything or getting every detail perfect – relax and enjoy exploring the festival. 

 
Concluding thoughts 
Ohio may not be the first state that comes to mind when you think of wine, but the state's wine scene is thriving. And what better way to explore it than attending one of the many wine festivals held throughout the year? From intimate gatherings featuring local wines to large-scale events with hundreds of wines to sample, there is something for everyone. These festivals offer a wonderful opportunity to meet the winemakers and learn about their craft. So, check out an Ohio wine festival near you whether you are a wine lover or just looking to expand your horizons. Cheers!