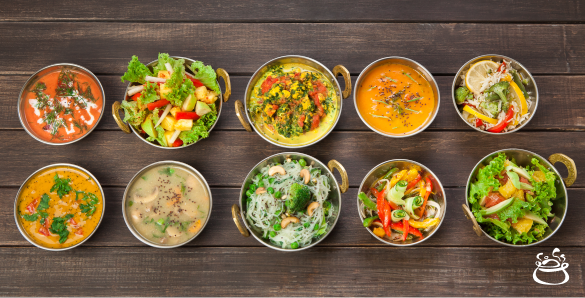 Vegetarian cuisine has become increasingly popular over the years, and there's nothing quite like serving up a delicious feast of vegetarian dishes at a dinner party! Vegetarian food is flavorful, varied, and surprisingly easy to find its ingredients. There are also plenty of unique vegetarian options perfect for a sophisticated dinner party that will delight your guests. Whether you want hearty mains or freshly-baked appetizers, this blog post is about sharing simple yet enjoyable vegetarian dishes to serve at your next dinner party. So get ready to discover all the fantastic Vegetarian possibilities your next meal can offer.   
Main Course
Vegetarian dishes can make the perfect entrees for a dinner party. Whether your guest list consists of strict vegetarians or those just trying to reduce their meat intake, there are endless options for creating delicious plant-based main course ideas.  
Grilled Vegetable Skewers
Vegetarian dishes can be just as impressive as meat-based options and make fantastic choices for a vegetarian dinner party. Vegetable skewers offer an outstanding balance of flavor and presentation–while they are easy to prepare, the resulting dish looks stunning when assembled onto skewers for grilling.
The vegetables used depend on personal preference–popular choices include bell peppers, mushrooms, tomatoes, eggplants, onions, and squash–but the key is to combine different colors, shapes, and textures.
By marinating the vegetables with herbs and spices beforehand or brushing them with tangy barbecue sauce after cooking, your guests can enjoy an exciting array of flavors in addition to the smoky char from being grilled. Vegetable skewers are a surefire way to impress guests at any vegetarian dinner party. With minimal ingredients and effort required, it won't take long before everyone is tucking into deliciously cooked food with a satisfying crunch.  
Curry Noodles and Veggies
Vegetarian dishes like Curry Noodles and Veggies are perfect for any meatless meal or dinner party – after all, who doesn't love tasty comfort food? Not only does it look eye-catching when served on a platter or in individual bowls, but it also makes for an incredibly satisfying meal. Best of all, there's something for everyone, regardless of their dietary preferences.
This dish combines fantastic flavors with good nutrition in one hearty package that everyone can enjoy. With Curry Noodles and Veggies on the menu at your next dinner party, you can be sure that your guests will be delighted! Enjoy!
To make this dish, stir-frying egg noodles with vegetable broth, garlic, ginger, and other aromatic spices; then add your favorite veggies such as carrots, cabbage, and bell peppers to complete the flavor profile. For an extra kick of heat and umami, top the finished dish off with a sprinkling of curry powder.
Stuffed Peppers
For Vegetarians and Vegetarians alike, stuffed peppers make a perfect choice as the main course of a dinner party. Delectably flavorful, a Vegetarian dish packed with vitamins and nutrients to boot, they can quickly become the hero of any meatless meal.
Filled with freshly-chopped vegetables such as celery, onions, carrots, mushrooms, and garlic, along with quinoa or brown rice for added substance and texture, then topped off with a sprinkle of herbs and spices like parsley or oregano; these dishes sing when popped into the oven.
Whether served in traditional green bell peppers or colorful mixtures of reds or yellows, Vegetarian stuffing is far from boring – they truly live up to their reputation as both tantalizingly tasty and full-of-vitamins nutritious.
With easy preparation and cooking times of no longer than 30 minutes to one hour, depending on preference, stuffed peppers make an ideal Vegetarian dinner party entrée for entertaining guests. These Vegetarian tomato treats are sure to be an instant hit, packed with flavor that will impress every guest at any gathering. Try them today; you won't regret it. 
Quinoa Bowls
Vegetarian dinner parties are ideal for celebrating with friends and family while catering to all dietary choices. Quinoa bowls are an easy and delicious main course dish that works perfectly for such gatherings.
Quinoa is a light, nourishing grain full of protein and fiber, making it an excellent meatless alternative for dinner. Vegetarian dinner party recipes often involve lots of fruits, vegetables, lentils, and beans. Still, quinoa bowls offer something different by providing a nutty, delicious flavor and a textural topping for other elements in the dish. 
To make a vegetarian quinoa bowl, combine cooked or sprouted grains with steamed or sautéed vegetables of your choice; some popular combinations include sweet potatoes, bell peppers, mushrooms, and kale. Then top off your quinoa bowl with a vegan-based cheese or sour cream and sprinkle on some nuts or seeds. The result is sure to be pleasing to vegetarians and omnivores alike!
Vegetarian dinner parties can be enjoyable for everyone if you take the time to plan and prepare meaningfully intentional dishes like quinoa bowls – so get creative and don't forget to have fun.   
Side Dish 
Every great meal begins with a great side dish! Every table deserves something delicious, nutritious, and satisfying to add the finishing touch. Whether you're hosting a dinner party, throwing a barbecue, or making a simple weeknight meal, side dishes can make all the difference in elevating your menu – whatever the occasion. With fresh ideas like the ones below, your side dish will always be the show's star.  
Roasted Brussels Sprouts with Balsamic Glaze
Vegetarian dishes can make for an easy, flavorful, and healthful dinner party menu. Roasted Brussels sprouts with balsamic glaze is an excellent side dish for any Vegetarian dinner party. This dish packs a delicious punch that will satisfy even the pickiest palate.
Combine the Brussels sprouts with olive oil and a pinch of salt and pepper before roasting in the oven to create crisp, golden-brown exteriors and sweet, plush centers. A balsamic glaze splash adds acidity to the nutty texture of the sprouts, making them irresistible to vegetarians and meat-eaters alike. 
This dish is mouthwateringly delicious and provides essential nutrients such as fiber, calcium, iron, magnesium, and vitamin C. When paired with other vegetarian dishes or served on its own, roasted Brussels sprouts with balsamic glaze is sure to be a crowd-pleaser at your Vegetarian dinner party!
Garlic-Herb Roasted Potatoes
Vegetarian dishes can be delicious, fulfilling alternatives to classic meat-based entrees for a Vegetarian Dinner Party. Garlic-Herb Roasted Potatoes are an easy yet flavorful side dish that will get your guests talking.
Start by dicing potatoes and tossing them with olive oil. Then, add a unique medley of fragrant herbs and spices – rosemary and thyme are classic choices – plus freshly grated garlic, salt, and pepper.
Finally, roast the potato cubes in a hot oven until they become crispy, golden-brown morsels. Perfectly paired with meatless meals or as part of a more extensive spread, Garlic-Herb Roasted Potatoes is sure to be one of the stars of your Vegetarian Dinner Party! It will feel like a treat when your guests tuck into this flavorful dish – minus the meat content.  
Roasted Butternut Squash Salad
Hosting a vegetarian dinner party can be daunting – after all, who wants to be stuck with the same bland dishes? But thankfully, it doesn't have to be that way. With some culinary creativity, you can create vegetarian meals that rival any meat-based entrée. Take Roasted Butternut Squash Salad, for example.
Not only is it beautifully colorful and full of flavor, but it's also an excellent source of essential nutrients like protein and dietary fiber. 
To prepare it, roast cubes of butternut squash in olive oil and spices until they're tender and slightly caramelized. Add toasted pumpkin seeds for crunch, and combine them with your favorite greens for a healthy and delicious vegetarian side dish. Your guests will be delighted, no doubt! 
Furthermore, if you only plan on having Vegetarian entrées for your dinner party, this salad would pair wonderfully with items such as dairy-free mac n' cheese or eggplant parmesan.   
Corn and Tomato Salad with Chili Vinaigrette
Vegetarian dishes such as Corn and Tomato Salad with Chili Vinaigrette make great sides for a Vegetarian dinner party. With this flavorful recipe, everyone can enjoy tasty, delicious meatless meals. The salad is full of fresh vegetables and flavors when complemented by the zesty taste of the chili vinaigrette.
The sweet corn brings a light sweetness to the mix, while the tomatoes offer bursts of acidity and juiciness. This colorful salad can also add a visual appeal to your Vegetarian dinner party spread, making it an even more delightful experience for guests.
Furthermore, this healthy side dish is easy to make and serve at room temperature or chill in the refrigerator before serving. Whatever you choose to do, this Corn and Tomato Salad with Chili Vinaigrette will impress your vegetarian dinner party guests!   
Dessert
Sweets have always been a way to celebrate special occasions or reward us with a treat, but they bring us joy! Whether you prefer deliciously decadent cakes and pies or simple fruity favorites like ice cream and frozen yogurt, desserts are sure to put a smile on your face. They also provide the perfect excuse to enjoy time with family and friends. There's nothing more enjoyable than sharing a tasty slice of cake or indulging in some homemade fudge after a meal together. If you're looking for ideas on making any day unique, below are some dessert recipes you can make from scratch.      
Dark Chocolate Avocado Mousse
Vegetarian dishes can add elegance and sophistication to any dinner party menu. Making vegetarian dinners is also a great way to show off your culinary skills in taste and presentation. One of the most creative dishes you can prepare for a Vegetarian dinner party is Dark Chocolate Avocado Mousse.
The mousse starts with a simple base of creamy avocados blended with dark chocolate chips, cocoa powder, and almond or coconut milk for creaminess. Then, finish it with sweetener options and natural flavorings such as vanilla extract or spices like cinnamon. This treat offers a surprisingly delicious balance of savory flavors derived from avocado combined with the richness of dark chocolate, making it the perfect vegetarian dessert dish to impress your guests.
Not only does this unique vegetarian creation look gorgeous when served on fancy plates, but it will have your guests talking about meatless meals all night long!  
Berry Crumble Bars
Vegetarian dinner parties are a great way to gather friends and family to share some simple but satisfying meatless meals. When it comes to dessert, Berry Crumble Bars can be a delicious choice.
The bars and fresh berries and oats provide the perfect balance of tart and sweet flavors. Meanwhile, the crumble topping adds crunch, making the bars fun and irresistible.
Plus, vegan-friendly ingredients such as coconut oil and maple syrup take the dish to a new level of freshness. Vegetarians will have no trouble enjoying this delightful dessert at any dinner party.
With its sophisticated taste that appeals to all palates and health benefits, Berry Crumble Bars will make an impression on anyone who samples them. Vegetarian or not, no one can deny that these delectable little treats make every meal special.  
Vegan Carrot Cake
What better way to please your guests than with a vegan carrot cake for dessert? Not only is vegan carrot cake beautiful and delicious, but it is also surprisingly simple.
To create the perfect dish, start by combining carrots, walnuts, baking powder, coconut oil, and all-purpose flour and stirring until everything is evenly combined.
Bake this mixture in the oven until it turns golden brown and moist. To add extra flavor and texture, top the cake with smooth, creamy frosting before serving. This unique vegan dish will delight everyone at the Vegetarian dinner party and leave them begging for more recipes like this one.   
Chocolate Chip Coconut Cookies
Chocolate Chip Coconut Cookies are the perfect Vegetarian dessert for any Vegetarian Dinner Party. These cookies combine two classic favorites – chocolate chips and coconut flakes – for a melt-in-your-mouth cookie experience.
The chocolate chips' slightly salty flavor complements the coconut flakes' sweetness, creating the perfect balance of sweet and savory. Plus, these unique cookies are easy to make in bulk for large groups or can be made smaller for more intimate gatherings.   
Conclusion 
Planning a vegetarian dinner party menu can seem challenging, but many easy dishes are there to impress your guests. Whether you make an impressive centerpiece like roasted vegetables or keep it simple with a hearty vegan stew, vegetarians and meat-eaters can enjoy plenty of delicious options.
Be sure to include a range of textures, flavors, and colors to create an artfully presented dish that everyone will love. And if you want to impress, pop in some homemade sourdough on the side – it's sure to take your vegetarian dinner party to the next level!
With these tips in hand and some creativity, you'll be able to craft a delightful vegetarian feast for your friends and family.