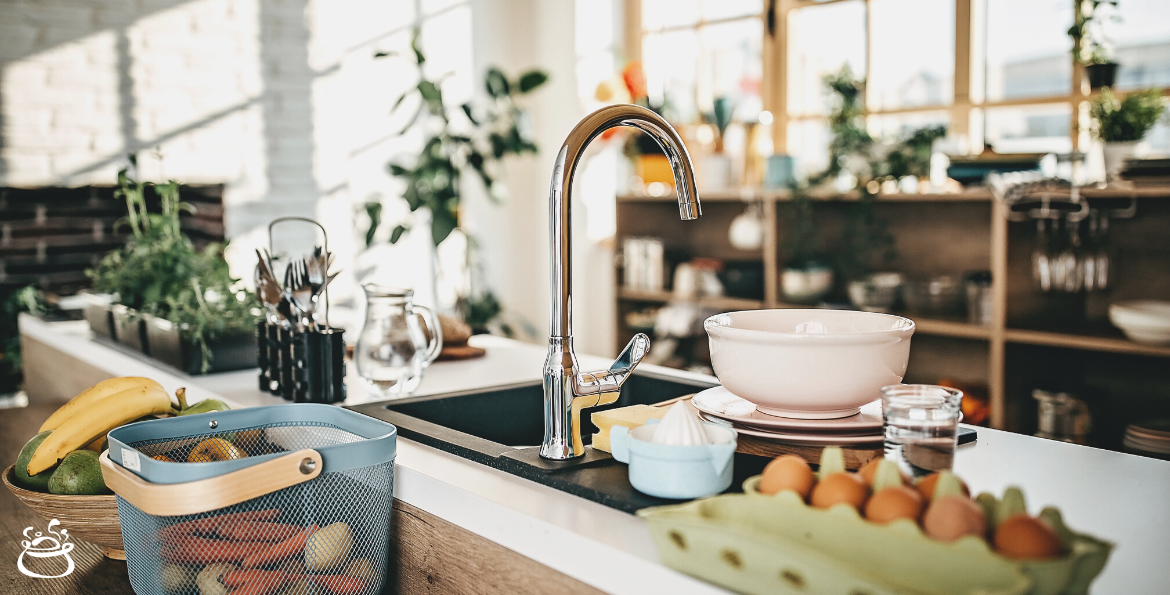 The kitchen is the heart of the home. It's where we gather to nourish our bodies and souls. But too often, our kitchens become cluttered and chaotic, making it hard to find joy in cooking and eating. If you're ready to create a beautiful and functional kitchen, here are ten tips to get you started. From adding plants to the room to cooking with mindful intent, these tips will help turn your kitchen into a relaxing oasis.  
1- Keep a clean and organized kitchen.
The kitchen is the heart of the home and maintaining a clean and organized space is essential for promoting well-being. A cluttered kitchen can quickly become a breeding ground for bacteria, leading to illness. In addition, a messy kitchen can lead to stress and food contamination. . To keep your kitchen clean and organized, start by decluttering surfaces and putting away any non-essential items. Then, create a cleaning schedule and stick to it! Wipe down surfaces regularly, sweep and mop floors weekly, and deep-clean appliances monthly. In addition, take the time to organize your pantry and cabinets so that everything has a place. You can create a safe and inviting kitchen by following these simple steps.  
2- Have healthy snacks and meals available.
A healthy diet is an essential part of maintaining a healthy lifestyle. By having nutritious snacks and meals in your kitchen, you can ensure that your body gets the nutrients it needs to stay fit. Of course, finding time to cook a meal from scratch can be tricky. That's why it's best to have quick and easy recipes when you have to get dinner on the table in a hurry. And don't forget about breakfast! Skipping breakfast can make you more likely to overeat later in the day, so be sure to have some healthy breakfast options. By planning ahead of time and stocking your kitchen with healthy food options, you can set yourself up for achieving your fitness goals.  
3- Get rid of gadgets and appliances you don't use.
Take a look around your kitchen. How many appliances and gadgets do you see that you never use? If your answer is more than one, it might be time to declutter. Not only will getting rid of unused kitchen items help to declutter your space, but it can also promote well-being. When surrounded by clutter, relaxing and feeling at ease can be challenging. However, a clean and organized space can help reduce stress levels and promote a sense of calm. So, to promote well-being in your home, start by decluttering your kitchen. You might be surprised at how good it feels to let go of things you no longer need.  
4- Bring in fresh flowers or plants.
A kitchen is typically one of the busiest rooms in a home, and it can often feel like a utilitarian space. However, adding a few fresh flowers and plants can help to promote a sense of well-being in your kitchen. While the plants' natural colors and scents help boost your mood, its air-purifying properties can help clean the air by absorbing harmful toxins and releasing oxygen. These benefits mean that bringing a touch of nature into your kitchen can positively impact your physical and emotional health. 
Moreover, studies have shown that being around plants can lower stress levels, improve cognitive function, and increase energy levels. So if you're looking for a way to make your kitchen more inviting, try adding a touch of nature. You may find that you enjoy your time in the kitchen more than ever before.  
Also Read: Health Benefits of Hiring a Personal Chef
5- Fill your kitchen with soothing colors and textures.
While the jury is still out on whether or not your kitchen's color scheme can affect your mood, there's no denying that certain hues and textures can create a more inviting and peaceful space. To promote well-being in your kitchen, consider filling the room with soothing colors and textures. Warm earth tones, like terra cotta and bronze, encourage relaxation, while cool blues and greens can help boost energy levels. Adding textured accents, like rugs, curtains, or even plants, can also help to create a more inviting atmosphere. And, of course, don't forget the power of a good scent. Incense, candles, or even essential oils can help to transform your kitchen into a haven of peace and relaxation.  
6- Incorporate healthy cooking methods.
As any health-conscious individual knows, what we cook and eat at home significantly impacts our overall well-being. While relying on quick and easy processed foods may be tempting, these convenience items are often high in unhealthy fats, salt, and sugar. In contrast, meals that are cooked from scratch using fresh ingredients can not only be healthier but also more delicious. Fortunately, it is possible to incorporate healthy cooking methods into your kitchen without sacrificing taste or convenience. For example, try grilling, broiling, or roasting foods instead of frying them in oil. These methods not only require less fat but can also help to bring out the natural flavors of food. In addition, when preparing meals ahead of time, try including plenty of vegetables and whole grains. By making simple changes like these, you can promote better health without compromising flavor or ease of preparation.  
7- Use your kitchen for social gatherings.
The kitchen is often seen as the heart of the home, and for a good reason. Not only is it where we prepare our meals, but it's also a place where we gather with family and friends. Studies have shown that social gatherings in the kitchen can positively impact our well-being. Whether enjoying a cup of coffee with a friend or sharing a meal with loved ones, spending time in the kitchen can help reduce stress and promote togetherness. So next time you're planning a social gathering, consider using your kitchen as the setting. Not only will you create lasting memories, but you might also boost your mood.  
 8- Make time for self-care in your kitchen.
It's no secret that the kitchen can be a stressful place. Whether you're trying to cook a complicated recipe or dealing with family drama, there's always a possibility for things to go wrong. That's why making time for self-care in your kitchen is essential. Taking a few minutes to relax and recharge can help you feel more capable of dealing with whatever comes your way. And there are plenty of easy ways to do it! For example, try brewing yourself a cup of tea or taking a moment to appreciate the smell of your favorite meal cooking. You could also light a candle or put on some soothing music. Whatever you do, make sure it's something that makes you feel calm and happy. Taking care of yourself is essential for promoting well-being, so don't forget to do it in your kitchen too. 
To summarize, making your kitchen a wellness sanctuary is about more than just the food you put into your body. It's also about the environment you create for yourself. By following these simple tips, you can turn your kitchen into a place where you can cook, relax, and recharge. What changes will you make in your kitchen today?