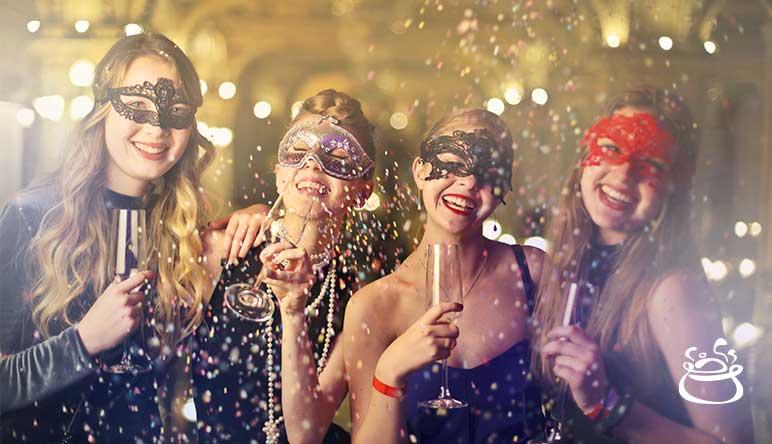 Hey there, party people! If you're searching for an unforgettable New Year's escape, Miami's calling your name. With its vibrant culture, pleasant weather, and many activities, the Magic City is the perfect destination to ring in the New Year.
Planning the perfect New Year's Eve party in Miami is no small feat. Don't sweat it, though, because we've got your back with this ultimate guide to turning your Miami dreams into reality. So, grab your flip-flops, sense of adventure, and a hearty appetite because we're about to dive headfirst into the ins and outs of planning the perfect New Year's getaway in the 305!
Why be in Miami this New Year?
This city knows how to do New Year's right, and you deserve a celebration to remember. First things first, Miami's got vibes like no other—the city's oozing culture, from its Latin flavors to its art scenes and more. You won't find a place quite like it.
Oh, and the weather? Miami's got it going on, especially around New Year's. While the rest of the world's freezing, you're soaking up the sun – sounds like a win to us! But here's the real kicker: Miami has a boatload of stuff to do. Beach bumming, water sports, art gazing, and more – it's all on the menu. As we reach the full stop of this blog, you will see for yourself- the allure of being in Miami on New Year's Eve. So, without wasting any more time, let's get planning.
Choosing the Right Accommodation

Nailing your accommodation is like finding the perfect beach chair spot. Get it right, and you're in for the vacation of a lifetime.
Explore Miami's Neighborhoods
Miami is a city of diverse neighborhoods, each with its unique vibes. From the glamorous South Beach to the artistic haven of Wynwood, Miami has something for everyone. Consider your preferences and interests when choosing a neighborhood to stay in.
Selecting the Perfect Accommodation
Whether you prefer luxury hotels, cozy resorts, or vacation rentals, Miami offers all accommodation options. Make sure to research and choose the one that suits your style and budget.
Book Accommodations in Advance
To secure the best deals and availability, booking your accommodation well in advance is essential. Miami is a popular New Year's destination, and procrastination can cost you your dream stay.
Creating an Itinerary
Miami has a gazillion things to do, and without a plan, you might miss out on some fantastic stuff. An itinerary helps you map out your days so you hit all the spots that light your fire. No more wandering around aimlessly or Googling "What to do in Miami" while you're already there – you've got a plan!
Must-Visit Attractions and Landmarks
Art Deco Historic District in South Beach
The Art Deco Historic District in South Beach is an iconic destination. It's a time capsule of 1930s and 1940s architecture and design, with pastel-colored buildings, neon signs, and a unique retro charm.
Vizcaya Museum and Gardens
Vizcaya is a historic villa on Biscayne Bay that feels like something out of a European fairy tale. The museum boasts stunning Italian Renaissance gardens, ornate architecture, and art collections.
Little Havana
Little Havana is the heart of Miami's Cuban culture. Here, you can savor authentic Cuban cuisine, enjoy live music, and explore colorful streets filled with art and lively characters.
Wynwood Walls for Incredible Street Art
Wynwood Walls is an outdoor art gallery showcasing some of the world's most renowned street artists. The vibrant murals and creative expressions make this neighborhood a must-visit for art enthusiasts and anyone who appreciates bold and imaginative urban art.
The Stunning Beaches of Miami
Miami's beaches are world-famous for their white sands, turquoise waters, and lively atmosphere. South Beach is the place to see and be, while quieter spots like Crandon Park Beach offer a more serene escape.
Outdoor Activities and Water Sports
Water Sports like Paddleboarding, Jet Skiing, and Snorkeling
Miami's warm waters offer the perfect playground for water sports enthusiasts. Try paddleboarding, hop on a jet ski for an adrenaline rush, or explore the colorful underwater world with snorkeling. These activities are readily available along Miami's coastline.
Biking Along the Scenic Venetian Causeway
The Venetian Causeway is a scenic route connecting Miami to Miami Beach, offering breathtaking views of Biscayne Bay and the skyline. Rent a bike and take a leisurely ride along this picturesque path, enjoying the sea breeze and stunning surroundings.
Exploring the Everglades for a Unique Nature Experience
Miami is just a stone's throw away from the unique ecosystem of the Everglades. Take an airboat tour through the swamps and marshes to witness the beauty of this natural wonder. Spot alligators, wading birds, and other wildlife in their natural habitat.
Cultural Experiences
Perez Art Museum Miami (PAMM)
PAMM is a cutting-edge contemporary art museum located in Museum Park. It features a diverse collection of international and local art, including paintings, sculptures, and multimedia installations. The building is a work of art, with its hanging gardens and stunning architecture.
The Wolfsonian-FIU Museum
This museum is a testament to the persuasive power of art and design. It houses a unique collection of objects that tell the story of propaganda, advertising, and design in the modern world.
The Wynwood Arts District for Contemporary Art
Wynwood is a haven for contemporary art. Explore the district's galleries and streets filled with colorful murals and graffiti. It's a place where art is not confined to galleries but is alive in the very fabric of the neighborhood.
Miami's Nightlife
Miami's nightlife is legendary and diverse. You can dance at world-famous nightclubs, sip cocktails at chic rooftop bars, or enjoy live music in cozy lounges. No matter your style, Miami's nightlife scene has something for everyone.
New Year's Eve Events
Miami knows how to throw a New Year's Eve party, and here are some of the most exciting events happening in the city:
Dreamland New Year's Festival
Date: December 28 – January 1
This four-day LGBTQ+ festival takes place across several venues in Miami, including Oasis Wynwood. Expect immersive art installations, wellness programs, and outstanding live performances by renowned artists. Dance to the beats of Purple Disco Machine, Anabel Englund, and Kaleena Zanders, and even enjoy the comedic stylings of Trixie Mattel. Dreamland New Year's Festival offers a fantastic, inclusive weekend that promises to be unforgettable.
Bayfront Park NYE
Downtown's biggest celebration of the year returns to Bayfront Park. The atmosphere is electric with live Latin music, endless cocktails, and, of course, a world-renowned fireworks display. The best part? General admission to this epic event is free, but remember that space is limited, so arrive early to secure your spot.
New Year's Eve Party at W Hotel
The W Miami Hotel is hosting a glamorous Miami New Year's Eve party on its rooftop, located on the 15th floor of this chic hotel. Put on your best cocktail dress and prepare for a night of elegance. The party includes a four-hour premium open bar, top local DJs, an electric countdown, and some of the most stunning views in all of Miami, including a breathtaking fireworks display.
Magic City Hippies New Year's Eve
Ring in the New Year with Miami's Magic City Hippies at the Miami Beach Bandshell. This event is their second annual New Year's Eve celebration, and they're bringing their unique blend of alt-pop and psych-funk to the stage. Join them and a few local favorites to help fill the evening with some of the best music.
Fireworks Party Cruise aboard the Seafair
The 222-foot SeaFair is the most exclusive and glamorous Miami's New Year's Eve celebration. On this luxurious yacht, you'll dine on gourmet food and cocktails as you toast to 2024. Dance to the beats of the DJ and look up at the spectacular fireworks that light up the Miami sky. This party is a one-of-a-kind experience, offering a blend of luxury, entertainment, and breathtaking views to make your New Year's celebration truly memorable.
With these fantastic New Year's Eve events in Miami, you're spoiled for choice when celebrating the arrival of the new year. No matter your chosen occasion, you're in for an unforgettable night of fun, music, and fireworks that will create lasting memories. Miami truly knows how to make New Year's Eve memorable, and these events are the perfect way to welcome the year ahead in style.
Miami's Diverse Culinary Scene
Miami's dining scene is like a world tour for your taste buds. It's got everything.
Top Restaurants and Cafes to Try:
Joe's Stone Crab
Versailles Restaurant
The Bazaar by José Andrés
Panther Coffee for your caffeine fix
The Salty Donut for delectable donuts
CookinGenie for a Special Dining Experience
For an exceptional New Year's Eve party in Miami, consider hiring a chef in Miami through CookinGenie. Enjoy a customized menu and restaurant-quality meal in the comfort of your accommodation. It's the perfect way to elevate your New Year's celebration.
Budget

Planning Tips
Traveling on a budget? Here are some money-saving tips:
Look for deals on accommodation and flights
Explore free or low-cost attractions and activities
Consider public transportation to get around
Cost-Saving Strategies
Save on your trip with these strategies:
Cook some meals at your accommodation
Utilize happy hour specials at restaurants
Take advantage of group discounts for tours and activities
Safety and Travel Tips
One can have the vacation of their life if they keep it safe. Let's look at some of the safety tips that you must follow to make the most of your New Year's Eve. 
Prioritize Safety and Health
Safety should be a top priority. Stay informed about the latest health guidelines and restrictions in Miami to ensure a safe and enjoyable trip.
Transportation Options
Miami has various transportation options, including public transit, rideshares, and rental cars. Consider your needs and choose the mode of transportation that works best for you.
Make the Most of Your Trip While Staying Safe
Ensure a safe and memorable trip by being vigilant, following local guidelines, and practicing responsible tourism.
Conclusion
In conclusion, planning the perfect New Year's Eve party in Miami is an exciting adventure. With its rich culture, diverse attractions, and thrilling New Year's Eve celebrations, Miami offers a truly unique experience. Book your accommodation early, create a well-thought-out itinerary, explore the culinary delights, and prioritize safety.
So, pack your bags, plan your trip, and get ready to ring in the New Year in style in the Magic City. Miami awaits with open arms, prepared to make your New Year's celebration an unforgettable experience.