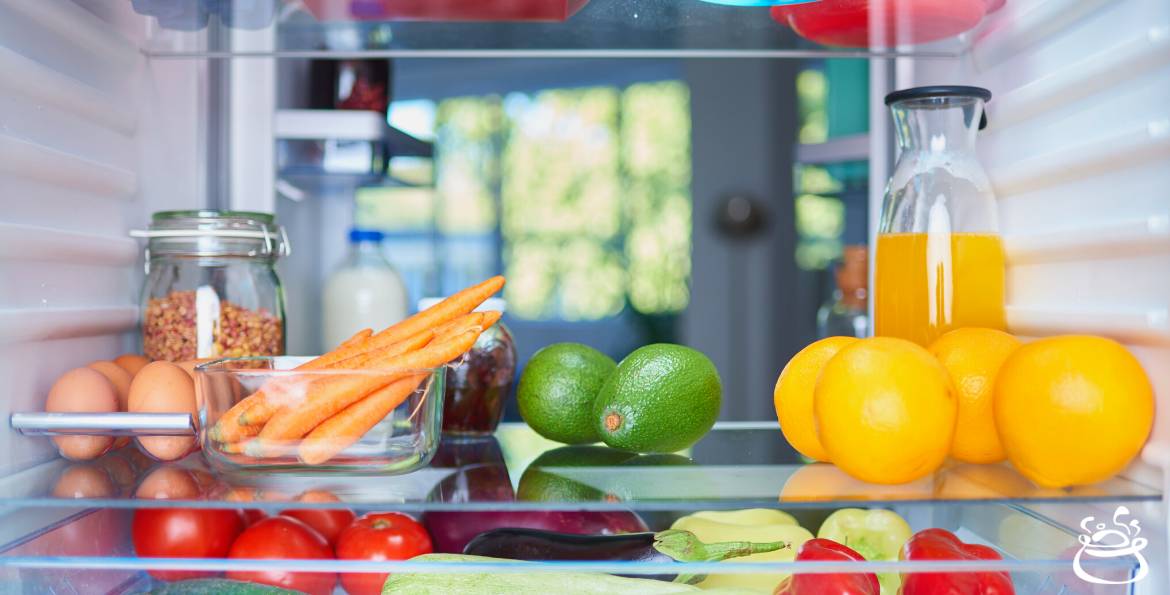 When we think of food safety, we usually think about cooking foods properly to prevent getting anyone sick. However, storing foods properly is just as important to prevent foodborne illness. Just like the actual preparation of food, all it takes is a little common sense to make sure you're storing food safely.
Keep foods cold
This may sound obvious, but there are some extra steps you can take to make sure your fridge is keeping food cold enough. Make sure you check the temperature gauge in the fridge regularly, about once a week. If it is consistently higher than 40⁰F, you should turn the temperature down or get your refrigerator serviced.
Also be sure to keep the fridge closed as often as possible. Leaving the door open for extended periods of time as you rummage through the shelves can expose the food inside to warm air, causing it to spoil quicker. Try not to keep the fridge too jam-packed with food. If there's not enough space in between food, the cool air will have a harder time circulating and keeping everything cold.
Where you store matters
Certain foods, like eggs, dairy, and raw meat are more sensitive to temperatures than others. To protect those foods, store them further back in the fridge to keep them colder. The shelf in the door is the warmest part of the fridge, so you want to keep condiments, drinks, and other ingredients that are less sensitive to temperatures there.
It's also important to keep different ingredients separated from one another in the fridge. Dairy and eggs should be stored away from raw fruits and vegetables so that bacteria from the eggs don't contaminate the produce.
Another good rule to remember is always store raw meat in the bottom of the fridge and produce in the top. If you have raw chicken breasts stored over fresh lettuce, there's a chance those chicken breasts drip into the lettuce and contaminate it. To be safe, always store meat on the bottom. And if you have multiple kinds of meat in your fridge, chicken should always be below beef, pork, fish, or other meats as chicken requires the most cooking to be safe.
Keep food away from chemicals
Not all foodborne illnesses come from biological hazards like bacteria or parasites. Some come from chemical contaminants. When storing dry goods in the pantry, they should always be kept far away from bleaches, detergents, cleaning supplies, or any other potentially harmful chemicals. Even storing food in the same cabinet as chemicals could lead to an accidental spill that contaminates the food, which can cause serious illness.
Don't put steaming hot food in the fridge
It's very common for people to throw a whole pot of something in the fridge if they don't feel like putting it into containers. That's fine as long as the food has cooled down first. If you take a steaming hot pot of soup and place it into the fridge to "cool down", all you're really doing is warming up the fridge. The heat and steam from the soup will circulate around the fridge and warm up all of the food inside, likely above the safe 40⁰F. Additionally, the soup itself probably won't cool down very quickly either, leaving it at an unsafe temperature for an extended period of time.
Instead of putting the hot food directly in the fridge, let it cool down at room temperature first. If you pour hot foods into a long container with more surface area, they'll cool down quicker. You can also try putting hot foods on an ice bath. To make an ice bath, fill your sink with ice and cold water. Then take the container of hot food and put it in the sink so that the water comes about three-quarters of the way up the container. Give the food a few stirs and after about 30 minutes or so, it should be cool enough to store in the fridge safely.
At CookinGenie, the chefs are experts in food safety and know how to ensure food is being handled safely all the way from shopping for the ingredients, storing them properly, and cooking them in the safest way possible.
Author – Jared Kent