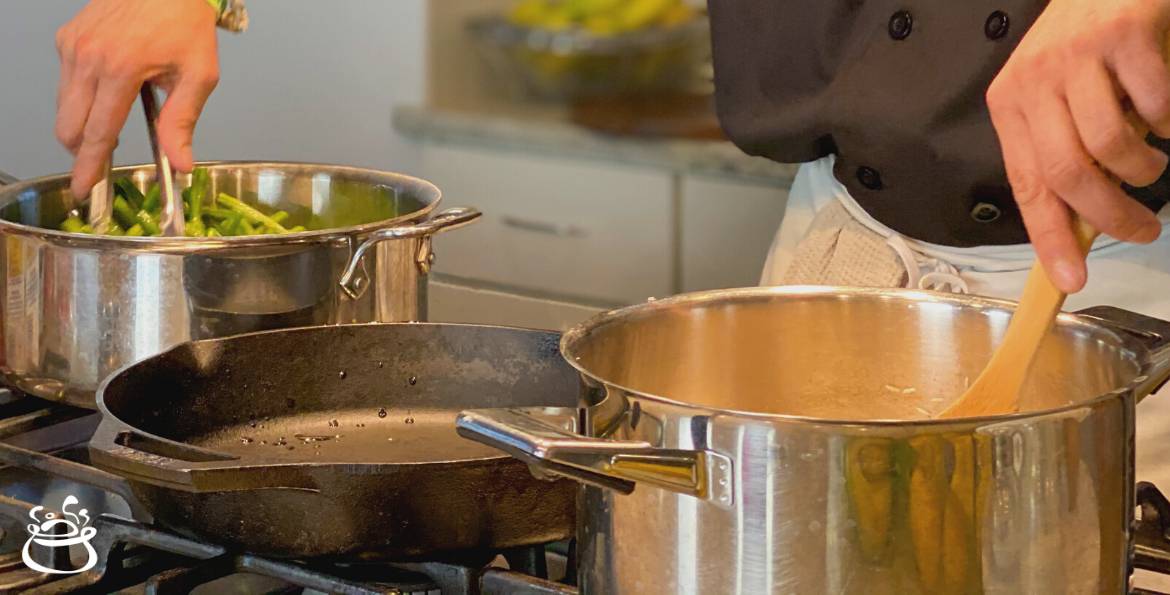 Cooking for friends and family is one of the great joys in life. But without practicing proper food safety, cooking can make your loved ones sick, or in extreme cases, even kill them. Luckily, all it takes to prepare and serve food safely is following a few simple rules and using common sense. In honor of food safety month, here are some of the most important things to remember when cooking.
Wash your hands
One of the most important things you can do to keep food safe is constant handwashing. The first thing you should do when you walk into the kitchen is washing your hands. And wash them again after every completed task or when you start handling different ingredients, especially after touching raw meat.
One of the most common ways foodborne illnesses are spread is by bacteria jumping from dirty hands to the food. So, you cannot wash your hands too often. When washing your hands, make sure you run them under warm running water for at least 20 seconds, using antibacterial soap. Scrub between your fingers and under your fingernails every time and dry off with a clean cloth or paper towel. For extra protection, turn off the knob on the sink with that paper towel instead of your bare hands.
When in doubt, throw it out
Nobody likes to waste food. But holding on to old food after it's gone bad is a good way to get your guests sick.  If anything in your fridge or pantry is moldy, slimy, smells rotten, or is well past its expiration date, just throw it out.
When cooking with canned ingredients, beware of cans that are rusted, dented, or swollen. Swollen cans are a sign of botulism, a dangerous spore that can be fatal. If there are any physical deformities on the can, put it right into the trash. There is a chance that every now and again you may throw out some food that's still safe to use, but it's always better safe than sorry.
Keep hot foods hot and cold foods cold
As a general rule of thumb, you should try and avoid keeping foods out at room temperature as much as possible, especially more sensitive items like meat, dairy, and eggs. When cooking and storing food, be mindful of the "temperature danger zone", a temperature range between 41⁰F and 135⁰F. This is the range in which bacteria grows and multiplies most quickly.
Temperatures above or below this range are usually too extreme for most bacteria to survive. So, if a dish is meant to be served hot, you should keep it on the stove or in the oven at 135⁰F or higher for as long as possible, and if it is meant to be served cold, you should keep it in refrigeration at 41⁰F or lower until it's ready to serve.
It may be helpful to have a digital thermometer on hand to help ensure you're keeping foods at the proper temperatures. If any highly sensitive foods like meat or dairy are left out in the temperature danger zone for more than four hours, they may be unsafe to eat. Any cooked food that is being reheated should be heated to 165⁰F for at least 15 seconds before serving.
Beware of Cross Contamination
Cross contamination occurs when bacteria or other contaminants are passed to food from shared surfaces or through the air. For example, if you cut raw chicken on a cutting board then later use that same cutting board for fresh vegetables, the vegetables may be contaminated with bacteria from the chicken. To avoid cross contamination, use different utensils for raw meats and vegetables. Also be sure to wash and disinfect counters and other kitchen surfaces frequently.
Consider food allergies
One of the scariest parts of cooking for others can be dealing with food allergies. Allergic reactions to food can range anywhere from a mildly upset stomach to life-threatening anaphylactic shock, where the victim's throat can begin to shut.
Before your event, ask all your guests if they have any food allergies. If anyone in your party has a severe allergy, consider serving something without that ingredient at all. For people with severe allergies like nuts or shellfish, they may not even need to actively consume the allergen to have a dangerous reaction, just an invisible trace amount may be enough to cause serious symptoms. So, just making a portion without that ingredient may not be enough to keep them safe. When it comes to cooking for people with food allergies, you cannot be too careful.
Cook proteins properly
A common cause of foodborne illness is undercooked meats, especially chicken. Meats need to be cooked to proper internal temperatures to kill the majority of bacteria and parasites that can make you sick. When cooking meats, use a digital thermometer to measure the internal temperature and don't serve it until the meat comes up to a safe level.
For example, chicken and other poultry need to reach an internal temperature of at least 165⁰F for 15 seconds before they're safe to eat. For more specifics, check out our complete guide to safely cooking meat.
Wash raw ingredients well
Before cooking with fruits, herbs, or vegetables, rinse them off under cold running water to remove any debris, bacteria, or chemical coating. This is especially important with cantaloupe and honeydew, which always should be washed before cutting. It's also good practice to rinse off your eggs before cooking with them.
Be extra cautious with the most vulnerable members of your family
When cooking for older or immunocompromised people, you have to be extra careful and attentive. For someone who's young and healthy, a case of salmonella from an undercooked chicken breast could cause a few days of illness. But for an older person or someone suffering from an autoimmune disease, that salmonella could be fatal.
CookinGenie takes food safety seriously
When you book a chef through CookinGenie, you can be sure that food safety will be the top priority. Many of the genies are professionals with formal food safety training, and others are experienced home cooks with a proven track record of keeping people safe. Food safety is stressed, and every genie knows that's the most important thing when cooking for you.
Better yet, when you allow a CookinGenie chef into your home, you can watch them cook to be sure the food is being handled properly. Unlike a restaurant, this in-home set-up allows much more transparency and peace of mind than dining out or ordering takeout.
Author – Jared Kent