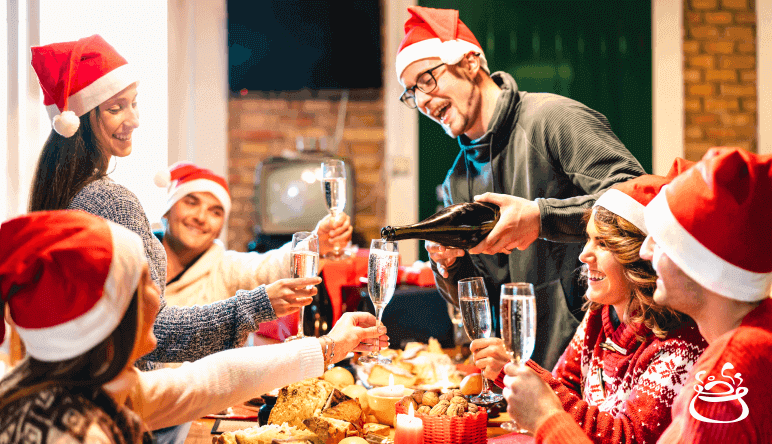 During the holiday season, an enchanting atmosphere brimming with joy and togetherness envelops us all. It's a time when hearts are lifted, and the spirit of unity flourishes, bringing loved ones closer together. Holidays are the perfect opportunity to gather with loved ones, creating lasting memories treasured for years to come. And what better way to celebrate the holidays than by hosting a heartwarming Christmas dinner? Amidst the hustle and bustle of Columbus Christmas events, hosting a memorable dinner stands as an exceptional choice. It allows you to create a magical ambiance where laughter fills the air and delectable flavors tantalize the taste buds. 
Whether you're a seasoned host or a first-timer, planning and preparing for a Christmas dinner can feel overwhelming. Beyond the delicious food, hosting a Christmas dinner is about creating a magical evening filled with laughter and togetherness. From setting the perfect ambiance to designing a delectable menu that caters to every guest's palate, there are countless details to consider. But with the right strategies, you can navigate the process effortlessly.  
In this blog, we'll share simple tips and tricks to help you host an unforgettable Christmas dinner in Columbus with ease and minimal stress. Join us as we explore the essential aspects of hosting a successful Christmas dinner in Columbus. We'll cover everything from alternative hosting ideas to selecting the ideal Christmas theme to ensure your guests feel genuinely welcomed.  
Let's dive in and make this year's Christmas dinner a special and joyous occasion for everyone involved.
Tip 1: Plan Ahead 
When dealing with holiday party preparations, making a comprehensive list is crucial. While you may not adhere strictly to every detail on the list, it serves as a valuable tool for organizing your thoughts and prioritizing needed tasks.   
To kick-start your list, consider framing it as a series of essential questions that need to be answered before hosting the Christmas party in 2023. Here are some of the essential ones to help you get started:   
Where will the party be hosted?  

 

Who will be invited? 

How will you send out invitations  

 

Will you prepare the food yourself or opt for catering?  

 

Do you plan to incorporate party games or activities?  

 

Which day and time will be most suitable for the event?  

 

What is a reasonable budget for your holiday party?  

 
Addressing these questions in advance will lay a solid foundation for planning a successful and enjoyable gathering, allowing you to tackle each aspect with clarity and confidence, and of course, without missing something important. 
Tip 2: Consider the Guest Experience  
When hosting a Christmas dinner, it is essential to approach your preparations from the perspective of your guests. Put yourself in their shoes and consider their experience from the moment they arrive at your doorstep until they bid farewell. By doing so, you can ensure their comfort and enjoyment throughout the event.   
Here are some aspects to contemplate:   
Provide your guests with a designated area to store their coats and belongings upon arrival, allowing them to feel at ease right from the start. 

Having designated spaces where guests can place their presents and food contributions is imperative to appropriately display and appreciate their offerings.

Ensure you create a designated seating area that comfortably accommodates all your guests. It's imperative to think about the layout and flow of your space to encourage engaging conversations and interactions among attendees. While it may seem not-so-important, the seating arrangement holds the key to a truly memorable and successful dinner party. After all, within these comfortable and spacious seating arrangements, the seeds of engaging discussions are sown that will be cherished for years to come.

Set up well-organized stations where guests can easily access drinks and appetizers. With this, you can keep the flow of the event smooth and ensure guests are well taken care of. 

 
By envisioning different scenarios and addressing your guests' needs, you will gain clarity on the necessary preparations required to prepare your home for the Christmas dinner.
Tip 3: Set a Festive Theme  
When planning your Christmas event in Columbus, consider incorporating a theme to elevate the overall ambiance and add a touch of enchantment to your home. While it is not obligatory, choosing a theme can create a cohesive and visually stunning atmosphere that will leave a lasting impression on your guests.  
Here are some ideas to inspire you:   
Opt for a specific color palette, such as traditional red and green, elegant gold and silver, or a winter wonderland theme with shades of blue and white. Incorporate these colors in your Christmas decorations, table settings, and even while choosing attire to create a visually harmonized and festive environment.  

 

Select a specific holiday-themed motif to tie your decorations together. Consider using elements like snowflakes and reindeer in the decoration. You can also go with a cozy rustic theme with pinecones and plaid accents. It will add a whimsical and charming touch to your Christmas dinner party.  

 
Remember, your chosen theme can be as simple or dramatic as you desire. The goal is to infuse your space with elements that evoke the holiday spirit and reflect your style.  
Tip 4: Embrace the Magic of Christmas Festivities   
Elevate your Christmas dinner to a new level by adding captivating details that will turn it into an extravagant celebration and help you fully experience the holiday spirit.  
You can start dolling up your home with fairy lights and candles. One way to do this is by placing candlesticks in empty wine bottles. It is a quick and easy way to illuminate the room and instantly transform it into your own Christmas wonderland.   
While a traditional roast is always a safe bet, we firmly believe that pre-dinner appetizers are just as essential as the main course for a memorable dinner party. Equally important are the festive-themed beverages, such as mulled wine, Christmas punch, and peppermint white Russians. Considering these tidbits while decorating your house and preparing your dinner tables will help make your holiday dinner an event to remember and cherish for years to come.   
Tip 5: Host an Elegant Takeout Dinner Soirée   
Hosting a dinner party may seem daunting if you lack culinary skills. But fret not, as takeout food is here to save the day and alleviate all your worries. While the idea of not actually cooking anything may seem unconventional for a dinner party, the notion of takeout food does not have to evoke images of greasy pizza boxes or soggy kebab bags.   
To spare your guests from your less-than-stellar cooking abilities, opt for your favorite takeout meals (consider picking them up instead of relying on delivery services to ensure freshness) and present them on exquisite dinner plates. Transform your dining table by adorning it with flickering candles and festive crockery pieces, creating an ambiance that sets the stage for a truly delightful evening. 
Tip 6: Host Christmas Dinner Like a Pro with a Potluck   
Organizing a potluck, where each guest brings a dish to share, has numerous advantages and benefits for everyone involved. Firstly, it allows your friends to showcase their favorite homemade dishes to others, and secondly, it significantly reduces your work. Enhance the festive atmosphere by organizing an 'Around the World Christmas' potluck, where each guest prepares a traditional Christmas dish from a specific cuisine. Imagine German potato dumplings, mulled wine, a classic English roast turkey, and delectable, sweet Italian Christmas treats for dessert.  
Tip 7: Elevate Your Feast with a Personal Chef   
Immerse yourself in the holiday spirit and take your Christmas dinner to extraordinary heights by entrusting the expertise of a personal chef. With their culinary prowess, these professionals bring a touch of magic to your table, ensuring a memorable and stress-free dining experience for you and your loved ones.   
From menu customization to meal preparation, hiring a private chef for Christmas Day takes the burden off your shoulders, allowing you to enjoy the festivities to the fullest. These culinary artists excel in crafting delectable dishes tailored to your preferences and dietary needs. With their experience, culinary knowledge, impeccable presentation, and attention to detail, your Christmas feast will become lively and an occasion to remember and cherish for a lifetime.   
The next important thing to know is where to hire a chef for Christmas Day. CookinGenie is your gateway to culinary excellence. With an extensive selection of talented chefs, this online platform simplifies the process of hiring personal chefs nearby. So, this Christmas, take a break from cooking and indulge in the luxury of a private chef from CookinGenie.   
Conclusion     
Christmas is indeed the jolliest time of the year. It is also the perfect opportunity to showcase your hosting skills and throw a magnificent dinner party. Whether gathering with your closest loved ones or reconnecting with work acquaintances, these top 7 tips will ensure that your Christmas dinner party surpasses all expectations. From creating a festive ambiance with dazzling decorations to curating a mouthwatering menu that caters to everyone's taste palate, these tips will help you make your evening unforgettable.    
So, dust off your hosting prowess and get ready to host a truly amazing Columbus Christmas event that will leave your guests in awe.