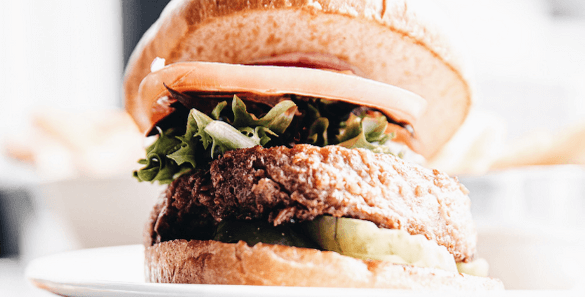 When you walk through the meat section at the grocery store, you will often find steaks labeled with a small shield in the right-hand corner, denoting a USDA grade and claiming the steak as prime, choice, or select. But what do these grades really mean? And how should they impact your decisions on what steak to buy, or not to buy?
The first thing to understand is that the USDA has two main objectives when looking at beef: inspection and grading. Inspection is required of all meats that are shipped across state lines, as mandated by the Meat Inspection Act of 1906. Inspection is a safety measure; it does not guarantee quality but simply ensures that the meat is safe for human consumption.
Grading, however, is different. A grade is an assurance of quality you can trust. Within 24 hours of the animal being slaughtered, expert USDA graders examine the meat and assign a grade on the basis of age, color, texture, firmness, and marbling.
Of these grading criteria, marbling, which is the intramuscular fat inside a piece of meat, is the easiest to identify—it's the white lines that run through a piece of raw steak. Marbling equals tenderness and juiciness. As the steak cooks, the fat melts and makes the steak moist and tender. The more marbling, the higher quality the steak.
With all these criteria in mind, the USDA has eight grades it applies to beef: Prime, choice, select, standard, commercial, utility, cutter, and canner. The higher the grade, the more expensive the steak.
(Also Read – What Makes Bibimbap The Ultimate Korean Feast?)
Prime is the highest grade, this meat comes from younger animals, is rich in marbling, juicy, tender, and flavorful. But it is also expensive and can be hard to find.
Choice meat is of excellent quality, with solid marbling and flavor, it offers great value and is readily available. Choice steaks are good candidates for grilling, roasting, or searing.
Select meat is of solid quality and is very economical. Since select meats are a little tougher and drier, they are well suited for moist cooking techniques like stewing and braising.
Standard meat is cheap, tough, and of low quality. Sometimes you will see it as an ungraded store brand meat but typically it's sold as ground meat or other processed products.
Utility, cutter, and canner meats are rarely ever used in foodservice and are typically used to make pet food and other canned products.
It's also important to note that grading, unlike inspection, is voluntary and not required by law. So, if you go to a local butcher or farmer, their steak may not be graded, but that doesn't necessarily mean that it's low quality. When shopping for these steaks, the easiest way to determine quality is to look for marbling.
Here at CookinGenie, we offer a wide range of delicious, creative steak dishes and strive to use butcher-fresh meat graded choice or better. Beneath every dish on the website, you will find a transparent list of ingredients so that you know it is quality you can trust. Browse the menu today to see what amazing steak-night dishes can be prepared in your own kitchen.
Sources: https://www.usda.gov/media/blog/2013/01/28/whats-your-beef-prime-choice-or-select?page=1