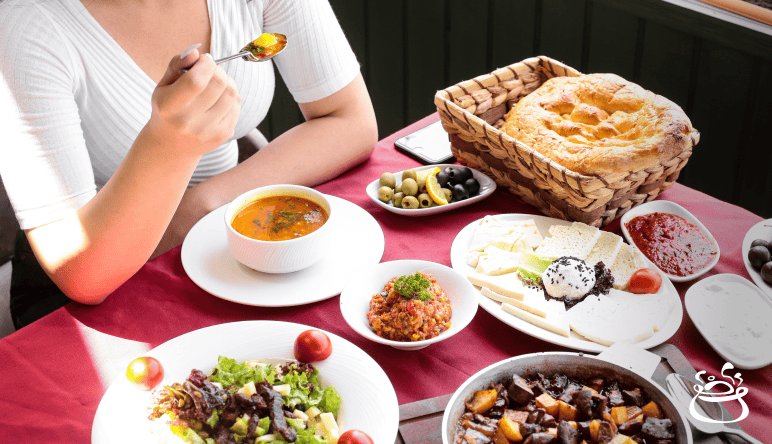 In a sea of unhealthy meal options, finding a healthy meal seems like looking for a needle in a haystack. Your search to find the healthiest meals ends here! You're in luck if you're a resident or visitor in Columbus, Ohio. Known for its vibrant food scene, Columbus offers many options for those seeking to improve their diet and embrace healthier eating.  
Whether you're a food enthusiast, a health-conscious person, or simply looking for better food choices, this blog post will guide you through 5 Ways to Eat Columbus's best food.  
Exploring Columbus' Healthy Ways to Eat
From exploring local farmers' markets brimming with fresh produce to indulging in farm-to-table restaurants that prioritize sustainable and nutritious ingredients, Columbus has it all.  
Additionally, the city is home to health-conscious cafes and delis, offering delectable meals plated to nourish your body. Let's dive into the heart of Columbus's food scene and uncover the path to a healthier you. 
Local Farmers' Markets
Columbus, Ohio is blessed with a thriving local farmers' market scene. The fruits, vegetables, and other products available at these markets are typically harvested within a few days, ensuring maximum flavor, nutritional value, and quality.
Shopping at farmers' markets is a fantastic way to prioritize healthy eating while supporting local farmers and businesses. Let's look at some famous farmers' markets that are homed in Columbus.  
North

Market

Farmers Market




Located in the historic North Market, this year-round market brings together a wide selection of fresh produce, meats, cheeses, baked goods, and more. 

Worthington Farmer

'

s Market




Known as one of the largest and oldest farmers markets in Central Ohio, the Worthington Farmer

'

s Market offers a diverse range of products, from farm-fresh fruits and vegetables to honey, flowers, and handmade crafts. 

Clintonville Farmer

'

s Market




Situated in the vibrant Clintonville neighborhood, this community-oriented market offers a variety of seasonal produce. Also, you can find pasture-raised meats, artisanal cheeses, homemade jams, and much more. 

 
Embrace Farm to Table Restaurants 
The Farm to Table concept revolves around shortening the distance between the farm and the table, ensuring every dish's freshness and quality. These restaurants prioritize sustainability, traceability, and supporting local agriculture. 
Located in the Short North Arts District, The Guild House sources ingredients from local farmers and artisans to craft its seasonal and innovative menu. 
Focusing on sustainability and community, The Kitchen offers a farm-to-table experience connecting diners with its food source. The restaurant features a rotating menu that showcases local, organic ingredients, creating a memorable culinary journey.
Strongwater Food and Spirits

 
Nestled in the historic Strongwater Distillery building, this farm-to-table restaurant serves locally sourced, farm-fresh dishes with a creative twist. The menu highlights Ohio's best ingredients and includes vegetarian and vegan options. 
Join Community Supported Agriculture (CSA) Programs
Community Supported Agriculture (CSA) programs have gained popularity recently to connect consumers directly with local farmers and support sustainable agriculture.  
The concept behind CSA is simple yet powerful: individuals or families become farm members by purchasing a share of their harvest in advance. In return, they receive a regular supply of fresh, seasonal produce throughout the growing season. 
As someone looking for options to have healthy food in Columbus, you can take advantage of CSA Programs Columbus offers. There are various CSA programs available in Columbus where you can easily participate. 
Green Thumb Farms CSA
Located just outside Columbus, Green Thumb Farms dedicates its services to catering to organic and sustainable farming practices. Its CSA program offers a variety of seasonal vegetables, herbs, and fruits. 
Columbus Harvest CSA
Columbus Harvest is a cooperative of local farmers committed to providing the community with fresh, locally grown produce. Its CSA program offers flexible share options, including whole shares, half shares, and even customizable boxes. 
Sunny Fields Farm CSA
Nestled on the outskirts of Columbus, Sunny Fields Farm is known for its diverse selection of heirloom vegetables and sustainably raised meat options. Its CSA program includes a mix of vegetables, fruits, eggs, and pasture-raised meats, allowing you to enjoy a well-rounded supply of farm-fresh goodness.  
Urban Roots CSA
Urban Roots is a unique CSA program located in the heart of Columbus. Its focus is on urban agriculture and community engagement. They grow various vegetables, herbs, and flowers on its urban farm and offer CSA shares to the local community. 
Seek Out Health-Conscious Cafes and Delis
When maintaining a healthy diet, finding convenient and wholesome food options is essential. Health-conscious cafes and delis have menus that offer nutritious meals and snacks that support your well-being.  
These eateries use high-quality ingredients, incorporate fresh produce, and provide various options for different dietary preferences. 
Alchemy Juice Bar + Cafe is a beloved destination for health-conscious individuals in Columbus. They offer a menu with nutrient-packed smoothies, cold-pressed juices, and nourishing plant-based meals.  
Portia's Cafe is a vegan and gluten-free haven in Columbus. Its menu showcases a range of delicious and health-conscious options, including organic salads, plant-based burgers, wholesome wraps, and freshly made juices.
Brassica is a Mediterranean-inspired fast-casual restaurant that emphasizes fresh ingredients and bold flavors. They offer a build-your-own concept, allowing you to create nutritious and customizable meals.
Native Cold Pressed is a cold-pressed juice bar that specializes in organic, raw, and unpasteurized juices. They also offer a range of plant-based food options, including acai bowls, salads, and energy bites.
Clean Eatz is a health-focused cafe and meal prep service committed to offering healthy and convenient options. Its menu features a variety of meals made with fresh ingredients, including lean proteins, whole grains, and plenty of vegetables. 
The Little Eater is a vegetable-forward cafe and deli that celebrates the flavors of seasonal produce. Its menu lists vibrant salads, hearty grain bowls, and flavorful vegetable-focused dishes.
The Angry Baker is a famous bakery and Cafe that caters to health-conscious individuals. They offer a range of options, including vegan and gluten-free baked goods, fresh salads, and creative sandwiches made with wholesome ingredients.  
Healthy Home Cooking with Fresh Ingredients
Cooking at home provides a beautiful opportunity to take control of your diet and make conscious choices about the food you consume. By preparing meals in your kitchen, you have complete control over the ingredients, portion sizes, and cooking methods, allowing you to prioritize your health and well-being.  
Being in Columbus means being in the heart of healthy, locally sourced ingredients to cook a wholesome plate. There are plenty of ways through which you can source nutrition-rich products.  
Community Gardens
Columbus has several community gardens where individuals and communities grow their produce. Not only can you find fresh, locally grown ingredients, but you can also learn about gardening techniques and foster relationships with fellow gardening enthusiasts.  
Discover Urban Farms
These innovative farms cultivate crops and raise livestock within city limits, providing a sustainable and local source of ingredients. Look for urban farms like Franklinton Farms and Clarfield Farm in Columbus.  
Join Local Food Co-ops
 Local food co-ops are member-owned grocery stores prioritizing sourcing products from local farmers and producers. To savor health and flavors you can join a food co-op like the Clintonville Community Market or the Simply Living Co-op to access a variety of local ingredients and support sustainable food systems. 
Conclusion
Columbus boasts a vibrant food culture that values sustainability, health, freshness, and flavor. Whether you're a longtime resident or a visitor in Columbus, these five ways will change how you look at healthy food in the best ways. 
By prioritizing your health and supporting local food systems, you'll discover a renewed sense of well-being and a deeper connection to the vibrant food culture of Columbus, Ohio.