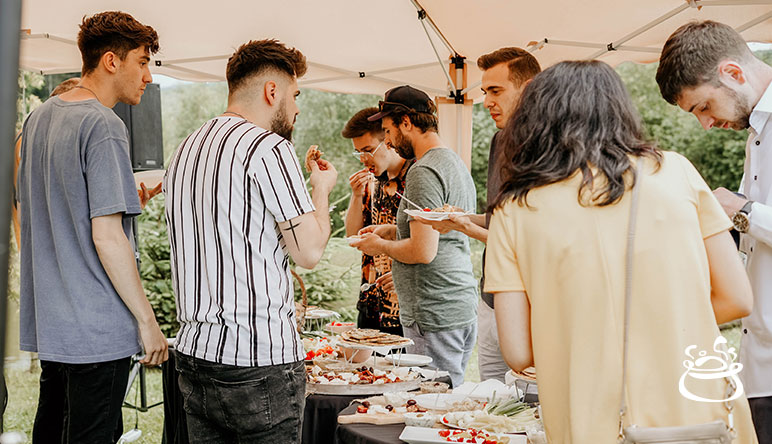 As the stars and stripes unfurl across the nation, a unique and vibrant energy fills the air in Cincinnati during Independence Day. Known for its rich history, bustling neighborhoods, and culinary scene that captures the city's essence, Cincinnati offers a distinct way to celebrate the Fourth of July. What better way to honor this patriotic occasion than by indulging in the flavors that have come to define the city?
So, let's dive into 5 local dishes and explore how you can infuse your Independence Day party in Cincinnati with a taste of the city's culinary delights.
Skyline Chilli
Skyline Chili isn't just a dish; it's a testament to Cincinnati's culinary history. Established in 1949, this local institution has become essential to the city's identity. It's where friends gather, families bond, and you create memories. Including Skyline Chili Dogs in your Independence Day celebration not only delights your taste buds but also connects you to the heart and soul of Cincinnati.
How to cook: To create the ultimate Skyline Chili Dog experience, start with a classic hot dog bun. Lay down a steamed hot dog, then generously spoon Skyline Chili. The secret in the chili – its unique spice profile infuses each bite with a burst of Cincinnati flavor. Crown your creation with a sprinkle of shredded cheddar cheese, a scattering of finely diced onions, and a dollop of kidney beans.
So, fire up that grill, gather your ingredients, and treat your guests to a taste of Cincinnati's rich heritage with Skyline Chili Dogs. It's a surefire way to make your Independence Day party in Cincinnati an unforgettable experience.
Goetta Sliders
Goetta, pronounced "get-uh," is a one-of-a-kind dish that captures the essence of Cincinnati's melting pot heritage. It's a savory blend of ground meat (typically pork and beef) and steel-cut oats, seasoned to perfection with spices that evoke comfort and warmth.
Goetta's origins trace back to the German immigrants who settled in Cincinnati, bringing a culinary tradition that fused seamlessly with American ingredients—the result- A dish that marries Old World flavors with modern American comfort.
How to cook: Whip up some Goetta Sliders for a crowd-pleasing twist. Start by forming small patties of cooked Goetta and sear them to a crispy golden brown. Nestle these patties into mini slider buns, and here comes the fun part: toppings! Think fried eggs, sautéed onions, tangy mustard, and creamy coleslaw for that extra crunch.
Goetta isn't just a dish – it's a symbol of Cincinnati's resilience and adaptability. Rooted in the city's immigrant past, it showcases the enduring power of food to tell stories and preserve traditions. By presenting Goetta Sliders at your Independence Day celebration, you're serving a savory delight and honoring the diverse heritage that makes Cincinnati unique.
Graeter's Ice Cream Sundae Bar
Graeter's Ice Cream isn't just about satisfying your sweet tooth – it's an integral part of Cincinnati's fabric. It's where families gather after a ballgame, where friends catch up over a cone, and where memories embed in time. By featuring Graeter's at your Independence Day party, you're inviting your guests to join in the tradition of celebrating life's sweet moments.
How to craft the bar: Elevate your Independence Day celebration by setting up an ice cream sundae bar. Start by offering a selection of Graeter's flavors, ranging from the velvety vanilla to the luscious strawberry. You can also top it with various options, including crushed nuts, rainbow sprinkles, whipped cream, and iconic hot fudge.
To tie in with the Independence Day theme, consider creating patriotic sundaes. Layer scoops of Graeter's vanilla, blueberry, and strawberry ice cream to mirror the colors of the American flag. For a festive touch, top them off with a sprinkle of edible stars or red, white, and blue candies.
Montgomery Inn Style BBQ Ribs
Cincinnati is known for its vibrant barbecue culture, and at the heart of it are the legendary Montgomery Inn-style ribs. These ribs are a local favorite, cherished for their tender meat that practically falls off the bone and their mouthwatering, tangy sauce.
How to cook: To recreate this Cincinnati classic, start by marinating the ribs in a blend of spices, brown sugar, and a dash of Worcestershire sauce. Then, slow-cook them on the grill so they caramelize beautifully and are irresistibly aromatic.
For that signature Montgomery Inn flavor, generously slather the ribs with their iconic barbecue sauce during the final stages of grilling. To ensure your ribs turn out perfect every time, remember to maintain a consistent medium heat, flip them occasionally, and baste with sauce for that glossy finish.
With these simple grilling tips, your Montgomery Inn-style ribs will be the star of your Independence Day party in Cincinnati, capturing the essence of Cincinnati's barbecue heritage.
Queen city Cornbread
Cornbread holds a cherished spot in Southern cuisine, a sentiment that Cincinnati fully embraces. This humble yet hearty dish boasts a golden crust and a soft interior that captures hearts across the region.
How to cook: Creating your own Queen City Cornbread is a breeze. Begin by blending cornmeal with local honey, infusing a sweetness that pays homage to Cincinnati's flavors. Adding a dash of cinnamon nods to the city's affinity for warm, comforting spices. Once baked to a beautiful golden brown, this cornbread is a delight, carrying the essence of Cincinnati's culinary heritage.
Cincinnati-Style Chili Topping
Elevate your Queen City Cornbread with Cincinnati flair by topping it with the famous chili. The melding of the savory, spicy chili with the sweet cornbread creates an unexpectedly delightful combination, showcasing the unique flavors that Cincinnati brings to the table. This creative twist adds a layer of excitement to your cornbread and pays homage to the city's culinary traditions.
Indulging in Queen City Cornbread isn't just about consuming food; it's a homage to Cincinnati's tastes, a journey into its food culture, and a surefire way to captivate your guests at your Independence Day gathering.
Cincinnati-Inspired Independence Day Party Tips
Planning an unforgettable Independence Day party goes beyond the menu. Infuse some Cincinnati charm into your celebration for an extra dose of fun and local flair. Let's look at some quick tips to elevate your event.
Decoration Ideas with a Cincinnati Twist
Hang banners featuring Cincinnati landmarks and skyline.

Use local sports team colors in your decor, like red and black for the Cincinnati Reds.

Incorporate Cincinnati's famous flying pig mascot into table centerpieces.
Patriotic Activities and Games for All Ages
Host a tug-of-war contest, pitting "Cincinnati vs. the Rest of the World."

Organize a chili cook-off where guests can vote for the best Cincinnati-style chili.

Set up a trivia game with Cincinnati-themed questions to challenge your guests' local knowledge.
Embrace Local Culture and Traditions
As you celebrate Independence Day, take a moment to appreciate Cincinnati's unique culture and heritage. Whether it's enjoying local dishes, playing Cincinnati-centric games, or showcasing the city's symbols, this is a chance to connect with the community and honor the traditions that make Cincinnati a special place. Your Independence Day party in Cincinnati becomes more than an event; it becomes a meaningful tribute to the city's identity and a memorable experience for your guests.
Conclusion
As you gear up to celebrate Independence Day in Cincinnati, remember that this occasion is not just about fireworks and barbecues; it's an opportunity to embrace the heart and soul of the city. By incorporating local flavors, dishes, and traditions into your party, you're treating your guests to a delectable experience and paying homage to the vibrant culture that Cincinnati holds dear.
So, gather your loved ones, enjoy the festivities, and make this Independence Day a truly unforgettable and authentic Cincinnati celebration.