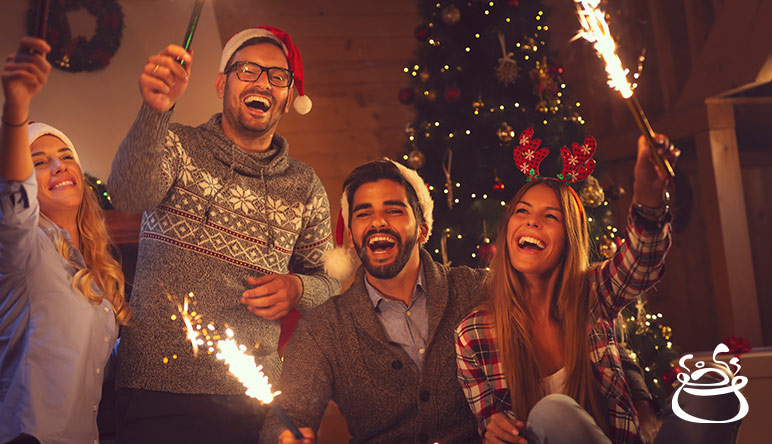 The air is excited when the world prepares to bid farewell to the old and welcome the new. It's that time of the year when people make resolutions, renew their dreams, and hope fills the hearts of millions. As the clock ticks closer to midnight, Cincinnati embraces the contagious spirit of celebration, offering many opportunities to make New Year's Eve unforgettable.
This blog is your ultimate guide, offering a thoughtfully curated list of Cincinnati's most captivating activities on this momentous night. From dazzling fireworks displays to glamorous galas, family-friendly fun, and everything in between, our handpicked selection ensures that your New Year's Eve will be magical. So, without further ado, let's dive into the five extraordinary activities that will set the stage for an unforgettable New Year's Eve in Cincinnati.
Cincinnati's Spectacular Fireworks
When the New Year's midnight approaches, the night sky over Cincinnati comes alive with a breathtaking display of colors, lights, and sparkles. Watching the fireworks paint the heavens is a timeless tradition that brings people together, fostering a sense of unity and hope for the year ahead. Cincinnati takes its fireworks seriously, and the city offers several fantastic locations to witness this awe-inspiring spectacle.
Oakley Square on Madison Road
Situated in the heart of the vibrant Oakley neighborhood, Oakley Square hosts a mesmerizing firework show that draws in both locals and visitors. As the sky above Oakley Square is set ablaze with a dazzling array of fireworks, the jubilant crowd below feels an electric energy of togetherness. The surrounding streets come alive with celebrations as restaurants and bars overflow with merriment, making it an ideal spot to welcome the New Year.
Fountain Square New Year's Eve
Cincinnati's Fountain Square is an iconic New Year's Eve celebration location. The heart of downtown transforms into a lively hub of festivities like live music, dance performances, and a countdown to remember to add to the thrill of the night. As the clock strikes twelve, the sky above Fountain Square ignites in a symphony of colors, reflected in the fountain's waters below, creating an unforgettable visual spectacle. 
BB Riverboats New Year's Eve Cruise
For a unique and unforgettable experience, consider stepping aboard the BB Riverboats for a New Year's Eve cruise along the Ohio River. Cruising on the tranquil waters while savoring a sumptuous dinner and dancing to live music sets the stage for an elegant and romantic celebration. As the boat anchors at a prime location, guests are treated to a front-row view of the city's fireworks extravaganza, making it an ideal choice for couples and those seeking a memorable adventure.
Cincinnati's Glamorous New Year's Eve Galas and Parties
As the countdown to midnight begins, Cincinnati's nightlife transforms into a dazzling display of glitz and glamour, offering a plethora of upscale galas and vibrant parties to welcome the New Year in style. Cincinnati boasts a selection of remarkable galas and parties that cater to every taste and preference to ring the New Year's bell.
New Year's Masquerade Ball
Prepare to be enchanted by the allure of a masked ball, where elegance and mystery intertwine. Cincinnati's New Year's Masquerade Ball offers an evening of sophistication featuring gourmet cuisine, live music, and enchanting dance performances. As the clock nears midnight, a champagne toast sets the stage for the unmasking ritual, symbolizing the shedding of old identities and embracing new beginnings with optimism and grace.
Hard Rock Casino's New Year's Eve Celebration
Step into a world of excitement and entertainment at the Hard Rock Casino's annual New Year's Eve bash. This high-energy extravaganza combines the thrill of gaming with live performances by top artists, creating an electrifying atmosphere for revelers.
Back to the '90s: New Year's Eve Bash
If nostalgia beckons, immerse yourself in a blast from the past at the Back to the 90's New Year's Eve bash. Dance the night away to iconic hits from the 90s as the DJ spins tracks that will transport you back in time. Guests are encouraged to dress up in their favorite 90s attire, adding an extra element of fun to this retro-themed celebration.    
Family-Friendly New Year's Festivities in Cincinnati
New Year's Eve is not only a time for late-night revelry and glamorous celebrations; it's also an opportunity to create lasting memories with those who matter the most – your family. In Cincinnati, the city's vibrant spirit extends to family-friendly festivities catering to all ages, ensuring that the magic of the New Year becomes an experience everyone enjoys together.
New Year's Eve at WinterFest at Kings Island
As the sun sets, the park transforms into a winter wonderland adorned with twinkling lights and festive decorations. Make memories with thrilling rides and attractions suitable for all ages, including the little ones. The night culminates with spectacular fireworks show, spreading cheer and happiness throughout the park, making it a magical way for families to welcome the New Year.
Location: 6300 Kings Island Dr, Mason, OH

Timings: December 31, from 4 pm – 1 am
Happy Zoo Year at the Cincinnati Zoo
The Cincinnati Zoo invites families to celebrate the New Year in a wild and wonderful way at the Happy Zoo Year event. Amidst the zoo's scenic beauty, visitors can enjoy various unique entertainment, including puppet shows, face painting, and animal encounters. This family-friendly celebration promises a roaring good time for furry and non-furry alike.
Location: 3400 Vine St, Cincinnati, OH

Timings: NYE December 31, 1–9 pm
New Year's Eve Skate at Fountain Square
Lace-up your skates and glide into the New Year at Cincinnati's beloved Fountain Square. The New Year's Eve Skate offers families a chance to indulge in an evening of ice-skating fun under the stars. Enjoy the twinkling lights and festive music as you twirl and glide on the ice with your loved ones.
Location: 520 Vine St, Cincinnati, OH

Timings: Time: NYE December 31, 6:00 pm – 12:30 am
*Also open on New Year's Day, January 1, 10 am- 9:30 pm
The Iconic New Year's Eve Ball Drop Event
The New Year's Eve ball drop event is a grand affair transforming Fountain Square into a vibrant and bustling celebration hub. The event's centerpiece is a magnificent, custom-made ball adorned with sparkling lights and decorations. This dazzling sphere, positioned high above the square, captures the essence of the occasion, symbolizing the hope and optimism that a new year brings.
A palpable sense of excitement fills the air as the clock approaches midnight. The crowd gathers around the base of the ball, eyes fixed on the countdown clock. With every passing second, the energy escalates, and the atmosphere becomes electric. The final countdown begins, and as the clock strikes midnight, the ball gracefully descends from the sky, illuminating the square with a kaleidoscope of colors.
Live Performances and Festivities
To heighten the celebratory ambiance, the New Year's Eve ball drop event in Cincinnati features an exciting lineup of live performances and entertainment throughout the evening. Local bands, musicians, and performers take to the stage, captivating the audience with their talent and energy. The music fills the air, providing the perfect soundtrack to the festivities.
Apart from musical performances, the event often includes engaging activities and interactive booths for attendees. From face painting and photo booths to food trucks offering delectable treats, there is something to delight everyone in the family.
Hosting a Memorable New Year's Bash with Loved Ones
When choosing the best activity for New Year's Eve in Cincinnati, consider hosting an intimate gathering at home. Surrounded by close friends and family, you can create cherished memories and celebrate in a warm and personal setting. With some planning and creativity, your New Year's bash at home can become an unforgettable and heartwarming experience that sets the tone for a joyous year ahead.
To ensure that New Year makes a perfect knock at your door, you can follow some tips for planning a memorable New Year's Bash.
Send Out Invitations: Create personalized invitations to set the tone for your New Year's bash. Whether through traditional mail or digital invites, ensure your guests receive the details in advance.
Decorate with Flair: Deck your home with festive decorations, such as fairy lights, balloons, and glittering banners. A touch of sparkle and glamour sets the mood for a celebration.
Plan a Delicious Menu: Opt for a delectable spread that caters to various tastes. Consider hiring a personal chef to prepare a sumptuous feast while you revel in the festivities without worrying about cooking.
Curate the Perfect Playlist: Create a playlist of upbeat and nostalgic songs to keep the party alive and the dance floor bustling. Music is the heartbeat of any celebration!
Set Up a Photo Booth: Create lasting memories with a DIY photo booth. Provide fun props and a backdrop that matches the New Year's theme for unforgettable snapshots.
Host Entertaining Activities: Plan games, such as charades, board games, or a trivia quiz related to the year gone by to keep guests engaged and entertained.
Sparkling Toast at Midnight: Gather everyone for a champagne toast at midnight to welcome the New Year in style.
New Year's Resolutions: Encourage your guests to share their New Year's resolutions and hopes for the future, fostering a sense of positivity and camaraderie.
Conclusion
Cincinnati's vibrant atmosphere, rich cultural heritage, and warm hospitality create a unique and unforgettable New Years' experience. From mesmerizing fireworks lighting the night sky to glamorous galas, family-friendly festivities, and intimate home gatherings, Queen City offers many options to ring New Year's Eve in Cincinnati.
As we welcome the promises of a new year, let us remember to cherish the simple joys, embrace the company of loved ones, and strive to make each day a celebration of life.