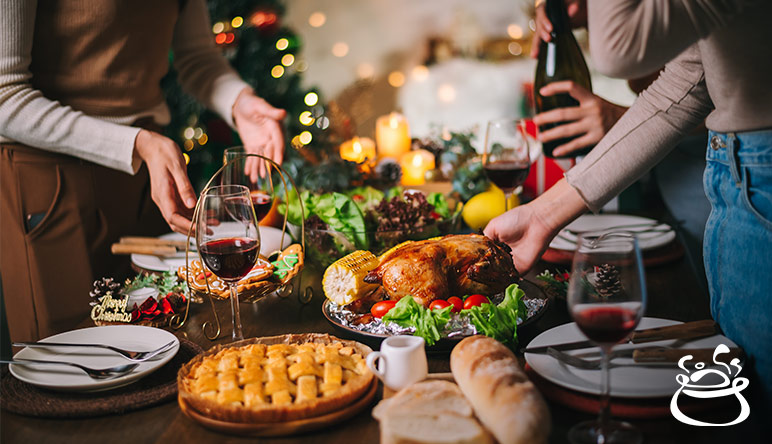 Thanksgiving is a cherished holiday that brings together family and friends to express gratitude for the blessings in our lives. It's when we reflect on the things that matter most and create lasting memories. As the air gets crisp and the leaves turn vibrant hues of orange and red, the anticipation for Thanksgiving grows. It's a time for feasting, laughter, and creating cherished moments with loved ones.
If you find yourself in Cleveland during Thanksgiving, it sure will be better than anywhere. In this blog, we will guide you to making this Thanksgiving in Cleveland unforgettable. We have handpicked five incredible Halloween activities in Cleveland to enhance your Thanksgiving celebration, ensuring you have the most memorable experience possible.
Get ready to create new traditions, savor incredible flavors, engage in meaningful acts of kindness, and embrace all that Cleveland has to offer during this season of gratitude. Let's make this Thanksgiving an unforgettable experience together
Exploring Cleveland's Thanksgiving Traditions
Like in the rest of the country, Thanksgiving in Cleveland is a time to gather with loved ones, share a bountiful meal, and express gratitude. However, Cleveland's unique traditions and events add a special touch to this holiday. During Thanksgiving in Cleveland, there are several traditions and events that you will want to attend.
The Annual Cleveland Thanksgiving Day Parade
Join thousands of spectators lining the streets of downtown Cleveland for one of the city's most beloved traditions. The annual thanksgiving parade is one of the best Halloween activities in Cleveland that you can be part of. This spectacular parade features colorful floats, marching bands, giant helium balloons, and even an appearance by Santa Claus to kick off the holiday season officially.
Turkey Trot
Lace-up your running shoes and participate in the Cleveland Turkey Trot, a festive 5K or 10K run on Thanksgiving morning. This event brings together fitness enthusiasts and families to burn calories before indulging in a delicious Thanksgiving feast. It's a fun and healthy way to start the day.
The Lighting of the Christmas Tree
While not strictly a Thanksgiving tradition, Cleveland often kicks off its holiday season with the lighting of the city's iconic Christmas tree. This event usually occurs shortly after Thanksgiving and marks the beginning of the festive decorations that adorn the city throughout December.
Cleveland Metroparks Zoo Thanksgiving Buffet
Consider heading to the Cleveland Metroparks Zoo for a unique twist on the traditional Thanksgiving meal. The zoo hosts a special Thanksgiving buffet where you can enjoy a delicious feast surrounded by the beauty of nature and exotic animals.
Embrace Cleveland's Thanksgiving Culinary Delights
During Thanksgiving, the city's restaurants and catering services go above and beyond to provide unique and delicious menus that celebrate the holiday. From traditional favorites with a twist to innovative dishes that showcase local flavors, Cleveland offers something for everyone.
Crop Bistro & Bar
This award-winning restaurant in Ohio City is renowned for its farm-to-table approach. For Thanksgiving, Crop Bistro & Bar offers a delectable prix fixe menu featuring seasonal ingredients and creative twists on classic dishes.
The Black Pig
Located in Cleveland's Ohio City neighborhood, The Black Pig is a popular gastropub known for its rustic yet refined cuisine. They offer a special holiday menu during Thanksgiving that showcases their culinary expertise.
The Metropolitan at the 9
This elegant downtown restaurant offers a sophisticated setting for your Thanksgiving celebration. The Metropolitan at the 9 serves a lavish Thanksgiving buffet featuring traditional dishes, including roasted turkey, cranberry sauce, and pumpkin pie.
Market Garden Brewery
For a casual and festive Thanksgiving experience, head to Market Garden Brewery in Ohio City. Enjoy their craft beers alongside turkey pot pie, sweet potato gnocchi, and pumpkin cheesecake.
Engage in Festive Activities
During Thanksgiving, Cleveland offers many festive events and activities that add extra excitement to the holiday season. Embrace the holiday spirit and make lasting memories by participating in these best Halloween activities in Cleveland.
Winterfest
Although not strictly a Thanksgiving event, Winterfest is a highly anticipated celebration that often takes place shortly after Thanksgiving. Head downtown to witness the official lighting of Public Square, enjoy live performances, ice-skating, and immerse yourself in the magical holiday ambiance. 
Schedule:

Saturday, November 25, From 10 am-8 pm

Tickets:

Complimentary + Various Paid Activities

 

Location:

Public Square, Cleveland, OH 44113
Glow at Cleveland Botanical Garden
Step into a winter wonderland at the Cleveland Botanical Garden's Glow event. Taking place during the Thanksgiving season, this enchanting experience features stunning holiday light displays, festive decorations, and activities for the whole family. Stroll through the garden and marvel at the illuminated landscapes and themed exhibits.
 
Schedule:

Saturday, November 21 through Sunday, January 03.

Tickets:

$15 per adult

$10 per child (age 3 to 12)

Free for children two and under

Location:

Case Western Reserve University

11030 East Blvd, Cleveland, OH 44106
Holiday CircleFest
Celebrate the start of the holiday season at University Circle, Cleveland's cultural hub. Holiday CircleFest is a free event featuring live music, entertainment, ice carving demonstrations, horse-drawn carriage rides, and more. Enjoy the festive atmosphere, explore museums, and make lasting memories with your loved ones.
Schedule:

Sunday, December 04, 2022, 12:00 pm – 7:00 pm

Tickets:

Free admission

Location:

Wade Oval 10820 East Blvd, Cleveland, OH
Volunteer and Give Back
Thanksgiving is a time to reflect on our blessings and express gratitude for what we have. It's also an opportunity to extend that gratitude by giving back to the community. Volunteering and engaging in acts of kindness not only makes a positive impact on others but also brings a sense of fulfillment and joy to our own lives.
Cleveland offers various volunteer opportunities and charitable organizations where you can make a difference and spread the spirit of gratitude during the Thanksgiving season
Greater Cleveland Food Bank
Volunteer to sort and pack food donations, assist with meal preparation, or participate in food drives that help provide meals to those in need.
Address:

15500 S. Waterloo Road, Cleveland, OH 44110
City Mission
Volunteer at the City Mission's Crossroads Men's Crisis Center, Laura's Home Women's Crisis Center, or the distribution center to help individuals experiencing homelessness and provide support services.
Address:

5310 Carnegie Avenue, Cleveland, OH 44103
Ronald McDonald House Charities of Northeast Ohio
Offer your time and support to Ronald McDonald House, which provides a "home away from home" for families with seriously ill children receiving medical treatment.
Address:

10415 Euclid Avenue, Cleveland, OH 44106
Cleveland Animal Protective League
Volunteer at the Cleveland APL to assist with animal care, adoption events, fundraising, and community outreach.
Address:

1729 Willey Avenue, Cleveland, OH 44113
Making Thanksgiving Uniquely Yours with Personalized Traditions
While embracing Cleveland's existing Thanksgiving traditions is terrific, creating your personalized traditions adds a special touch to the holiday season. It's an opportunity to infuse your unique personality and values into the Thanksgiving celebration, making it memorable for you and your loved ones.
There are various ways to start your Thanksgiving traditions; let's look at a few:
Host a Friendsgiving
Gather your closest friends who may not have family in the area and host a Friendsgiving celebration. Encourage everyone to bring a dish representing their cultural background or a favorite family recipe. It's an opportunity to celebrate friendship, diversity, and the joy of coming together.
Organize a Community Potluck
Contact your neighbors or local community organizations and organize a community potluck. Each participant can bring a dish to share; you can host a potluck at a local park or community center.
Volunteer as a Family
Make volunteering a Thanksgiving tradition for your family. Choose a local charity or shelter and spend a few hours helping those in need. Coming together as a family teaches children the value of giving back and creates lasting memories of gratitude and compassion.
Create a Gratitude Wall
Set up a gratitude wall in your home where family and friends can write down things, they're grateful for. Encourage everyone to add their notes throughout the Thanksgiving season. It serves as a visual reminder of the abundance in our lives and fosters a spirit of gratitude.
Cultural Exchange Dinner
Celebrate Cleveland's diversity by hosting a cultural exchange dinner. Invite friends, neighbors, or coworkers from different cultural backgrounds to share their traditional dishes and stories. It's an opportunity to learn about different customs, traditions, and cuisines while fostering a sense of inclusivity and understanding. 
Conclusion
As the Thanksgiving season approaches, Cleveland comes alive with a vibrant spirit of gratitude, celebration, and community. In this blog, we've explored five incredible ways to make your Thanksgiving celebration in Cleveland remarkably memorable.
May your Thanksgiving celebration in Cleveland be filled with cherished moments, delicious flavors, and deep gratitude. Let's create lasting memories, connect with loved ones, and embrace all these incredible city offers. Happy Thanksgiving!