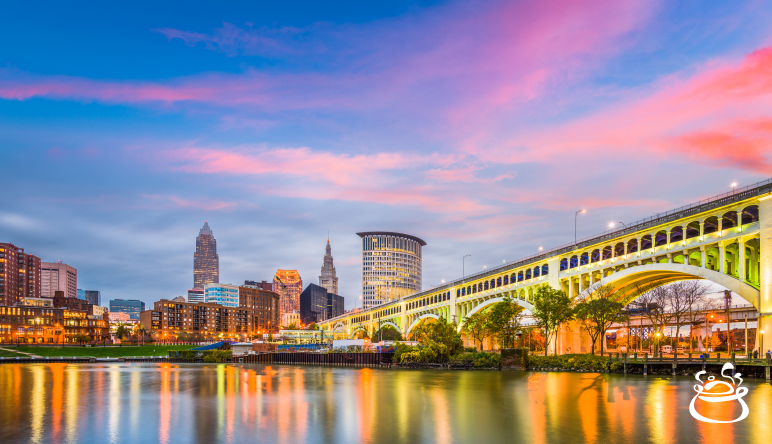 Planning a memorable weekend getaway can be daunting, especially when searching for activities that truly capture the spirit of a city. The challenge lies not in the scarcity of options but rather in the abundance of possibilities, making it difficult to pinpoint the absolute must-dos.
But fear not, for we have your back with our comprehensive guide to Cleveland, a vibrant city bursting with unexpected treasures and unforgettable experiences. Let us dive into our specially crafted itinerary for things to do in Cleveland.
Prepare to discover a city that defies expectations, offering a tapestry of experiences that will leave you with memories to cherish for a lifetime.
Why should you Visit Cleveland?
From its vibrant cultural scene to its rich history and impressive culinary offerings, Cleveland has something for everyone. Let us see why you should add Cleveland to your travel wish list.
Rich Cultural Heritage




Immerse yourself in Cleveland's thriving arts and culture scene, with renowned museums, theaters, and galleries that display an impressive array of exhibits and performances

Historic Landmarks


Discover Cleveland's fascinating history by exploring its iconic landmarks, including the Rock and Roll Hall of Fame, the historic West Side Market, and the Cleveland Museum of Art.

Stunning Natural Beauty




With its picturesque location on the shores of Lake Erie, Cleveland offers breathtaking views and outdoor recreational opportunities, from scenic parks and gardens to stunning waterfront trails.

Sports Enthusiast's Paradise




Cleveland is home to passionate sports fans, and catching a game at Progressive Field (home of the Cleveland Indians) or the Rocket Mortgage FieldHouse (home of the Cleveland Cavaliers) is an experience you should live.

Culinary Delights




Savor the flavors of Cleveland's diverse food scene, ranging from award-winning restaurants to hidden neighborhood gems, where you can indulge in everything from traditional comfort food to innovative culinary creations.

Festivals and Events


Cleveland hosts a vibrant calendar of festivals and events annually, celebrating music, art, culture, and more. Participating in festivals and events is one of the best things to do in Cleveland for both tourists and locals.
How to Reach Cleveland from Nearby Major Cities?
If you are planning a trip to Cleveland and wondering about the best way to reach the city from nearby major cities, we have got you covered. Let us look at the breakdown of transportation options for reaching Cleveland.
Chicago
By Air: Multiple daily flights operate between Chicago O'Hare International Airport (ORD) and Cleveland Hopkins International Airport (CLE), with a flight duration of approximately 1 hour and 15 minutes.

By Train: Amtrak's Lake Shore Limited train service connects Chicago Union Station to Cleveland's Amtrak station. The journey takes around 7 hours.
Detroit
By Car: Cleveland is approximately 170 miles southeast of Detroit, and the drive takes around 3 hours via I-75 S and I-90 E.

By Bus: Greyhound and Megabus offer bus services from Detroit to Cleveland, with an average travel time of around 4 hours.

 
Pittsburgh
By Car: Cleveland is roughly 130 miles northwest of Pittsburgh, and the drive takes approximately 2 hours via I-76 W and I-80 W.

By Bus: Greyhound and Megabus operate bus services from Pittsburgh to Cleveland, with an average travel time of around 2-3 hours
Cincinnati
By Car: Cleveland is approximately 240 miles northeast of Cincinnati, and the drive takes around 4 hours via I-71 N and I-90 E.

By Bus: Greyhound offers bus services from Cincinnati to Cleveland, with an average travel time of around 5-6 hours.
Your Weekend Itinerary for Things to Do in Cleveland
Are you ready to embark on a captivating weekend adventure in Cleveland? To grease up your wheels, we have curated an exciting itinerary that will cover all important things to do in Cleveland
Day 1
Morning
Start your day at the West Side Market, a historic landmark offering a vibrant food market experience. Explore the stalls filled with fresh produce, local specialties, and international flavors.

Enjoy a delicious breakfast or brunch at the market's eateries, such as The Flying Fig or Cleveland Bagel Co
Afternoon
Visit the Rock, Roll Hall of Fame, an iconic museum celebrating the history and impact of rock and roll music. Explore the fascinating exhibits and immerse yourself in the world of legendary artists.

Head to Ohio City, a trendy neighborhood adjacent to downtown Cleveland. Grab lunch at Great Lakes Brewing Company, a renowned brewery and pub known for its craft beers and tasty food
Evening
Spend the evening in the trendy Flats East Bank neighborhood. Enjoy dinner at Alley Cat Oyster Bar, known for its waterfront views and delectable seafood dishes.

After dinner, stroll along the East Bank of the Cuyahoga River and soak in the lively atmosphere. Consider hopping at a concert at the Music Box Supper Club for a memorable evening of live music
Day 2
Morning
Start your day with a visit to the Cleveland Museum of Art, renowned for its extensive collection of artworks worldwide. Marvel at masterpieces by eminent artists and explore the museum's diverse exhibitions.

Grab a quick bite at Provenance Café, located within the museum, offering a range of breakfast and brunch options
Afternoon
Explore the vibrant University Circle neighborhood. Visit the Cleveland Botanical Garden and immerse yourself in the beauty of its gardens and greenhouses.

Indulge in a late lunch at L'Albatros Brasserie & Bar, a French-inspired restaurant known for its elegant ambiance and delicious cuisine
Evening
Head to the historic Tremont neighborhood, known for its eclectic mix of art galleries, shops, and dining options.

Enjoy dinner at Dante, a renowned restaurant offering a modern American menu with innovative twists. Savor the culinary creations and soak in the vibrant atmosphere of this charming neighborhood.
Day 3
Morning
Spend the morning exploring the beautiful Cleveland Metroparks. Take a walk, bike along the picturesque trails, or enjoy a picnic amidst nature.

Grab breakfast at TownHall, a popular spot known for its organic and locally sourced menu options
Afternoon
Visit the Cleveland Museum of Natural History and delve into the wonders of the natural world. Explore the various exhibits, including dinosaurs, gemstones, and ancient civilizations.

Enjoy a leisurely lunch at Crop Bistro & Bar, housed in a former bank building and offering a unique dining experience focusing on fresh, seasonal ingredients.
Evening
End your weekend in Cleveland with a visit to Playhouse Square, the largest theater district outside of New York City. Catch a Broadway show or enjoy a performance at one of the historic theaters.

After the show, savor a delightful dinner at Lola Bistro, owned by renowned chef Michael Symon and known for its upscale American cuisine and vibrant atmosphere.
Note: This itinerary is curated based on the information provided on the internet. Before you head to places, be sure to double-check the address and timings.
Conclusion
From immersing yourself in the city's vibrant arts and culture scene to delving into its fascinating history, Cleveland has something for every traveler. Let this weekend itinerary guide you as you explore the city's unique neighborhoods, interact with its friendly residents, and create memories that will last a lifetime.