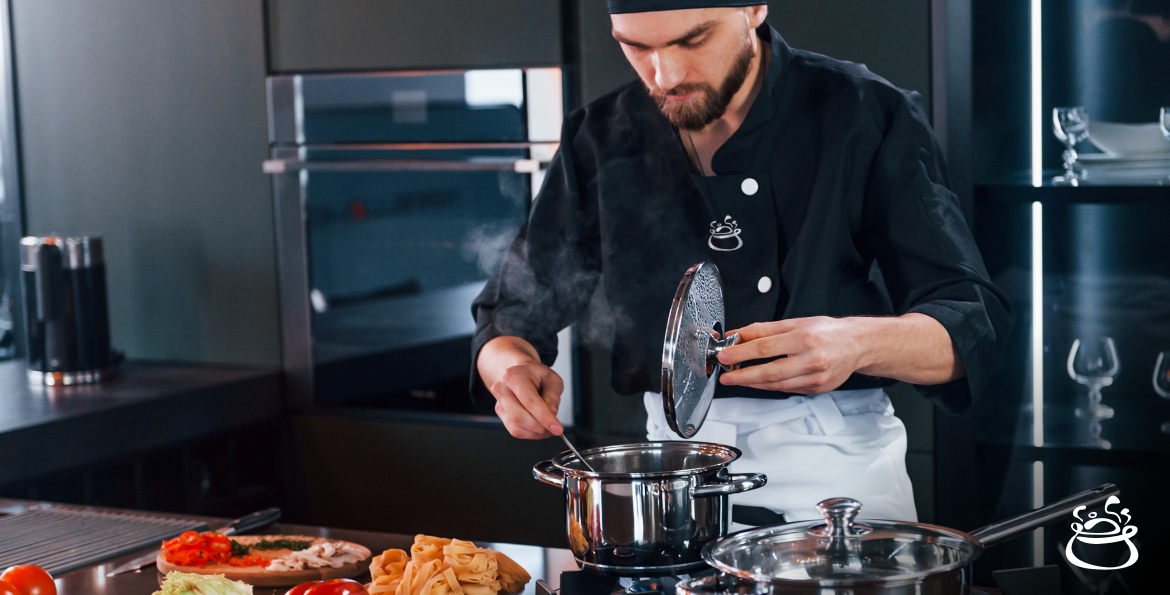 Are you thinking about hiring a personal chef? It's a great way to free up your time and enjoy delicious, home-cooked meals. But what does it cost to hire a personal chef? In this post, we'll look at the factors that affect the cost of hiring a personal chef. We'll also provide tips on getting the most value for your money. If you're considering hiring a personal chef but don't know what to expect in terms of cost, read below to learn more. 
Factors that Affect the Cost of Hiring a Personal Chef
Trying to figure out how much it will cost to hire a personal chef can feel like trying to solve a Rubik's Cube – there are so many variables!  
Some of the most critical factors that affect the cost of hiring a personal chef are as follows: 
The size of the kitchen:

A larger kitchen will require more time to clean and prep, which means higher rates.

 

The menu:

A complicated menu with many ingredients will take longer to prepare and be more expensive. A simple menu will be less costly.

 

The number of guests:

More people means more food, which raises the price.

 

Special dietary needs:

If you or someone in your family has special dietary needs, the chef may consider that when planning menus and preparing food, which can add to the cost.

 

Location:

If you live in a remote area or an urban center, you will also need to consider the chef's travel time and expenses into the cost.

 

 
Average Costs of Hiring a Personal Chef
If you're like most people, having a personal chef may seem like a luxury reserved for the rich and famous. However, the average cost of hiring a personal chef is surprisingly affordable. The average price of booking a private chef is $50 to $200 per hour in a state like Ohio. This rate can vary depending on the chef's experience, geographic location, and the type of food he will prepare.  
For example, if you're looking for a gourmet chef to prepare an elegant dinner party, you can expect to pay more than if you're seeking someone to cook healthy meals for your family weekly. However, even with these factors, the average cost of hiring a personal chef is still quite reasonable. So if you're tired of eating out or cooking the same old thing night after night, why not hire a personal chef? You may be pleasantly surprised at how much you enjoy having someone else do the cooking for you. 
Also Read: How to organize a birthday party at home?
Ways to Save Money when Hiring a Personal Chef
If you're tired of eating out all the time or eating unhealthy processed food, you may be considering hiring a personal chef. But before you shell out the big bucks, there are a few ways to save money on the cost. 
First, check the chef service provider's website or blog for coupons or discounts. Many platforms offer discounts for first-time clients or referrals.

 

Second, ask the service provider if they offer any package deals. For example, some companies will offer a discount if you hire a chef from them for multiple meals per week.

 

Third, take advantage of any special promotions the company may be running. For instance, many service providers offer seasonal discounts or discounts for bookings made in advance.

 

Fourth, ask if the chef is willing to use some of your groceries instead of buying all new ingredients.

 
Following these tips can save money when hiring a personal chef without sacrificing quality or service.  
To summarize, hiring a personal chef is an excellent way to save time and money and eat healthy. You no longer have to worry about what you make for dinner daily because the chef will take care of it! Plus, they can come right when you are hungry, so there's never any more stress involved in cooking something quickly before bedtime or on busy workdays. 
Moreover, convenience is a significant advantage of hiring a personal chef over doing everything yourself. Plus, if things don't turn out as planned (occasionally), at least you know who has your back should anything go wrong.