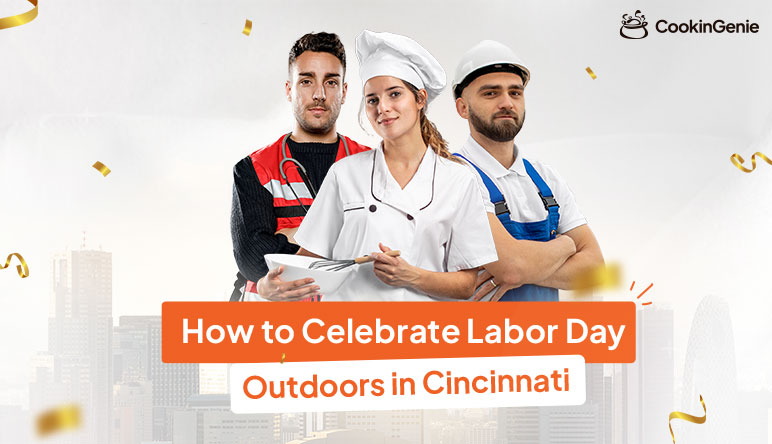 Labor Day, an annual tribute to the hardworking American workforce, presents an excellent opportunity to immerse yourself in the beauty of the stunning outdoors of Cincinnati. This dynamic city, with abundant scenic parks, picturesque riverfront, and a family-friendly atmosphere, offers diverse activities catering to all age groups and interests. As you celebrate Labor Day in Cincinnati, consider exploring the following outdoor experiences for a fun-filled occasion.
Explore the Beautiful Parks of Cincinnati
Delve into Cincinnati's natural wonders by visiting some of its most enchanting parks. Discover hidden paths, tranquil lakes, and beautifully manicured gardens, making these parks ideal for leisurely picnics and serene strolls. Many parks have an urban oasis where you can soak up the sun, enjoy waterfront seating, and watch riverboats pass by. If you're seeking a more active adventure, then parks with extensive hiking trails that wind through wooded areas and connect to stunning overlooks are perfect. Pack sunscreen, water, and a blanket for a comfortable day outdoors.
Looking for a place to relax and enjoy the outdoors on Labor Day? Cincinnati has some fantastic parks perfect for a day trip or a weekend getaway. Here are five of our favorites:
Eden Park: This 88-acre park has various gardens, a golf course, and a historic carousel.
Smale Riverfront Park: This 45-acre park is on the banks of the Ohio River. It has a playground, a splash pad, and a carousel.
Ault Park: This 600-acre park has hiking trails, a golf course, and a historic lodge.
Mount Airy Forest: This 1,000-acre forest has a variety of trails, a lake, and a picnic area.
Winton Woods: This 2,000-acre park has a golf course, a lake, and a variety of trails.
Plan a Riverside Getaway
Cincinnati's unique position along the picturesque Ohio River beckons you to indulge in a riverside getaway this Labor Day. Start with a stroll along the riverfront to admire the city's skyline and the serene beauty of the water. If you want a more immersive experience, consider taking a guided boat tour to gain a fresh perspective of Cincinnati's landmarks from the water.
For those seeking adventure, renting kayaks or canoes provides an exciting opportunity to explore the river's gentle currents and hidden nooks. Keep an eye out for special Labor Day events or riverfront festivals that often take place, offering live music, delicious food, and a vibrant atmosphere.
Cincinnati is a city on the river, and there's no better way to experience it than with a riverside getaway. Here are five spots where you can relax, have fun, and enjoy the views:
The Ohio River: Rent a kayak or canoe and paddle down the Ohio River or take a boat tour to see the city from a different perspective.
Sawyer Point Park: This park has a riverfront location and a variety of amenities, including a playground, a splash pad, and a food truck court.
Yeatman's Cove: This park has a more secluded setting than Sawyer Point Park, and it's a great place to go for a walk, have a picnic, or go fishing.
Newport on the Levee: This waterfront development has many restaurants, shops, and attractions, making it a great place to spend a wonderful afternoon.
Covington: This historic city is located across the river from Cincinnati, and it's a great place to explore the shops and restaurants on Main Street.
BBQ and Picnic Spots
Immerse yourself in the essence of Labor Day in Cincinnati by enjoying a delectable outdoor feast at some of the prime spots for BBQ and picnics. Discover locations that offer the perfect setting for indulging in delicious food while basking in the beauty of nature.
If you want a serene and natural environment, consider visiting one of the expansive parks. Picture yourself spreading out a blanket on lush grass, with the soothing shade of trees providing a comfortable, relaxing spot and outdoor dining. These parks often feature numerous picnic tables, allowing you to enjoy quality time with your companions.
When planning your picnic menu, consider exploring local markets. These markets offer a wide range of fresh, locally sourced ingredients that can elevate your outdoor dining experience. From artisanal products to farm-fresh produce, you'll have an array of culinary delights to choose from, ensuring a delightful meal.
Cincinnati loves to eat, and there's no better way to enjoy a meal than with a picnic in the park. Here are five of our favorite spots for a BBQ or picnic in Cincinnati:
Findlay Market: This farmers market is a great place to find fresh ingredients for your picnic. They also have a variety of food vendors from where you can have a meal before or after your picnic.
Sawyer Point Park: This park has a variety of grills and picnic spots, so you can easily have a picnic there.
Mount Airy Forest: This forest has several picnic areas, including a few reservable.
Sharon Woods: This park has a picnic area with a pavilion, grills, and restrooms.
Winton Woods: This park has a picnic area with a playground, grills, and restrooms.
Family-Friendly Labor Day Adventures
Make this Labor Day memorable for your family by exploring the family-friendly attractions. One highlight is the Cincinnati Zoo, a beloved institution home to an impressive collection of animals worldwide. Witness the majesty of elephants, the playfulness of penguins, and the elegance of cheetahs as you navigate the zoo's well-designed exhibits.
Other family-favorite destinations are amusement parks and waterparks, where you can enjoy thrilling rides, water slides, and wave pools to ensure that both kids and adults have a blast under the sun. Capture the excitement on your children's faces as they experience the joy of amusement park adventures.
Cincinnati has plenty of options to keep the whole family entertained. Here are five of our favorites:
The Cincinnati Zoo: This zoo has over 3,000 animals, including lions, tigers, and bears. It's a great place to take the kids on Labor Day.
Coney Island: This amusement park has rides, water slides, and arcade games. It's a great place for kids of all ages to have fun.
Kings Island: This amusement park is located just outside Cincinnati and has even more rides and attractions than Coney Island.
Smale Riverfront Park: This park has a playground, a splash pad, and a carousel. It's a great place for kids to let loose and have fun.
The Children's Museum of Cincinnati: This museum has exhibits designed to be educational and fun for kids of all ages.
Attend Local Events for Labor Day
Experience the vibrant cultural scene of Cincinnati by attending local Labor Day events. The city comes alive with various festivals, concerts, and gatherings that celebrate this holiday in style. Look at the event calendars to find out what's happening in town during Labor Day weekend.
Music enthusiasts will delight in the numerous music festivals that often coincide with Labor Day celebrations in Cincinnati. From jazz and blues to rock & indie, you will indeed find a musical event that resonates with your taste. These festivals often showcase local talents alongside renowned artists, providing a fantastic opportunity to discover new musical favorites.
Art exhibitions and fairs are also prevalent during this time, allowing you to explore Cincinnati's creative side. Remember to plan and secure tickets if required. Popular events can draw sizable crowds, and arriving early ensures you get the best experience and a prime spot to enjoy the festivities.
There's always something going on in Cincinnati, especially on Labor Day weekend. Here are five events that you won't want to miss:
The Cincinnati Labor Day Festival: This event features live music, food, and fireworks. It's a great way to celebrate Labor Day in Cincinnati.
The MidPoint Music Festival: This music festival features over 100 bands worldwide. It's a great way to see some great music on Labor Day weekend.
The Cincinnati Fringe Festival: This theater festival features over 100 productions from local and national artists. It's a great way to see some great theater on the weekend.
The Cincinnati Symphony Orchestra's Labor Day Pops: This concert features the Cincinnati Symphony Orchestra playing popular tunes from movies and musicals. It's a great way to end your weekend.
The Cincinnati Reds: If you're a baseball fan, you can catch the Cincinnati Reds playing at Great American Ball Park on Labor Day.
Outdoor Fitness and Wellness
This Labor Day, prioritize your health and well-being by participating in outdoor fitness activities. Cincinnati offers many options that allow you to stay active while enjoying the beauty of the outdoors.
Join group yoga sessions in picturesque parks, where experienced instructors guide you through rejuvenating poses amidst a serene natural backdrop. These classes often cater to all skill levels, making it a perfect opportunity to try yoga if you're a beginner.
Consider joining a local running club event if you're a running enthusiast. Running alongside fellow enthusiasts motivates you and lets you explore different parts of the city. Choose a scenic route that showcases Cincinnati's landmarks, or opt for a more challenging trail run in one of the city's many parks.
Many parks in Cincinnati offer invigorating outdoor fitness classes, ranging from boot camps to high-intensity interval training (HIIT) sessions. These classes combine exercise with the refreshing effects of fresh air and picturesque views. Check local fitness clubs or community centers for information on class schedules and locations.
Don't forget to stretch before and after your workouts to prevent injuries, and stay well-hydrated, especially on warm days. Labor Day is a perfect opportunity to prioritize your physical and mental health while enjoying the beauty of Cincinnati's outdoors.
Safety Considerations
As you revel in the festivities of Labor Day in Cincinnati, it's crucial to prioritize safety to ensure a joyful and worry-free experience. Here are some essential safety considerations to keep in mind:
1. Sun Protection: Apply sunscreen generously and regularly, even if it's cloudy. Reapply every couple of hours, especially if you're engaging in water activities or spending an extended time outdoors. Don't forget to wear sunglasses, a wide-brimmed hat, and clothes to shield yourself from the harmful rays.
2. Hydration: Stay hydrated throughout the day, particularly if you participate in physical activities or spend time under the sun. Carry a refillable water bottle and take frequent sips to keep your body hydrated and energized.
3. Insect Protection: Bring insect repellent to ward off pesky bugs, especially in wooded areas or during late afternoons when mosquitoes are more active. Wear long sleeves and pants if you're hiking where ticks are present.
4. First Aid Kit: Pack a basic kit with essentials like adhesive bandages, antiseptic wipes, pain relievers, and any personal medications you might need. It's always better to be prepared for minor injuries or discomfort.
5. Park Rules: Respect and adhere to the rules and guidelines of the parks you visit. These regulations are in place to ensure everyone's safety and enjoyment. Stay on designated paths, follow any posted signs, and be mindful of wildlife.
6. Weather Awareness: Stay informed about the weather forecast for the day. Be prepared for sudden changes by bringing a lightweight raincoat or umbrella if there's a chance of showers. If you hear thunder or see lightning, seek shelter immediately.
Conclusion
Labor Day in Cincinnati is a splendid occasion to celebrate the outdoors, embrace the city's vibrant culture, and create lasting memories with loved ones. The city offers various options for an unforgettable holiday, from exploring picturesque parks and enjoying relaxing picnics to attending lively local events. Remember to prioritize safety, stay hydrated, and protect yourself from the sun and insects.
As you make the most of this special day, take a moment to appreciate the hard work and contributions of the American workforce. If outdoor activities aren't your preference and you're seeking quality time with your loved ones, CookinGenie is here to make that happen. As an online platform specializing in in-house chef services in Cincinnati, we offer the perfect solution. Easily hire a personal chef in Cincinnati online through our platform and treat yourself and your loved ones to a delightful, home-cooked meal. Enjoy the warmth of togetherness in the comfort of your own home. Here's to a joyful, memorable, and safe Labor Day in this beautiful city!