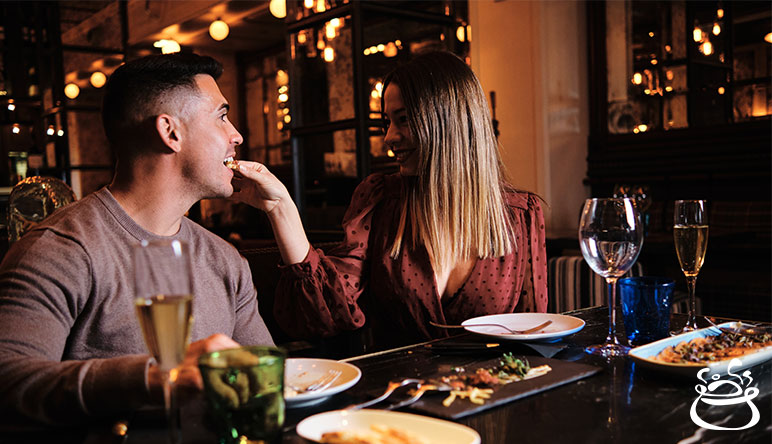 The approaching Valentine's Day is enveloping the lively city of Cincinnati with a charm of love and excitement. The air is infused with the sweet promises of love, inviting us to embrace the magic of togetherness. It's a day for whispered words, shared laughter, and the gentle touch of that special someone. Now, picture this scene elevated to perfection with the best dining spots in your city. The exquisite fine dining experience not only tantalizes your taste buds but also weaves a tapestry of memories, each thread woven with the essence of love and affection.
If you find yourself in Cincinnati without concrete plans for Valentine's Day, fear not! Join us on this enchanting journey as we unveil a selection of last-minute, splendid fine dining options that the city lovingly offers, ensuring this February 14th is a cherished chapter in your romantic story.
The Charm of Having Dinner on Valentine's Day
Valentine's Day is a shimmering tapestry of love woven with moments that linger in our hearts forever. Amid the whirlwind of everyday life, February 14th stands as a radiant beacon, urging us to pause, embrace, and cherish the beauty of connections with our loved ones. What better way to encapsulate the magic of love than by embarking on a captivating culinary journey with your significant other? This age-old tradition of sharing a heartfelt meal on this romantic day transcends mere sustenance; it's an art form, a symphony of flavors orchestrated to ignite the senses and kindle the flames of affection.
Imagine walking hand in hand into a realm of romantic ambiance, where every detail exudes the essence of love and affection. The soft glow of candlelight casts an enchanting aura, the music weaves a melodic backdrop to your shared laughter, and the aroma of carefully crafted dishes evokes sensory poetry that words alone cannot capture. The attentive and understanding waitstaff dances gracefully between the tables, ensuring your evening is as flawless as the love you share.
A survey revealed that more than 60% of couples intend to have dinner at a restaurant on February 14th. This tradition is cherished, indicating the significant impact of the experience on their love, bond, and intimacy. It's not surprising as the atmosphere within the restaurant, with the sound of clinking glasses and whispered words of affection, creates a truly enchanting experience.
The enchantment truly lies in this harmonious blend of ambiance, delectable cuisine, and heartfelt service. Each bite, each exchanged glance, carries the promise of a memory etched in time. Join us as we delve into the finest dining establishments perfect for Valentine's Day in Cincinnati, where culinary artistry converges with the art of love, promising you an evening like no other.
5 Reasons Cincinnati is Ideal for Valentine's Day Dinner
Cincinnati may not be your first thought when searching for the perfect backdrop for a romantic getaway, but it holds delightful surprises for a memorable Valentine's Day. Here are five compelling reasons to choose this city for a romantic dinner:
Warm Hospitality: 

Known as the "Queen City," Cincinnati welcomes you with genuine warmth. Its neighborhoods exude friendliness, setting the stage for a heartwarming evening where every smile feels part of the celebration.

Culinary Delights:

The diverse culinary scene is a treat to savor. From cozy bistros to upscale dining spots, the city offers special menus that add a dash of love to your dining experience.

Historic Ambiance:

The historic charm of the city adds a layer of romance. Walk hand in hand through the iconic Over-the-Rhine district, where 19th-century architecture creates an enchanting backdrop for meaningful conversations.

Riverside Serenity:

The gentle Ohio River provides a serene setting for this romantic day. A leisurely riverside stroll, watching the sunset adds a touch of magic to your evening.

Hidden Gems: 

The lesser-known romantic spots here await your discovery. Whether it's a charming corner café or a quaint park offering seclusion, these hidden gems make February 14th more romantic, memorable, and unique.
Whether local or a visitor, Cincinnati invites you to explore its romantic side. From heartfelt hospitality to delightful cuisine, captivating ambiance, and hidden romantic spots, this city promises an unforgettable celebration of love, crafting memories that will linger in your hearts for years to come.
Discover Last-Minute Fine Dining Gems in Cincinnati
Planning a perfect Valentine's Day in Cincinnati at the eleventh hour? No worries! This stunning city has a wealth of exceptional dining spots primed to create unforgettable memories. Here's a roundup of the best last-minute options, each offering a unique ambiance and culinary experience:
Sotto:
Sotto, nestled in downtown Cincinnati, is a refined Italian restaurant that captures the essence of romance. The dimly lit, intimate atmosphere sets the stage for a memorable evening.
Location: 

118 E 6th St, Cincinnati, OH 45202, USA

Cuisine:

Italian

Ambiance: 

Intimate and romantic

Cost:

Prix-fixe menu for $95 per person on Valentine's Day
Pepp & Dolores
Pepp & Dolores in Over-the-Rhine offers a lively Spanish tapas experience, perfect for sharing delightful small plates with your loved one. The casual yet vibrant atmosphere adds a fun touch to your celebration.
Location:

1501 Vine St, Cincinnati, OH 45202, USA

Cuisine:

Spanish tapas

Ambiance:

Lively and fun

Cost:

Special menu for $65 per person on Valentine's Day
Forno Osteria + Bar
Experience the warmth of Northern Italy at Forno Osteria + Bar in Hyde Park. Wood-fired pizzas and comforting pasta dishes are the highlights here, coupled with a cozy ambiance featuring exposed brick walls and a fireplace.
Location: 

3514 Erie Ave, Cincinnati, OH 45208, USA

Cuisine:

Northern Italian

Ambiance: 

Warm and inviting

Cost:

Three-course prix-fixe menu for $65 per person on Valentine's Day
Via Vite
In the East Walnut Hills neighborhood, Via Vite offers classic Italian dishes in a romantic and sophisticated setting. The white tablecloths and chandeliers elevate the atmosphere, making it a perfect choice for an exceptional evening.
Location:

520 Vine St, Cincinnati, OH 45202, USA

Cuisine: 

Italian

Ambiance:

Romantic and sophisticated

Cost:

Four-course prix-fixe menu for $85 per person on Valentine's Day
Boca
Dive into the flavors of Latin America at Boca in downtown Cincinnati. The lively and energetic vibe and a diverse menu featuring ceviche, empanadas, and more promise an exciting Valentine's Day celebration in Cincinnati.
Location:

114 E 6th St, Cincinnati, OH 45202, USA

Cuisine:

Latin American

Ambiance: 

Lively and energetic

Cost:

Special menu for $75 per person on Valentine's Day
These fine dining establishments offer the perfect setting to kindle the flames of romance and create cherished moments. Even in the eleventh hour, the culinary scene here ensures your February 14th is nothing short of spectacular.
Navigating Last-Minute Reservations
Making reservations on short notice, especially on Valentine's Day, can be daunting. However, there's no need to fret. We've got you covered with some innovative strategies to maximize your chances of securing a table at the top dining spots:
Proactive Calling: 

Don't hesitate to contact the restaurant of your choice. A simple phone call can work wonders, especially if you inquire about cancellations or last-minute openings. Restaurants often have changes in their reservation lists, and your proactive approach might land you in the perfect spot.

Flexibility is Key: 

Consider adjusting your dining schedule. While prime-time slots may be fully booked, earlier or later seatings could still be available. This flexibility opens up additional opportunities and allows you to enjoy a wonderful meal while avoiding the rush.

Always have Plan B: 

If your initial selection is fully booked, take this chance to explore lesser-known but equally charming restaurants. This beautiful city is brimming with hidden gems, each offering a unique experience. It may lead you to a delightful new favorite.
Securing a table for a memorable dinner for Valentine's Day in Cincinnati requires creativity and persistence. Still, with these strategies, you'll enhance your chances of enjoying a fantastic dining experience in the city. Remember, the journey itself can be part of the adventure, and trying something new could lead to an unexpected and delightful culinary discovery.
Dress to Impress: Elevate Your Evening with Chic Attire 
As you prepare for a memorable Valentine's Day dinner in Cincinnati, your choice of attire can uplift the occasion. Dressing up isn't just about adhering to a code; it's an excellent opportunity to express your love and appreciation for your partner.
Here are some valuable suggestions to ensure your attire perfectly complements the upscale restaurant experience:
Know the Vibe:

It's a good idea to understand the overall ambiance of the restaurant you'll be visiting. While some establishments may have a specific dress code, others might have a general upscale atmosphere. Knowing this can help you strike the right balance between formal and stylish.

Embrace Semi-Formal: 

Even if the restaurant has no strict dress code, selecting semi-formal attire is a safe and stylish choice. For gentlemen, this might mean a well-fitted suit or dress slacks paired with a sharp button-down shirt. Ladies can consider elegant cocktail dresses or a sophisticated blouse and skirt combination.

Accessorize Thoughtfully: 

Accessories can significantly elevate your look. A tasteful watch, classic jewelry, or a stylish tie can add a touch of refinement to your outfit. Remember, the little details often make the most significant impact.

Comfort is Key: 

While dressing to impress is important, it's equally essential to feel comfortable in what you're wearing. Choose an outfit that fits well and allows you to move freely, ensuring you enjoy every moment without distractions.

Dress with Confidence: 

The most vital element of your attire is the confidence it brings. Wear something that makes you feel fantastic, confident, and ready to enjoy the evening. Your confidence is the most attractive accessory you can wear.

Consider the Weather: 

In February, the weather here is chilly. To stay warm and stylish, consider layering with a blazer or shawl.
As you step into the elegant restaurant, envision your attire as a brushstroke on the canvas of this unforgettable February 14th. With these tips in mind, you'll impress your partner and seamlessly blend into the enchanting atmosphere, creating memories to treasure for years to come.
Let Your Personal Chef Craft the Most Unforgettable Dinning Experience on Valentine's Day
Picture this: a personal chef crafting a luxurious meal specifically for you and your loved one, taking you on a culinary journey in the comfort of your home. This extraordinary experience is now within reach, thanks to CookinGenie—an online platform that brings personal chefs to your doorstep right here in Cincinnati. With CookinGenie, the stress of planning, reservations, and crowded restaurants fades away, allowing you to focus on what truly matters: cherishing the time you share.
As you relish each bite, every whispered word, and the enchantment of the evening, recognize that Cincinnati, with its charm and culinary wonders, has come together to orchestrate a truly unforgettable Valentine's Day.
Conclusion 
As the stars begin to twinkle, casting a romantic glow over the city, Cincinnati reveals its affectionate side, inviting you to immerse yourself in an exquisite Valentine's Day celebration. Come explore this lively city, where warmth and hospitality meet and historic charm blends with modern elegance. From the alluring culinary wonders to the captivating ambiance of the city's finest dining spots, every element has been thoughtfully curated to paint the perfect backdrop for your love story.