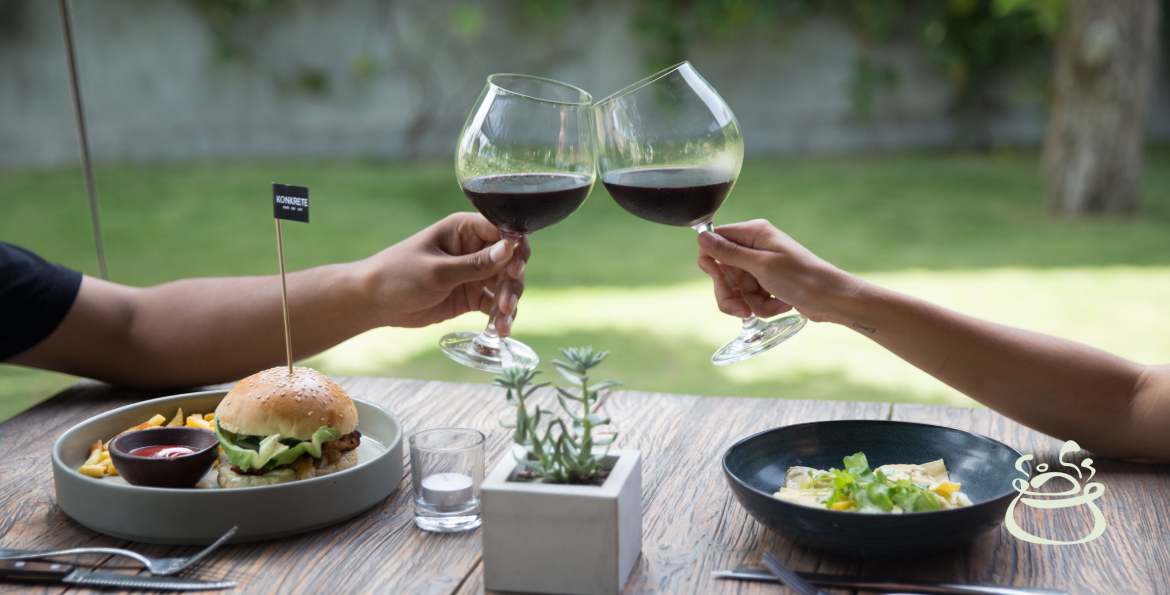 Welcome to a culinary love affair where the aroma of exquisite dishes and the temptation of fine dining will tantalize your taste buds and reignite the spark of your romance.   
If your anniversary is approaching and you're craving a romantic and delicious evening with your partner, you've come to the right place.   
Here, we'll explore a myriad of mouth-watering anniversary dinner ideas from the exotic menu of personal chefs at CookinGenie. The idea is to make your heart skip a beat, leaving you both feeling satiated and delighted.   
From succulent steaks to savory seafood, we've all the ingredients for a night to remember.   
So, prepare yourself to indulge in a feast of flavors and celebrate your love with every bite. 
1. Red Pepper Shrimp – The Perfect Appetizer to Spice Up Your Date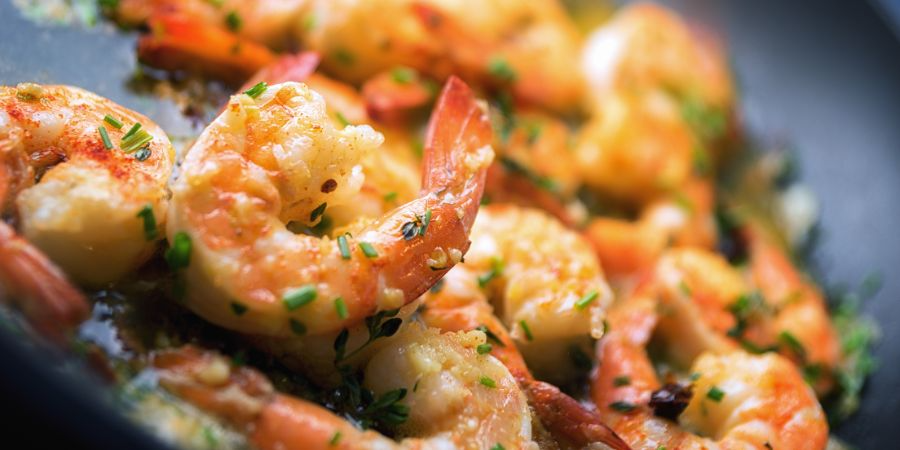 When planning a romantic anniversary dinner, choosing the right appetizer is crucial to setting the tone for the rest of the meal. That's where Tevin Wicks' Red Pepper Shrimp comes in – it's the perfect dish to spice up your date night and get your taste buds tingling. 
This mouthwatering appetizer features succulent shrimp sautéed with red pepper flakes, juicy tomatoes, and a flavorful blend of white wine, chili flakes, salt, and pepper.  
It's a simple yet elegant dish that's sure to impress your significant other and set the mood for a romantic evening. 
Tevin Wicks, a private chef at CookinGenie, has crafted this recipe to balance the heat of the red pepper flakes with the sweetness of the tomatoes and the rich flavors of the white wine. The result is a dish that's both spicy and savory, perfect for sharing with your loved one over a glass of wine. 
So, why not add a touch of romance to your anniversary dinner with spicy and savory Red Pepper Shrimp and kick off a night of delicious food, fine wine, and unforgettable memories? 
2. The Ultimate Duo- Pan-Roasted New York Strip Steak and a Glass of Fine Wine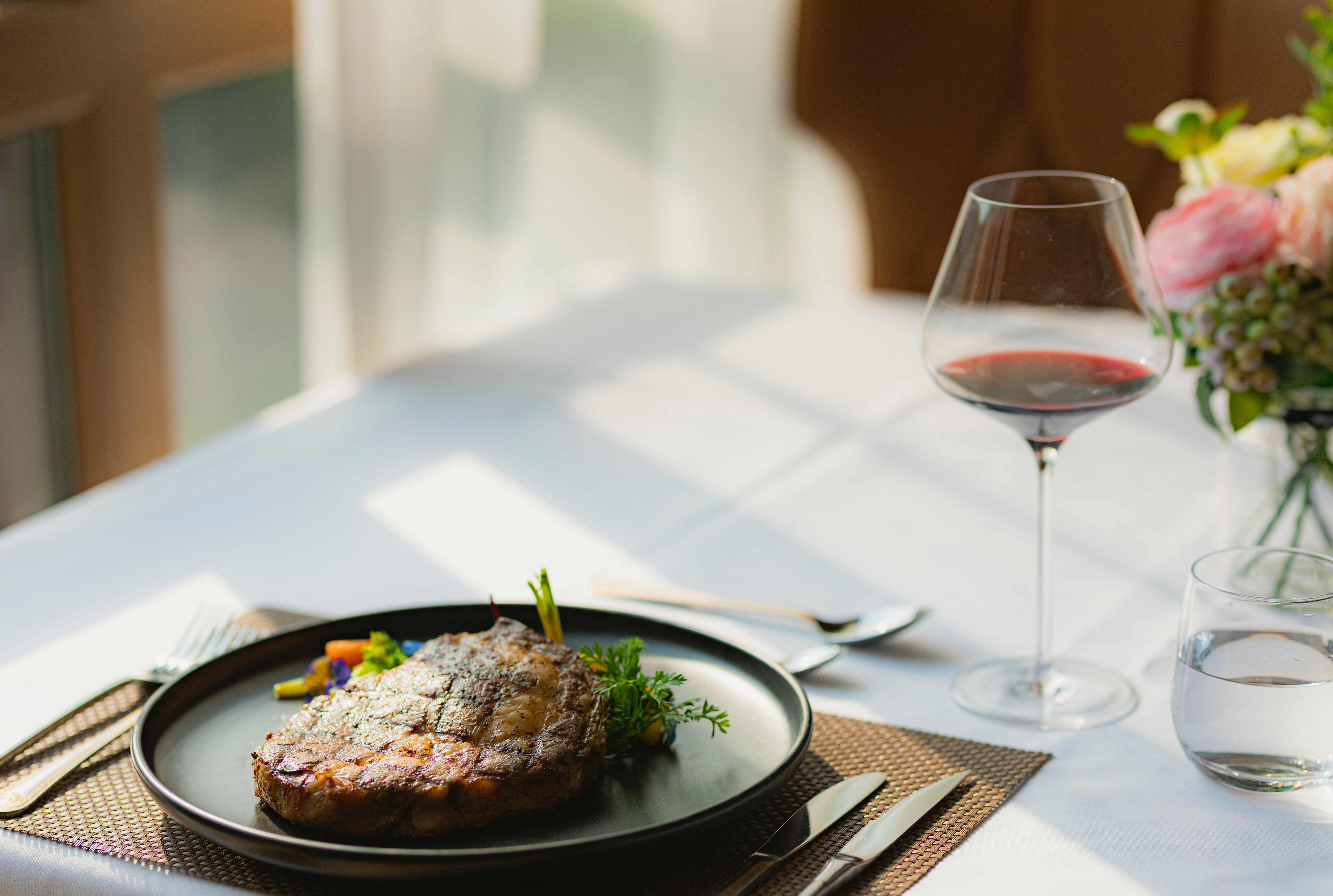 Want to impress your significant other with a romantic anniversary dinner? Look no further than George Zappas' : Pan-Roasted New York Strip Steak and a Glass of Fine Wine. 
This dish features USDA Choice NY Strip Steak, expertly pan-roasted and basted with a blend of rich butter, fragrant garlic, and earthy thyme. The outcome is a succulent and savory steak that will melt in your mouth. 
Pour a glass of your favorite fine wine to complete this exotic pair. The robust and complex flavors of the wine go perfectly with the bold and juicy flavors of the steak, creating a dining experience that's both luxurious and unforgettable. 
With this dish, George Zappas has created a meal that's fit for royalty. So, treat your loved one to a night of decadence and indulgence with this ecstatic duo. 
3. Seared Filet of Salmon- A Delicious Catch for Your Romantic Dinner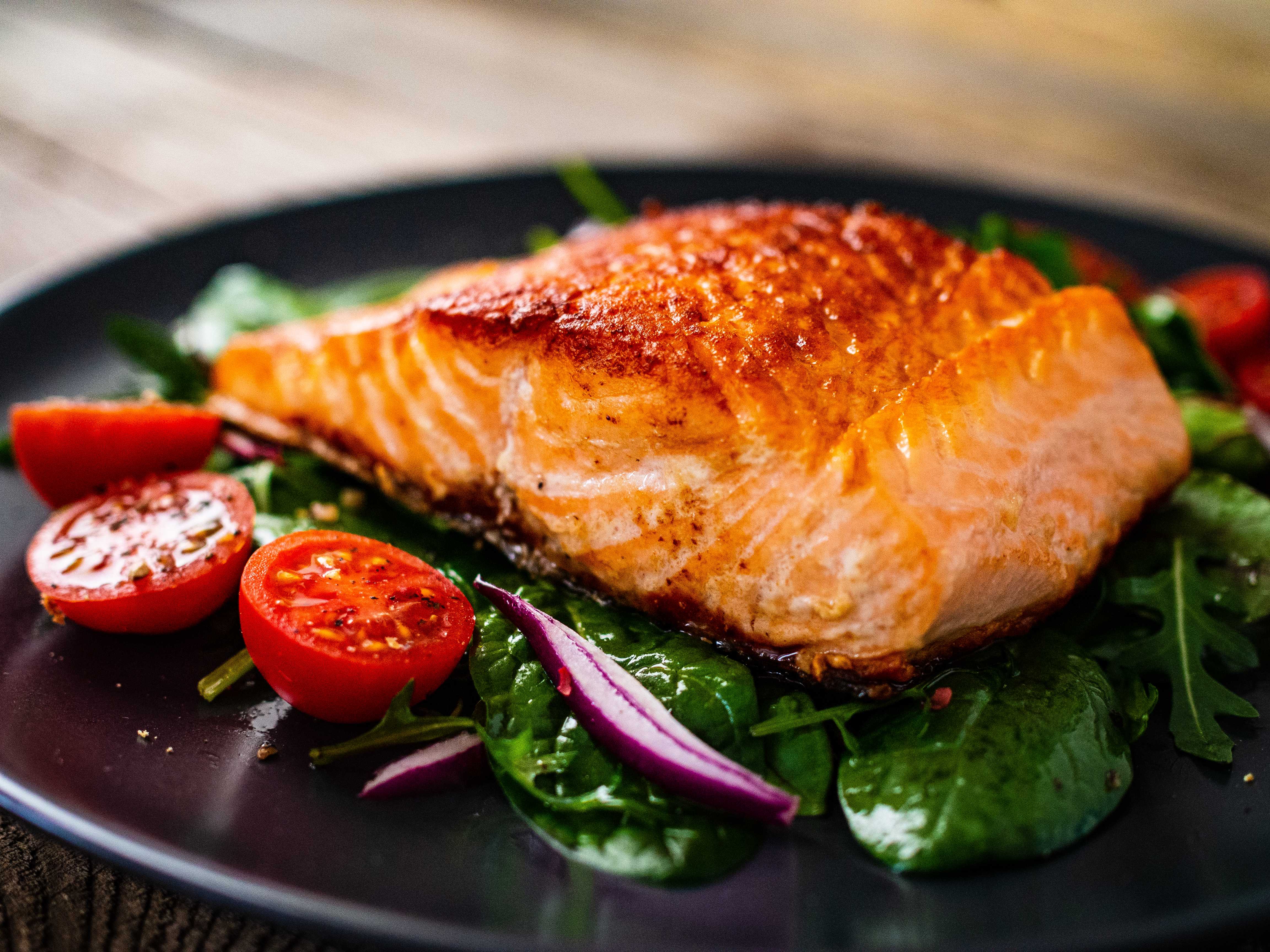 Elevate your taste buds for a romantic anniversary dinner with a Seared Filet of Salmon by Chef John Geschrei. This Atlantic salmon filet is pan-seared to perfection and served with a mouthwatering combination of blistered grape tomatoes, garlic-wilted spinach, and a tangy lemon butter sauce. 
The succulent salmon is lightly coated in olive oil, pan-seared, and garnished with flavorful shallots. The grape tomatoes add a burst of sweetness, while the garlic wilted spinach brings depth and texture to the dish. 
But what really sets this dish apart is the lemon butter sauce. Made with a mix of zesty lemon and creamy butter, it provides the perfect finishing touch to this unforgettable dish. 
Chef John Geschrei has crafted a recipe that brings together the flavors of the sea with the brightness of citrus and the richness of butter.  
Indulge in the delectable flavors of Seared Filet of Salmon and make it a night of culinary bliss for your significant other.  
4. Get a Kick Out of Your Cocktails with a Rosemary Mule – A Herbaceous Twist on a Classic Drink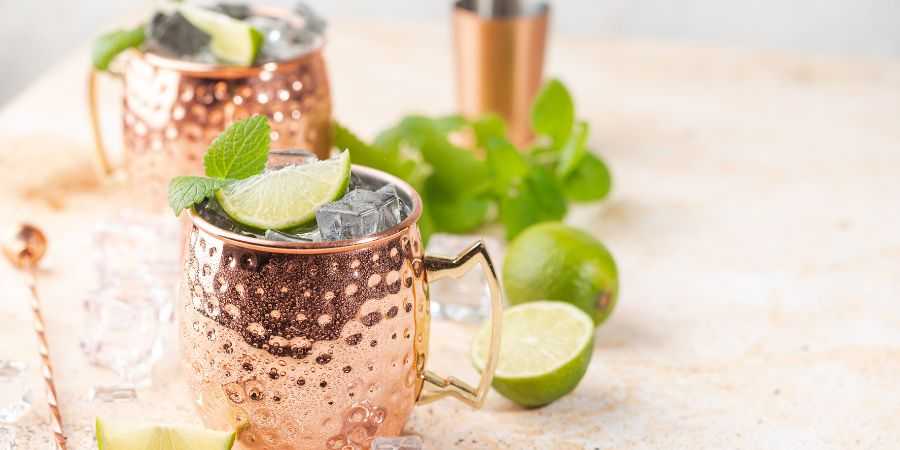 The Rosemary Mule is a perfect choice if you're looking for a romantic cocktail to celebrate your anniversary.  
This cocktail, created by Bridget Karr, is herbal, fresh, and slightly sweet. Add your favorite whiskey, vodka, or gin for an extra kick! 
You'll need some ginger beer, fresh rosemary, lime, and sugar to make this delicious cocktail. Start by crushing a sprig of rosemary in the bottom of a cocktail shaker.  
Then, add a tablespoon of sugar and half a lime juice. Muddle everything together to release the flavors of the rosemary. 
Next, add your preferred spirit, whether whiskey, vodka, or gin. Fill the shaker with ice and shake it well to combine all the ingredients.  
Finally, strain the cocktail into a copper mug filled with ice and top it off with ginger beer. 
You can also garnish your cocktail with a sprig of rosemary or a wedge of lime for an added touch of elegance. Cheers to a memorable anniversary dinner! 
Also Read: Date Night with a Personal Chef?
5. Indulge in a Burst of Sweetness with Blueberry Cheesecake – A Perfect Dessert for Every Occasion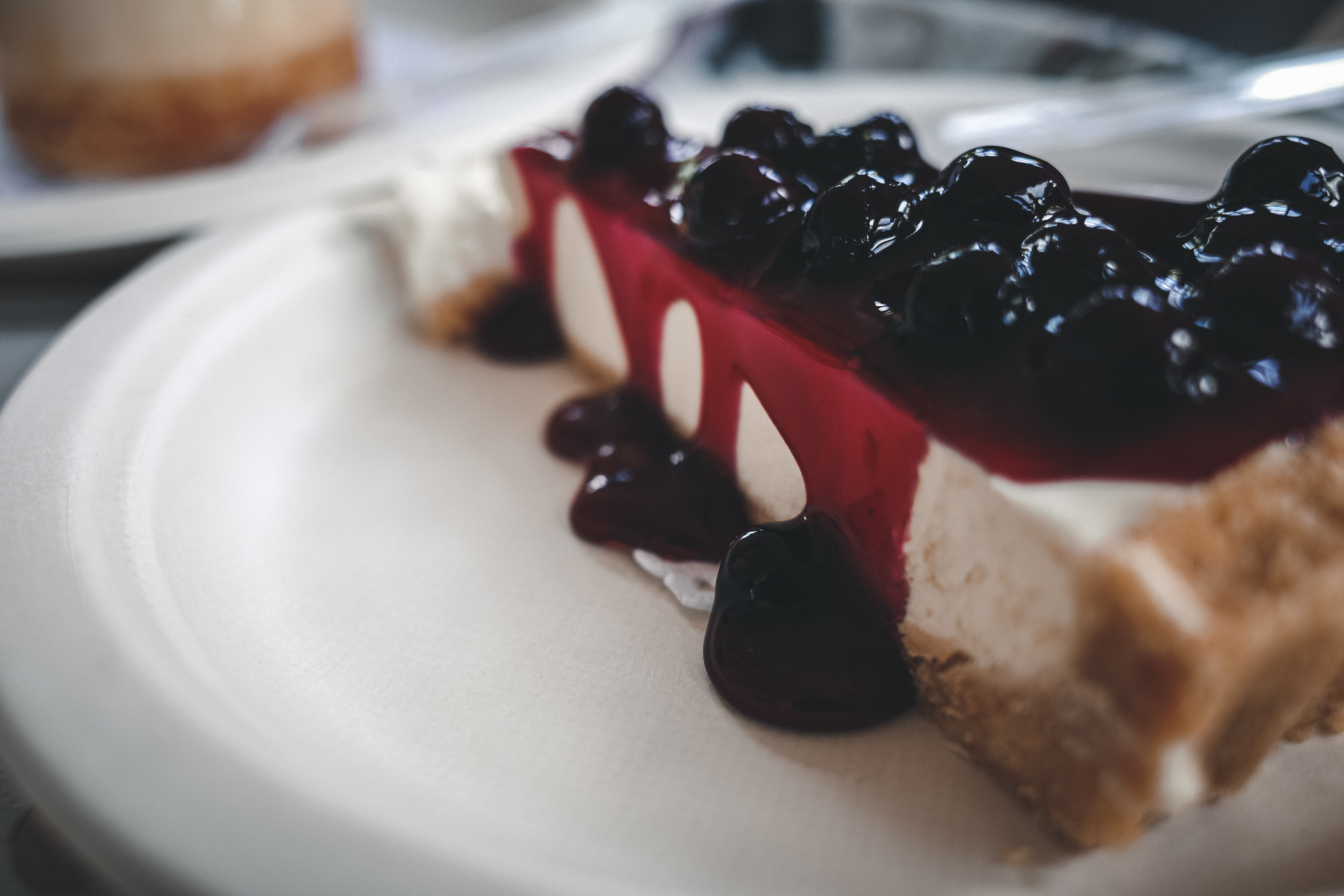 Blueberry cheesecake has always been a showstopper.  
With three delicious layers of flavor, this dessert will surely impress your significant other and leave a lasting impression. 
Coming from the menu of our Chef Christian Farah, the bottom layer of this cheesecake is a crispy almond crust, providing the perfect crunch to complement the creamy layers above. Next comes the blueberry mousse layer, bursting with a sweet and tangy flavor. This layer is rich and refreshing and is made with fresh blueberries, soaked cashews, and coconut milk. 
The final layer is a smooth and creamy no-bake vanilla cheesecake created using coconut and cashews. Sweetened with maple syrup and flavored with vanilla extract, this layer perfectly balances sweetness and creaminess. 
To top it all off, a lemon-blueberry jam adds a tangy finish to tie together this indulgent, plant-based dessert. With the added crunch of coconut flakes, this blueberry cheesecake is a true delight for the senses. 
Not only is this dessert delicious, but it's also dairy-free, making it an excellent option for those with dietary restrictions. Serve it alongside a glass of your favorite dessert wine, and let the indulgence begin. Your significant other is sure to be impressed by your culinary skills and thoughtfulness, making your anniversary dinner even more special. 
Save the Hassle, Hire a Personal Chef
As enticing as the above romantic anniversary dinner ideas may appear, you can't deny that they will require much effort. You may not want to get exhausted and celebrate the day burned out. So, why not save the hassle and hire a personal chef to create a gourmet meal for you and your significant other? 
Having a personal chef allows you to relax and enjoy your evening without worrying about cooking, cleaning, or grocery shopping. You can work with the chef to create a menu tailored to your tastes and preferences, ensuring that every dish is perfect for you and your partner. 
Not only will a private chef provide you with a delicious meal, but they can also add an element of surprise and excitement to your evening. Perhaps they'll bring out a special ingredient you've never tried before or create a unique presentation for one of the dishes. Whatever they do, it will surely be a memorable experience for you and your partner. 
Hiring a personal chef can be more cost-effective than dining out at a high-end restaurant. You'll be able to enjoy a gourmet meal in the comfort of your own home without worrying about the additional costs of drinks, tips, or transportation. 
So, if your anniversary is near and you are looking for a personal chef in Ohio, explore the menu of Chefs on CookinGenie's website and hire the one that suits you the best. 
Disclaimer: Chefs and dishes mentioned in the blog are subject to change.