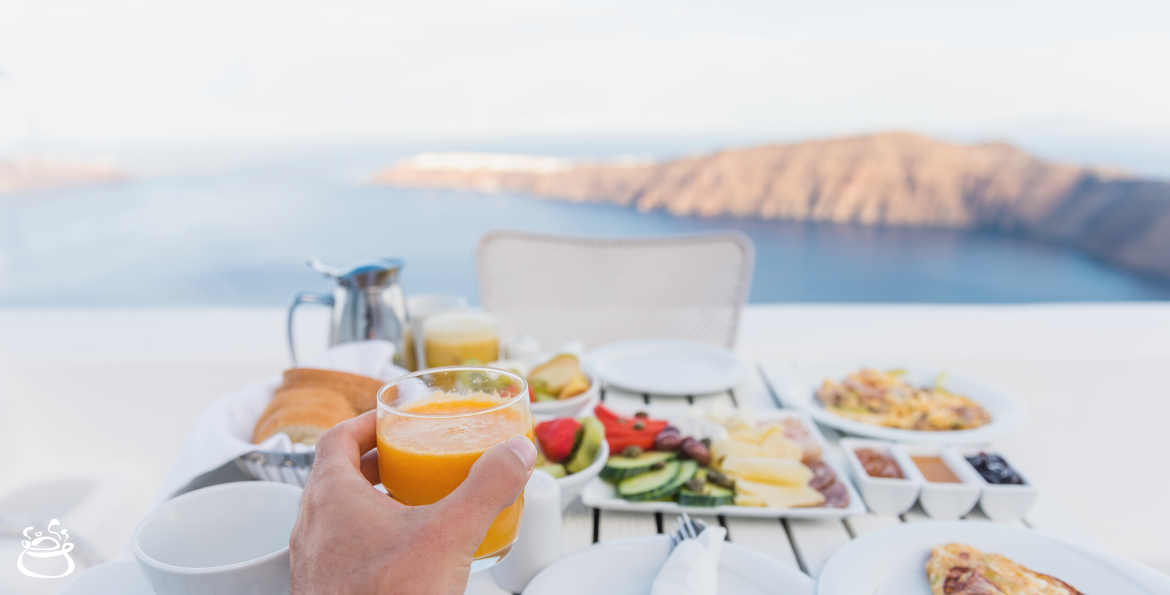 When you're on vacation, it's easy to let your healthy eating habits slip. Between indulging in delicious local cuisine and celebrating with cocktails, it can be hard to stick to your usual routine. But just because you're away from home doesn't mean you must abandon all of your good habits. You can enjoy your vacation while still eating healthy with some planning and effort. Here are some tips to help you do just that. 
Why is vacation eating difficult?
Eating healthy on vacation can be difficult for a variety of reasons. For one thing, you're probably not used to the local cuisine. This unfamiliarity can be a problem if you don't know what to order or how to pronounce the dish you're interested in trying. In addition, it can also be difficult because you're often on the go and may not have time to sit down and enjoy a leisurely meal. Thus, you may find yourself snacking on unhealthy foods or grabbing a quick bite to eat between sightseeing tours.  
However, with some planning and preparation before you travel and packing some healthy snacks, you can ensure that your vacation eating doesn't derail your healthy eating habits.
1- Do some research before you travel
If you're worried about eating healthy on vacation, the best thing to do is research before going. Find out what the local cuisine is like and look for healthy options. For example, if you're traveling to Italy, you may want to research some traditional Italian recipes that are relatively healthy. This way, you'll know what to order when you're at a restaurant, and you'll be able to find healthier versions of your favorite dishes. 
2- Bring along some snacks
Another way to ensure you eat healthy on vacation is to pack some snacks. This way, you'll have something healthy to eat no matter where you are or how long it takes to find a meal. Some great travel snacks include fruits and vegetables, whole-grain crackers, nuts, and yogurt.
3- Stay hydrated
It's essential to stay hydrated when you're traveling, especially if you are in a hot climate. Drinking plenty of water will help you avoid dehydration and fill you up, making you less likely to snack on unhealthy foods. Be sure to carry a water bottle to always have water on hand.
4- Avoid restaurants that serve only junk food
One of the easiest ways to ruin your healthy eating habits is to dine at restaurants that serve nothing but junk food. If you're trying to eat healthy on vacation, try to find restaurants serving healthy options. You can usually find this information online or by asking the hotel staff for recommendations.
Also Read: Health Benefits of Hiring a Personal Chef
5- Limit your alcohol intake
It's easy to overindulge in alcohol when you're on vacation, but too much alcohol can quickly ruin your healthy eating habits. If you drink, do so in moderation, and be sure to eat a meal first. This way, you can avoid making unhealthy choices later on.
6- Hire a personal chef for your vacation rental
Hiring a personal chef can also be a great way to ensure you eat healthily while on vacation. A personal chef can cook delicious and nutritious meals for you and your family, so you don't have to worry about finding time to cook or eat out every day. This option can be great if you're traveling with young children or trying to stick to a specific diet. In addition, having a personal chef can also help you save money since you won't have to eat out as often. If you're interested in hiring a private chef, research to find someone who is reputable and can meet your specific needs. 
7- Healthy vacation meal ideas
One of the hardest things about being on vacation is eating healthily. The delicious food options can be tempting, but if you want to stay feeling good on your trip, it's essential to make some wise choices. Here are a few ideas for healthy vacation meals that will help you stay on track: 
Start your day with a nutritious breakfast. Try yogurt with fresh fruit or whole-grain toast with avocado.

 

For lunch, go for something light but filling, like a salad or soup.

 

When it comes to dinner, grilled fish or chicken is always a good option. Pair it with some vegetables and brown rice for a complete meal.

 
Of course, you should also drink plenty of water throughout the day. And if you want to indulge in a sweet treat now and then, that's perfectly fine! 
Overall, the best way to ensure you're eating healthy on vacation is by being prepared ahead of time. A little research and planning can go a long way in helping you stay on track. And if all else fails, remember that moderation is key. Enjoy your vacation, and don't be too stressed about staying perfectly healthy. Just focus on having fun and making memories.