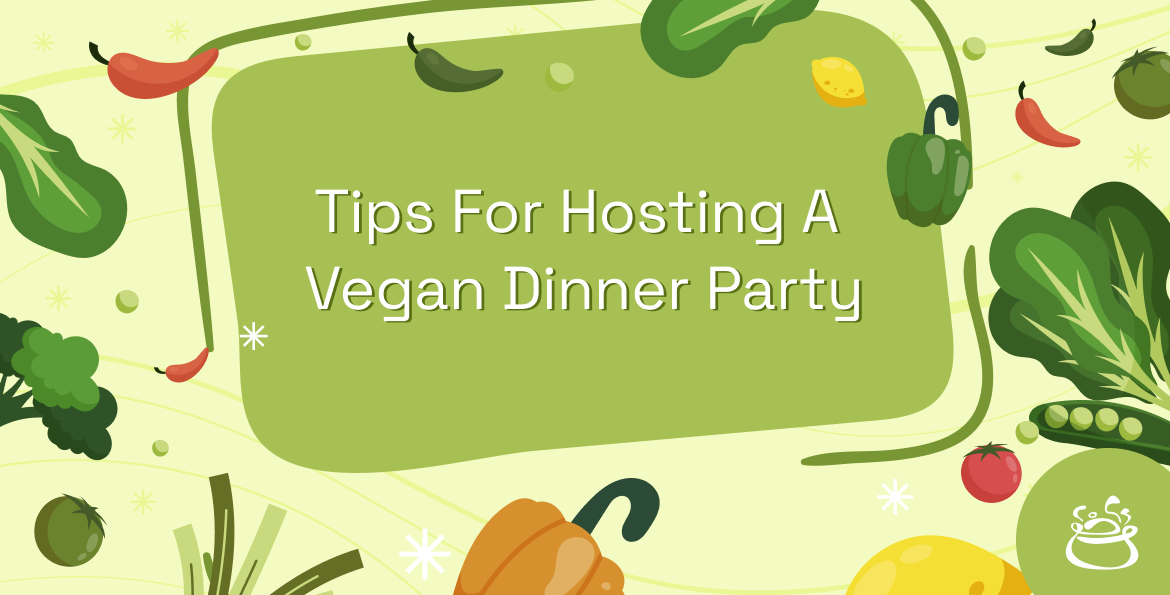 Are you planning a dinner party for your vegan friends at home? Leave a lasting impression on your guests with delicious dishes to make your event more enjoyable. 
More and more people across the world are consciously choosing to become vegan. Though reasons may vary, there is one common thing: health benefits. Not only that, but it also has a positive impact on our environment.   
What is Veganism? 
A Vegan diet is a plant-based diet. It excludes dairy products as well as meat, fish, eggs, honey, and all other ingredients that are derived from animals. The vegan diet is rich in fiber and lower in cholesterol. It includes vegetables, fruits, grains, nuts, legumes, seeds, salads, and many other ingredients.  
Many people confuse veganism with vegetarianism. However, they are different. While a vegetarian diet excludes meat and fish, it does include milk and other dairy products. But veganism is strictly a plant-based diet. It does not have anything that is derived from animals.   
Adding more plants to your plate is a simple yet effective way to boost your health. Several studies have shown that vegan diets provide more antioxidants and fiber and are rich in potassium, folate, magnesium, and vitamins A, C, and E. There are also many other positive health outcomes of a vegan diet.  
It reduces the risk of heart disease.

It helps to maintain weight.

It also helps to decrease the chances of high cholesterol and blood pressure.

It may help in reversing type 2 diabetes.

It can also help alleviate various mental health issues like anxiety and sleep disorders.  

 
A plant-based diet is also environmentally friendly. It does not harm animals and helps to curb greenhouse gas emissions.   
Fantastic food, friends, drinks, and interesting conversation with friends are all one needs, in the end, to have a great dinner party at home. But there is one more factor that can help you to set the atmosphere – decoration!  
Pick a Theme:

It is essential to choose the ambiance you want to create.  Setting a theme for the dinner party will reflect your personality. It will also add to the experience of your guests. From setting the table to the music in the background, everything will contribute to the occasion. 

 

Add a Touch of Nature:

Give your interior a more natural appearance by adding a bit of nature. Choose flowers that are seasonal and cut some wild foliage. Add indoor plants to make it appear breezier.  

 

Set the Table:

The dinner table transmits your personality. If you want to create a cozier and more light-hearted environment for your guests, pick a colorful mix of table linens, silverware, plates, glasses, and decorations. If you want to create a refined ambiance, choose table linens that come in traditional designs.  

 

Light up the atmosphere:

Whether you use a silver candelabra or gorgeous small table lamps, soft illumination pulls the distinct aspects of décor together. Light plenty of candles, as they can completely transform your space. 

 

Jazz it up with a great Playlist:

Music is a party's soul. Handpick songs to entertain your guests and add some jazz to the party. Make your playlist in advance and remember to play it.

 
Once you have decided on the theme of your vegan dinner party, it is time to decide on the menu for your guests to give them the flavor of a vegan diet.   
But if you are looking to cook drool-worthy dishes on your own, here are five ways to get creative with the menu:  
Tropical Toast:

Welcome your guests with a refreshing tropical drink. Treat your guests to pineapple coconut cocktails that mix coconut water, coconut milk, pineapple juice, rum, and a sprinkle of cinnamon. To add a fun element, you can serve it in an actual coconut cup for a delicious taste of the tropics. 

 

Delicious Appetizer:

Easy vegan appetizers can guarantee that your guests will have a great time from the start. Having a vegan dinner party does not mean your guests will miss out on delicious meals. You can include beetroot hummus that will taste delicious with vegan tomato flatbread. Top it with garlic, tahini, and tomatoes. 

 

Curried Jasmine Rice:

Give your mains a creative spin by adding distinct flavors to the dishes. Curried jasmine rice cooked in coconut milk will make your guests fall in love with veganism. Top it up with tofu or your choice of protein and seasonal vegetables. Give it a toss with fresh cilantro, mint, and toasted coconut flakes. A flavorful vegan meal that will steal the limelight is ready!

 

Sweeten the Celebration:

No dinner party is complete without dessert. You can bake a vegan cake or chocolate chip cookies for your guests to lock in good time.  

 
Conclusion
From setting a theme to picking the right table linens, and soft light to an incredible dinner menu, every aspect contributes to making a dinner party more enjoyable.   
More and more people are embracing the plant-based diet. Many athletes and actors have adopted this as a lifestyle. A vegan diet is far healthier, more nutritious and has become a flavorsome alternative to meat and dairy products.   
A vegan diet is a bundle of joy; the more you spread it, the more you can ensure your family and friends' physical and mental well-being and contribute to saving the planet. So, when are you hosting a vegan dinner party? Try these tips and share your experience with us.