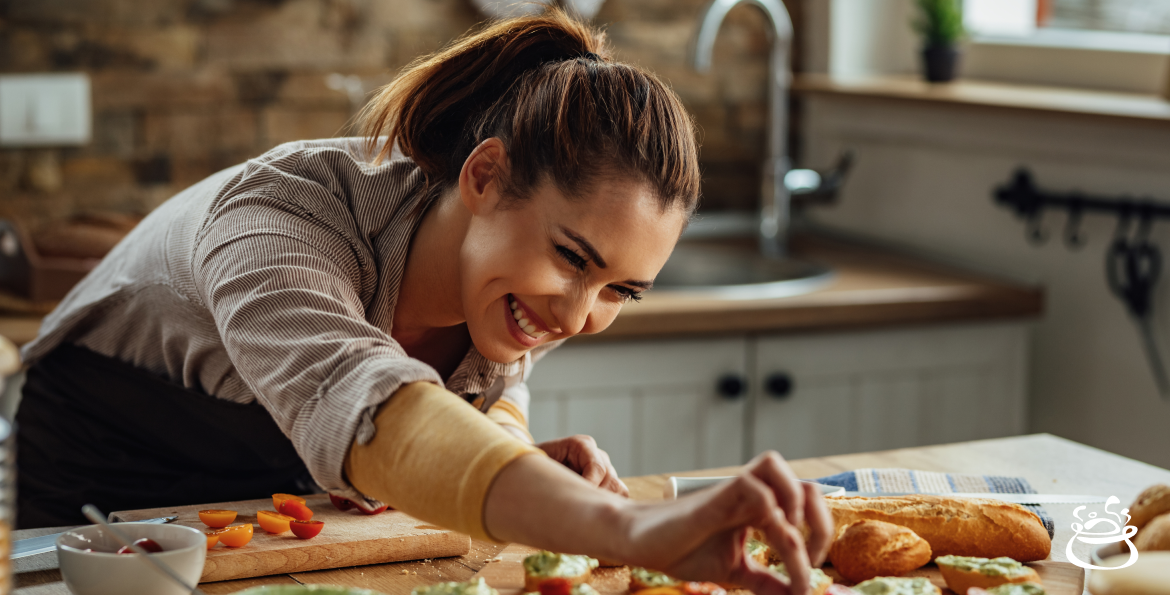 Welcome to Queen City, where food and community unite in a way that's unique to this region. With a rich culinary history that includes German-inspired dishes like goetta and sauerkraut balls and local favorites like Cincinnati-style chili, Cincinnati is a food lover's paradise. 
If you're planning a dinner party in this city, you're lucky – the vibrant food scene offers many options. But with so many mouth-watering choices, deciding what to serve your guests can be overwhelming. That's where a personal chef comes in. 
Choosing the right personal chef for your dinner party can be daunting, especially with so many talented chefs in the area. That's why we're here to guide you through finding and hiring the perfect Cincinnati personal chef who can create a customized menu for your event and impress your guests with their culinary expertise. From researching local chefs to considering your budget and preferences, we'll cover everything you need to know to make an informed decision. 
So, let's create a memorable Cincinnati dining experience that your guests will always remember. 
Why Hire a Cincinnati Personal Chef?
Cincinnati's rich food culture goes beyond its famous chili and goetta dishes. From Graeter's ice cream to Montgomery Inn ribs, the city has various local delicacies worth experiencing. To provide your guests with an authentic Cincinnati gastronomic experience, hiring a personal chef who is familiar with the city's food scene is a great idea. 
However, If you are uncertain about hiring a personal chef, there are several convincing reasons to consider doing so. 
Personalized menus:

Hiring a personal chef means that you can create a menu tailored to your specific tastes, dietary restrictions, and budget. This customization lets you control the type of dishes to serve, ensuring everyone is satisfied.

 

Flexibility:

A personal chef can provide flexibility in scheduling, menu changes, and accommodating last-minute requests. This level of flexibility can be essential for events or gatherings that require adaptable planning due to changes in plans or unforeseen circumstances.

 

Convenience:

Hiring a personal chef means you don't have to worry about the stress of shopping for ingredients, cooking, and cleaning up after the meal. This benefit frees up time and lets you focus on your guests and enjoy the occasion.

 

Cost-effectiveness:

While hiring a personal chef may seem expensive, it can be cost-effective in the long run. A personal chef can provide high-quality ingredients and equipment you may not have on hand, eliminating the need to purchase expensive equipment you may not frequently use.

 

Overall experience:

A Cincinnati personal chef can elevate your dining experience by providing delicious food and a unique culinary experience that will leave a lasting impression on your guests. By hiring a personal chef, you can relax and enjoy the occasion while the chef takes care of the food, ensuring everyone has a great time.

 
Finding the Best Cincinnati Personal Chef
When it comes to hiring a personal chef, it's essential to take the time to research and vet potential candidates thoroughly. After all, you want to ensure that the chef you hire is skilled in the kitchen but also professional and trustworthy. Some ways to research potential chefs are as follows: 
Start by researching:

Before hiring a personal chef, you must research to ensure you're working with a skilled and experienced professional. Look for personal chefs with experience in Cincinnati cuisine and know the local food scene. You can start your search online by looking at chef directories, food blogs, and online reviews.

 

Check their portfolio:

Look at the chef's portfolio to see what dishes they specialize in and if they can accommodate your dietary needs or preferences. Check their social media accounts to see pictures of their food and read reviews from their clients. This information will give you a good idea of their cooking style and experience level.

 

Ask for references:

Don't hesitate to ask for references from previous clients. These references will allow you to get an idea of their work ethic, professionalism, and food quality. Reach out to these references and ask them about their experience working with the chef.

Set up a meeting:

Before hiring a personal chef, meet to discuss your needs and expectations. Such conversation can also be an excellent opportunity to sample their food and ask questions about their experience and qualifications. Discuss the menu options, pricing, and any dietary restrictions or allergies during the meeting.

 

Check their certification:

Ensure the chef you hire is certified and licensed to work in the food industry. This information ensures they have met the necessary standards and regulations to operate as a professional chef.

 

Trust your instincts:

Ultimately, it's essential to trust your instincts when hiring a personal chef. If you have any doubts or concerns, keep searching until you find a chef you feel comfortable working with.

 
Communicating Your Needs to Your Chef
Although hiring a personal chef can be an excellent way to make your dinner party successful, it's crucial to communicate your needs and preferences to your chef to ensure that they can create a menu that meets your expectations. Here are some tips on how to effectively communicate with your chef to ensure a successful and enjoyable dinner party: 
Be clear about your dietary restrictions:

If you or your guests have any dietary restrictions or allergies, inform your chef in advance. This information will allow them to create a menu that accommodates everyone's needs and ensures everyone can enjoy the meal.

 

Discuss your preferences:

Communicate your preferences to your chef, whether it's a particular cuisine or cooking style. Share your favorite ingredients or dishes, and your chef can work around them to create a customized menu that reflects your tastes.

 
Be open to suggestions:

While it's essential to communicate your needs and preferences, it's also important to be open to suggestions from your chef. They may have ideas for dishes or ingredients you haven't considered before, and it's worth being open-minded to try something new.

 

Provide a timeline:

Communicate the timeline of your event to your chef, including your guests' expected arrival time and the meal's start time. This prior notification will allow your chef to plan and prepare the meal accordingly, ensuring everything is ready on time.

 

Be clear about the budget:

Discuss your budget with your chef in advance; they can work with you to create a menu that meets your needs while staying within your budget.

 
Working with Your Cincinnati Personal Chef
Once you've found the perfect Cincinnati personal chef for your dinner party, it's essential to establish a good working relationship with them. Here are some tips on how to work with your chef before, during, and after your event: 
Before the event:
Discuss your expectations:

Before the event, communicate your expectations to your chef – the number of guests, any dietary restrictions, and your desired menu.

 

Plan the menu together:

Collaborate with your chef to create a menu everyone will enjoy. A great chef will have many ideas and suggestions, so be open to their input.

 

Arrange the kitchen:

Make sure your kitchen is ready for the chef to work their magic which primarily includes clearing counter space and ensuring that all necessary appliances and utensils are available.

 
During the event:
Be available but not intrusive:

While your chef is preparing the food, be available to answer any questions they may have, but try not to hover over them. Give them space to work their magic.

 

Enjoy the food:

Once ready, sit back and enjoy the meal with your guests. Your chef will handle everything from plating to serving, so all you need to do is enjoy the culinary delights.

 
After the event:
Provide feedback:

Give your chef feedback on the experience after the event. Let them know what you loved about the meal and any areas for improvement.

 

Consider hiring the chef again:

If the experience was positive, consider hiring the chef again for your next event.

 
Being open to your chef's suggestions and ideas is also essential. A great chef will have plenty of knowledge and expertise in food and cooking, so be open to trying new things and stepping outside your comfort zone. 
Consider incorporating some popular Cincinnati dishes into the menu to make the event even more special. Examples include Cincinnati-style chili, goetta, and Graeter's ice cream. Your Cincinnati personal chef will be able to incorporate these dishes into the menu, adding a local flair to your event.

Conclusion 
In conclusion, hiring a Cincinnati personal chef for your dinner party can take your hosting game to the next level. The benefits are plenty, from personalized menus and flexibility in scheduling to convenience and cost-effectiveness.  
However, remember to take the time to research and vet potential chefs and communicate your needs and preferences. Don't hesitate to be open to your chef's suggestions and ideas; they are the experts and can elevate your dining experience. And remember to consider incorporating some local Cincinnati dishes into your menu to showcase the city's unique culinary scene truly. With the right chef, you and your guests will have an unforgettable experience.