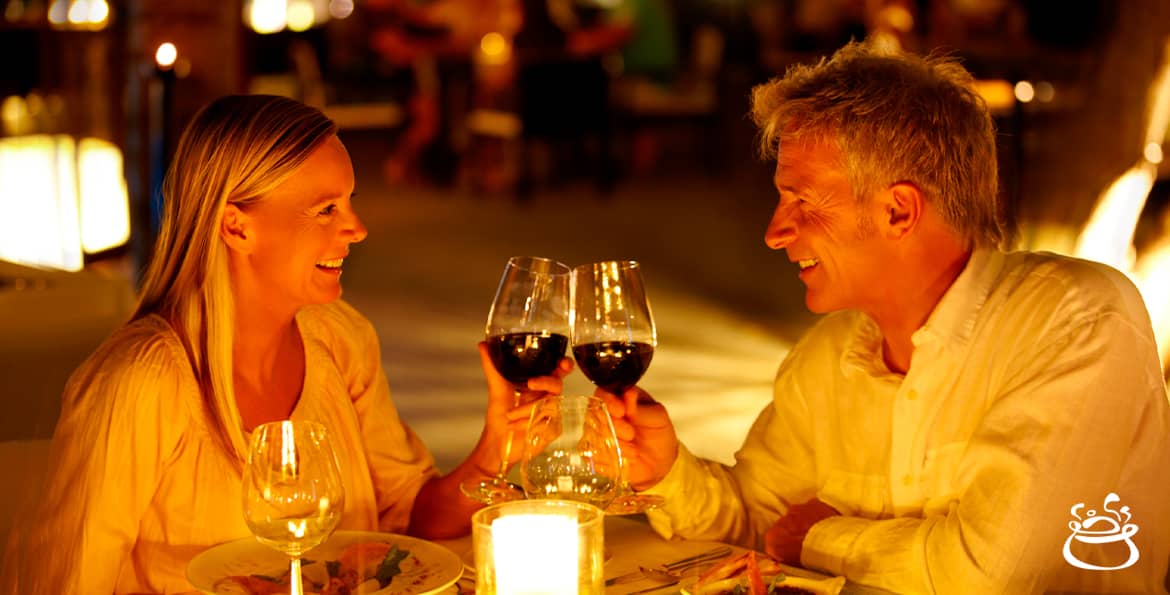 Valentine's Day is around the corner, and if you're looking for a gift idea that's more tasteful and personal than the bland and unadventurous, albeit lovely, bouquet, you've come to the right place.  
Choosing an original gift for Valentine's Day shows thoughtfulness and effort, and sets it apart from the standard, overdone gifts like flowers or chocolates. Personalized gifts show that you understand your partner's interests and preferences and have taken the time to find something that suits them.   
So, this blog details ten original Valentine's Day gifts that are better than a bouquet.
Homemade Candlelit Dinner
A homemade dinner with a nice bottle of wine is a personal and intimate way to show affection. It allows you to spend quality time together and enjoy a delicious meal.   
If cooking is your thing, cooking together can be a fun and bonding experience, and the meal can be a tangible representation of your love.   
Booking private chef services on CookinGenie can help you make this experience even more intimate.  
We shop for groceries, come over to cook in your kitchen, and clean up afterward.  
Our all-in-one service ensures that you and your significant other get a restaurant-like experience at a comparable price in the comfort of your home.  
Adding a nice bottle of wine and some romantic music to the mix makes the experience even more special.  
To help you set the right mood, here is a list of the top 10 songs considered all-time Valentine's Day classics.  
"Can't Help Falling in Love" by Elvis Presley 

 

"Love on Top" by Beyonce 

 

"I Will Always Love You" by Whitney Houston 

 

"I Want to Hold Your Hand" by The Beatles 

 

"Love Story" by Taylor Swift 

 

"All of Me" by John Legend 

 

"Can't Take My Eyes Off You" by Frankie Valli 

 

"I'm Yours" by Jason Mraz 

 

"Perfect" by Ed Sheeran 

 

"Love on the Brain" by Rihanna 

 
These songs are classics for different reasons, some for their romantic lyrics, others for their melody.  
But all of them are timeless and make for a playlist that sets the perfect mood for a Valentine's Day candlelit dinner at home.
A Spa Day at Home
A spa day at home allows you to relax and unwind in comfort, creating an intimate and memorable experience.  
You can create a spa-like atmosphere with candles, essential oils, and relaxing music. And book in-home services from a masseur, an Estheticians, a Nail Technicians, a Hair Technicians, or a Cupping Theraphist for that authentic spa-like experience.  
Even if this takes a bit of planning and preparation, your home's relaxing and rejuvenating atmosphere will be worth the effort on V-day.  
Set up the ambiance:

The ambiance is key for a spa-like experience, by dimming the lights and lighting candles, you create a relaxing and intimate atmosphere. You can also use essential oils like lavender, eucalyptus, or peppermint to create a soothing aroma.

 

Create a spa menu:

Order spa-like treatments, such as a facial, manicure, or masseuse. And prepare healthy spa-like snacks and drinks, like cucumber water or a green smoothie, for an even better experience.

 

Use comfortable linens and towels:

Make sure you have comfortable linens and fluffy towels to make the experience feel luxurious.

 

Set aside time for self-care:

Make sure you set aside enough time to relax and unwind without any interruptions. It's essential to take some time to focus on yourselves and your well-being.

 
The main goal of a spa experience is to promote relaxation, rejuvenation, and wellness. So, this is an intimate and memorable way to spend time together, focus on self-care, and pamper each other.
Try New Activities
A weekend staycation with a plan to try new activities together is a unique way to bond and create new memories. You can plan activities like trying out a new recipe, watching a movie you've been meaning to see, or taking a walk in the nearby park or trail.   
Here's a short list of ideas, brainstormed and ready to plan for some inspiration. 
Camping in the backyard:

Set up a tent and camp for a fun outdoor adventure. Make a fire, cook s'mores, and star gaze. Sound romantic?

 

Indoor rock climbing:

Indoor rock-climbing gyms offer a fun and challenging adventure experience.

 

Geocaching:

Go on a treasure hunt with a GPS device. It's fun to explore the outdoors and discover hidden gems in your area.

 

Virtual escape room:

Virtual escape rooms that you can play online are all the rage. It's a fun and challenging adventure experience.

 

Board game night with a twist:

Pick a board game and make it more challenging by adding a twist (like playing it in the dark, with special rules, or blindfolded); it's a fun way to spice up a board game night.

 
These suggestions allow you to spend quality time together and create new shared experiences.
Cooking Classes or Wine Tasting Session via Video Conference
A cooking class or wine-tasting session via video conference is a fun and interactive way to learn something new together from the comfort of your home.  
We've come up with a few options you can look at, but feel free to check in with your local community before you make up your mind.  
Cozymeal

: Cozymeal offers a wide variety of virtual cooking classes with professional chefs. You can find sessions on various cuisines, such as Italian, Mexican, and sushi, and on specific cooking techniques, like baking or grilling. 

 

Masterclass

: Masterclass offers a wide range of virtual cooking classes with some of the world's best chefs, including Gordon Ramsay, Alice Waters, and Dominique Ansel. 

 

Wine.com

: They offer virtual wine tastings with wine experts who guide you through a selection of wines and teach you about different regions, grape varieties, and winemaking techniques.  

 

Virtual Vineyards

: They offer virtual wine tastings and wine education classes where you can learn about wine regions, grape varieties, and wine styles of various global wines.  

 

Udemy

: Udemy offers a wide variety of online cooking and wine classes. You can find appreciation courses on cuisines, cooking techniques, and wine knowledge. Check it out here:

https://www.udemy.com/topic/wine/

 

 
These are just a few examples of the many options available online. This Valentine's Day idea can be an opportunity to bond and learn new skills together. Plus, you'll have a delicious meal or a great bottle of wine to enjoy.
A Romantic Hike or Walk
A romantic hike or walk in a nearby park or trail is a beautiful and intimate way to spend time together and enjoy nature.  
It can be a great way to bond and enjoy the outdoors—imagine a romantic moment set against the backdrop of vibrant natural scenery. Picturesque, right?  
A study by the University of Illinois found that couples who engage in physical activity together, such as hiking or walking, have stronger relationships. The study found that people who exercised together had better communication, higher levels of trust, and more satisfaction in their relationships.  
Hiking or walking together can help you get some exercise and enjoy nature, plus it can be a great bonding experience.  
Physical activity:

Hiking or walking is a great way to get some exercise and fresh air. A routine of being physically active together can improve your relationship and overall well-being. 

 

Quality time:

Hiking or walking allows you to spend quality time together, away from distractions and technology. It can be a great way to have meaningful conversations and strengthen your relationship. 

 

Nature:

Being in nature can have a calming and rejuvenating effect on the mind and body. Hiking or walking together allows you to enjoy the beauty of nature and disconnect from the stress of daily life. 

 

Shared experience

: Hiking or walking together allows you to create shared experiences and memories. It's something you can talk about and remember fondly in the future. 

 

Variety:

You can find a variety of trails, whether you want something easy or challenging, short or long, scenic or adventurous. Ask any hiker! There's always something to suit any preferences.
Game Night 
A game night with homemade snacks and desserts is a fun and interactive way to spend time together and create memories. You can even involve other couples if you think 'alone-time' for coupes on V-day is a clichéd affair.  
A game night can be a great way to relax and have fun while creating memories and inside jokes. Plus, homemade snacks and desserts can add a personal touch to the experience.  
Here are some game night ideas that are perfect for couples.  
Two Truths and a Lie:

Couples can dig up a modern take on this classic party game. Essentially, each person takes turns telling three statements about themselves, two of which are true, and one is a lie. Others must guess which of these is a lie.  

 

20 Questions:

Another classic; in this game, one person thinks of something, and the others have to ask 20 yes or no questions to figure out what it is.  

 

Never Have I Ever

: Drinking game warning! This game lets you learn more about each other. Each person takes turns saying something they've never done; if any other players have done it, they, you guessed it, take a drink.  

 

Pictionary:

This is a game for visual thinkers. One person draws a picture to describe an abstract thing that the others must guess, like an idiom, idea, or metaphor. It can be a fun and challenging way to spend time together.  

 

Truth or Dare:

A classic game, it can be adapted for couples. It's a fun way to learn more about each other and have some fun. And maybe even have a challenge. 

 

Charades:

We're sure you have heard of this game. Here one person acts out a word or phrase, and others must guess what it is. Sounds simple? It isn't! But it's great fun.
Breakfast in Bed
A surprise breakfast in bed with homemade pancakes or waffles is a sweet and intimate gesture that will start the day on a positive note. It's something your partner is sure to like.   
Here are five simple dish ideas for your breakfast-in-bed menu. There's a link to each dish's recipe too. Mix and match these to create the perfect breakfast for your significant other.  
Breakfast in bed is a classic romantic gesture, and when you make it yourself, it shows that you care enough to put in the effort to create a unique experience for your loved one.
Also Read: Aphrodisiac Recipes for Valentine's Day
Jewelry
Jewelry and watches are timeless gifts. A thoughtful jewelry or watch is a lasting and personal gift that will always remind your partner of your love and affection.   
Plus, you can choose something that suits their style and taste. Here are some tips to guide you when you are choosing jewelry.  
Tips for choosing male jewelry
Choose jewelry that resonates with his style. What does he usually wear? Is he into statement pieces, or does he prefer minimalist pieces? 

 

Pay attention to the metal color. Choose a metal color that complements his skin tone. 

 

Choose meaningful pieces. A piece with a special significance, such as a wedding band or a personal emblem, can be a great choice. 

 

Consider his passion. Any hobbies you can incorporate into the choice of jewelry will feel more personal, like a golfer's bracelet, a collector's edition watch, or a surfer's pendant.

Choose a piece that is durable and can withstand everyday wear and tear. 

 
Tips for choosing jewelry for her
Pay attention to her wardrobe. Please take note of the colors and styles she often wears and choose jewelry that complements her fashion choices. Choose pieces that she can wear with multiple outfits and for various occasions.

Look for sentimental value. Jewelry can hold sentimental value, such as a locket with a picture of a loved one or a piece commemorating a special moment or memory. 

 

Consider gemstones. Gemstones add color and can have personal significance, for example, a birthstone. 

 

Explore vintage or antique pieces. Vintage or antique jewelry can add character and history to any collection. 

 

Personalizing a piece with an engraving or unique design can make it a one-of-a-kind gift. 

 
Of course, asking for input from your partner is also a good idea. If you're not sure what they will like, ask.
Online Subscription
A streaming service or online class subscription is a lasting gift that allows your partner to enjoy their interests or hobbies.   
Whether they are into music, movies, or learning new skills, a subscription will give them access to a wide range of content and activities they can enjoy at their own pace.  
Besides choosing a gift that matches their interest, here are some tips to keep in mind while selecting an online subscription.  
Look for unique options

: Explore new and novel subscriptions they may not have tried before. 

 
Device compatibility

: Make sure the subscription works with their device and in their location. 

 
Check for recurring costs

: Consider the subscription cost and if there are any additional or recurring fees. 

 
Read reviews

: Read reviews and testimonials from others to gauge the quality and popularity of the subscription you are considering.
DIY Gifts
A homemade gift such as a scrapbook or photo album shows thought, effort, and creativity in expressing your love.  
Homemade gifts are always more meaningful as they show that you took the time to create something special for your loved one. Plus, it can be a great way to relive special moments together. 
Here are some ideas for DIY gifts. 
Handmade Card:

Create a unique and personalized card using handmade paper, photos, and heartfelt messages.

 

Coupon Book:

Design a book of coupons for things like a massage, breakfast in bed, or a movie night that your partner can 'redeem' on demand.

 

Scrapbook:

Assemble a scrapbook filled with mementos, photos, and notes from your relationship.

 

Aromatherapy Candles:

Make handmade scented candles for a relaxing and intimate atmosphere.

 

Handmade Jewelry:

Create custom jewelry using materials like beads, wire, and charms.

 
These ideas for homemade DIY sound silly, right? Well, maybe a little. Try buying something on this list and personalize it yourself. Better, right?
These are just some of the ideas you can go in for, and there are many. What's important is that a personalized gift is a lasting symbol of your love and appreciation. One-of-a-kind gifts are memorable and meaningful.  
True that a bouquet or chocolates are tried and tested gifts. However, they are fleeting, if sweet, gestures. They can feel impersonal and lack the emotional connection that comes with a unique, personalized present.