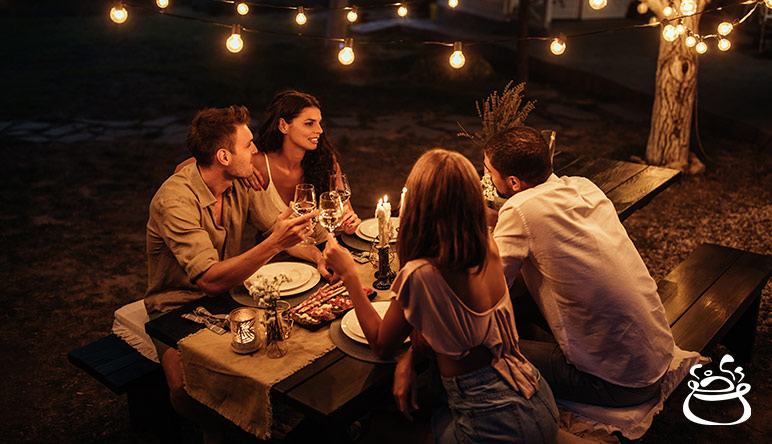 Thanksgiving, a time-honored holiday steeped in tradition, revolves around gratitude, togetherness, and delicious feasts. In the heart of the Midwest, Cincinnati stands as a vibrant city that embraces the spirit of Thanksgiving with open arms. With its rich history, friendly locals, and a plethora of attractions, Queen City offers a cornucopia of exciting activities to enjoy with friends during this special season. From exploring the beautiful outdoors to indulging in mouthwatering food, embracing the holiday spirit, and engaging in cultural experiences, Cincinnati has something for everyone, ensuring your Thanksgiving with friends is truly unforgettable.
Explore the Beautiful Outdoors
Nestled along the picturesque Ohio River, Cincinnati boasts a variety of scenic parks and nature reserves that beckon friends to celebrate Thanksgiving amid nature's splendor. One such gem is Eden Park, where lush gardens, tranquil lakes, and panoramic views of the river and city skyline create a serene setting for a leisurely Thanksgiving day. Take a stroll through the blooming Krohn Conservatory or hike the picturesque trails that wind through the park, allowing you to soak in the autumnal beauty with your closest companions.
For those seeking a more active Thanksgiving, consider participating in a Thanksgiving-themed walk or run. Several charitable organizations in Cincinnati organize turkey trots and fun runs, encouraging friends to lace up their sneakers and hit the pavement. Besides staying fit, these events also raise funds for various causes, giving you and your friends a chance to give back to the community while enjoying each other's company.
Foodie Adventures
Thanksgiving is the quintessential time for indulging in delicious food, and what better way to celebrate with friends than hosting a Friendsgiving potluck? Invite your pals to contribute their favorite dishes, and let the culinary adventure begin! From classic roasted turkey and savory stuffing to mouthwatering pumpkin pies and unique Cincinnati chili variations, your Friendsgiving feast is bound to be a gastronomic delight.
If the idea of cooking doesn't appeal to you or your friends, fret not! Cincinnati's vibrant dining scene has got you covered. Some restaurants in the city remain open on Thanksgiving, offering mouthwatering Thanksgiving specials that showcase the best of local and seasonal ingredients. Share laughter and create lasting memories over a delectable Thanksgiving dinner in Cincinnati, spending quality time together.
Embrace the Holiday Spirit
During Thanksgiving, the holiday spirit permeates Cincinnati, and the city comes alive with festive parades and markets. Gather your friends and head downtown to witness the annual Thanksgiving Day parade. Floats adorned with colorful decorations, marching bands, and spirited performances fill the streets with joy and excitement, setting the perfect tone for a day of celebration.
Explore the local markets and craft fairs scattered across the city for a dose of holiday shopping and seasonal cheer. Find unique handcrafted gifts and decor while enjoying flavorful beverages and seasonal treats. Supporting local artisans and businesses during this time of year adds an extra layer of warmth and goodwill to your Thanksgiving celebration.
Fun and Games
After the sumptuous feast, keep the fun going with a board game night! Cincinnati has several board game cafés, providing a vast collection of games suitable for all ages and interests. From classic favorites like Monopoly and Scrabble to modern strategy games and cooperative adventures, there's a board game to suit every group dynamic. Engage in friendly competition, strategize together, and revel in the joy of friendly banter, as board games have a unique way of bringing friends closer.
In this digital age, physical distance need not hinder your holiday celebrations. Consider organizing a virtual game night where friends can connect online and play multiplayer video games or engaging virtual board games. Platforms like Tabletop Simulator and Jackbox Party Pack offer a myriad of options for online play, ensuring that even friends who can't be physically present can still participate in the holiday fun.
Volunteer and Give Back
Thanksgiving embodies the spirit of giving, and what better way to celebrate with friends than by giving back to the community? Cincinnati has numerous charitable organizations and shelters that organize special Thanksgiving events, providing meals and support to those in need. Gather your friends and volunteer together at one of these events. Lending a helping hand and sharing the joy of the season with those less fortunate will undoubtedly leave a lasting impact on both you and your friends.
Explore Local Culture
Cincinnati's cultural scene thrives during Thanksgiving, offering a diverse range of museums, art galleries, and live performances for friends to explore together. Immerse yourselves in history and art at the Cincinnati Art Museum, which houses an impressive collection of artworks spanning centuries and continents. Discover the city's industrial heritage at the Cincinnati Museum Center at Union Terminal, where interactive exhibits and educational displays captivate visitors of all ages.
For friends with a penchant for live entertainment, Cincinnati's theaters and concert halls showcase a vibrant arts community. Check out local theaters for Thanksgiving-themed plays or enjoy a classical concert at the Cincinnati Symphony Orchestra. The city's thriving arts scene promises an enriching experience for you and your friends as you share in the wonder and beauty of human creativity.
Movie Marathon
As the evening sets in, gather with your friends for a cozy Thanksgiving-themed movie marathon. Create a warm, inviting atmosphere with soft blankets, fluffy pillows, and ambient lighting. Select a lineup of heartwarming films that capture the essence of Thanksgiving, ranging from classic favorites like "Planes, Trains, and Automobiles" and "A Charlie Brown Thanksgiving" to newer releases that celebrate the holiday spirit.
Make the movie marathon even more special by preparing some delicious movie snacks, such as caramel popcorn, warm apple cider, and seasonal desserts. As the films roll and the laughter fills the room, you'll find yourselves cherishing the simple pleasures of friendship and shared experiences.
Outdoor Adventures
For nature enthusiasts and adventure seekers, Cincinnati offers many outdoor activities that allow you and your friends to celebrate Thanksgiving in the lap of nature. Lace up your hiking boots and head to nearby nature preserves and state parks, where vibrant fall foliage creates a stunning backdrop for your Thanksgiving explorations. Devou Park, Mt. Airy Forest, and Ault Park are just a few outdoor havens in and around the city.
For an adrenaline-pumping experience, consider visiting an adventure park or trying zip-lining. These thrilling activities are great fun and provide a unique opportunity to bond with friends as you navigate treetop obstacles and zip through the skies. The shared thrill of conquering challenges together will undoubtedly create lasting memories of your Thanksgiving adventure.
Enjoy Home-Cooked Meals on Thanksgiving with CookinGenie
Treat yourself and your loved ones to an exceptional Thanksgiving dinner in Cincinnati with CookinGenie. This innovative online platform brings the joy of home-cooked meals right to your doorstep in Cincinnati. Say goodbye to the stress of planning, shopping, and cooking, as CookinGenie connects you with talented chefs who will take care of everything for you. From crafting a delectable menu tailored to your preferences to handling grocery shopping and meticulous meal preparation, these skilled chefs ensure a hassle-free and delightful dining experience. Gather your friends and family around the table as the aroma of a sumptuous Thanksgiving feast fills the air, and relish in the joy of spending quality time together without the burden of kitchen duties.
Consider hiring a personal chef online from CookinGenie to make this Thanksgiving memorable. Enjoy heartwarming moments, delicious cuisine, and create cherished memories that will last for years to come.
Conclusion
As Thanksgiving dawns upon Cincinnati, the city transforms into a haven of gratitude and celebration, with friends coming together to cherish each other's company. Whether you choose to explore the scenic outdoors, indulge in a culinary extravaganza, embrace the holiday spirit through parades and markets, enjoy games and entertainment, give back to the community, explore the city's cultural riches, partake in a cozy movie marathon, or embark on outdoor adventures, the warmth of friendship and togetherness will illuminate every experience.
Amid the joyous laughter, heartwarming conversations, and shared memories, Cincinnati serves as the perfect backdrop for a Thanksgiving celebration that will linger in your hearts long after the holiday season. As you bid farewell to another year of gratitude and celebration, take a moment to reflect on the cherished moments and the bonds strengthened with your friends.
In Cincinnati, Thanksgiving is not merely a holiday; it's an experience that enriches your life.