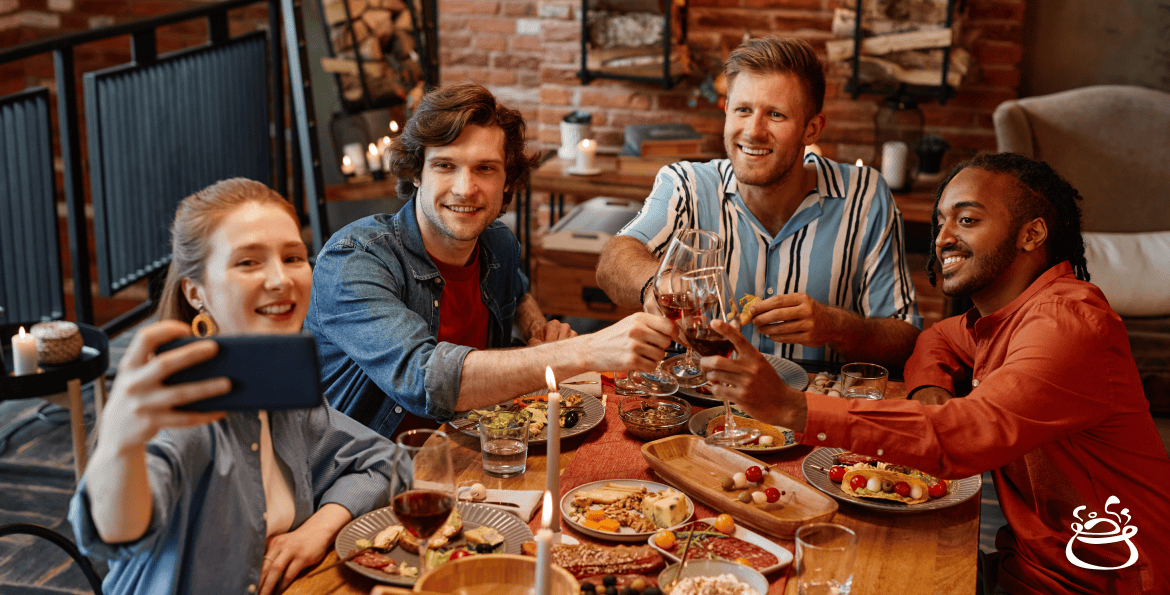 As a conscientious eater, it may be challenging to find appetizers that are both vegetarian-friendly and flavorful. But there is an abundance of delicious options that don't require you to compromise on flavor or ethics. To help you search for the perfect vegetarian appetizer, we've compiled an overview of some of the tastiest recipes available. Whether you are hosting a dinner party or just looking to satisfy your culinary cravings, this blog post offers much-needed inspiration and direction. 
Benefits of Serving Vegetarian Appetizers
Serving vegetarian appetizers is an excellent way to offer something delicious, nutritious, and ethical. Vegetarian appetizers provide many benefits, such as they are low in fat and calories, full of vital nutrients, often simple to make, and usually much more affordable than meat-based dishes. Additionally, satisfying your guests' dietary needs ensures that everyone can enjoy the same meal and no one will feel left out. Offering a variety of colorful veggies like mushrooms, tomatoes, bell peppers, onions, and squash gives your appetizers an attractive presentation. Furthermore, substituting frequently used ingredients with their vegan alternatives lets you try out interesting new recipes that everyone will find enjoyable. Overall, serving vegetarian appetizers offers several advantages that guarantee delightful and healthy bites for all your guests.
List of Vegetarian Appetizer Ideas
Vegetarian appetizers are an excellent addition to any party or gathering, as they are a great way to please a variety of guests with different dietary requirements. Not only do vegetarian appetizers offer an array of delicious flavors, but they also provide a healthy and nutritious alternative to more traditional finger foods. Whether you're looking for something light and refreshing, like hummus on endive leaves, or something heartier, like falafel bites with tzatziki sauce, there is sure to be a vegetarian appetizer that adds a perfect touch of flavor and style to your next hosting experience. With the vast selection of vegan ingredients now available in grocery stores and online outlets, it's easy to create delectable dishes that everyone will enjoy. Here are some of the top appetizer ideas to serve on your vegetarian evening. 
Homemade Spinach Artichoke Dip
Homemade Spinach Artichoke Dip is the perfect recipe for a vegetarian dinner starter. It's packed with flavor and savory richness and could not be made easier. To make this delicious dip: 
Gather spinach, artichoke hearts, cream cheese, sour cream, grated Parmesan cheese, and minced garlic.

 

In a large bowl, combine the cream cheese, sour cream, and Parmesan until smooth.

 

Add the minced garlic, spinach, and artichoke hearts until everything blends well.

 

Preheat your oven to 375 degrees Fahrenheit.

 

Spread the dip into an oven-safe dish, cover it with foil and bake for 30 minutes.

 
Before serving, remove the foil, sprinkle additional Parmesan on top of the dip, and broil it in your oven for two to three minutes or until golden brown. Serve hot with crackers or cut vegetables; your guests will love it.
Stuffed Mushrooms with Cream Cheese and Herbs
Stuffed Mushrooms with Cream Cheese and Herbs is an easy yet flavorful vegetarian starter that will wow your dinner party guests. To make this delicious appetizer: 
Preheat the oven to 375°F/190°C and gather a dozen large mushrooms. 

 

Remove the stems from each mushroom and set them aside. 

 

In a food processor, combine the mushroom stems with two tablespoons of olive oil, one minced garlic clove, two tablespoons minced shallot, ¼ cup parsley leaves, and three tablespoons cream cheese. 

 

Pulse it until the ingredients are finely chopped, and then fill each mushroom cavity with the stuffing. 

 

Place the stuffed mushrooms on a baking sheet and sprinkle each with ½ teaspoon parmesan cheese before baking them for 15 minutes until lightly golden brown.

Serve these Stuffed Mushrooms with Cream Cheese and Herbs hot directly out of the oven for maximum flavor.
Roasted Red Pepper and Feta Cheese Crostini
For this unique and delicious starter, you'll need the following ingredients: a few slices of your favorite baguette, a third of a cup of feta cheese crumbles, two red bell peppers, two tablespoons of olive oil, half a teaspoon each of chopped rosemary and oregano leaves, freshly ground pepper to taste, and salt to taste. To begin:  
Preheat your oven to 400 degrees Fahrenheit. 

 

Cut the bell peppers into 1-inch squares and spread them on a baking sheet. 

 

Drizzle with olive oil and season with herbs and freshly ground pepper. 

 

Roast for about 20 minutes until softened. Once cooked, turn off the heat and let cool for five minutes. 

 

Meanwhile, cut the baguette slices in half lengthwise and arrange them on another baking sheet lined with parchment paper. 

 

Toast in the still-warmed oven until lightly browned around the edges, 5-7 minutes. 

 

When finished, remove from oven, and top each crostini slice with one bell pepper square and some feta cheese crumbles before serving.
Baked Zucchini Chips with Garlic Aioli Sauce
If you're looking for a savory and delicious vegetarian starter to kick off your dinner party, consider making Baked Zucchini Chips with Garlic Aioli Sauce. To make this dish: 
Firstly, prepare the Garlic Aioli Sauce, which requires you to combine mayonnaise, lemon juice, garlic powder, onion powder, salt, and pepper in a bowl. 

 

Then move on to prepping the zucchini chips. Cut two small-medium-sized zucchinis into thin slices (preferably no thicker than 1/4 inch). Place these slices in a large bowl and season them with olive oil and garlic powder. 

 

Finally, layer the zucchini slices in one single layer on a greased baking tray and bake them between 20-25 minutes at 375 degrees Fahrenheit until they become lightly browned and crispy. 

 

Serve these delicious chips alongside the Garlic Aioli sauce, and watch your guests enjoy this classic vegetarian starter. Enjoy!
Grilled Eggplant Bruschetta
Grilled Eggplant Bruschetta is a delicious and visually appealing vegetarian dinner party starter that's sure to wow your guests.  
Start with one large eggplant, cut into 1/4-inch-thick slices. 

 

Season the slices with olive oil, balsamic vinegar, salt, and freshly ground black pepper. 

 

Grill the eggplant slices on medium heat for 8-10 minutes, flipping them halfway through. 

 

While the slices are cooking, mix an olive tapenade of olives, cherry tomatoes, garlic cloves, capers, parsley, and oregano in a food processor.

 

Toast some baguette slices or ciabatta pieces until golden brown on both sides. 

 

Place the grilled eggplant onto the toasted bread pieces and top each slice with the olive tapenade mixture. 

 

Finally, add crumbled feta cheese or shaved Parmesan salt for added flavor and texture. 

 

Serve Grilled Eggplant Bruschetta as a unique vegetarian dish to kick off your dinner party.
Deep-Fried Sweet Potato Chips with Creamy Garlic Dip
For a delicious vegetarian starter to any dinner party, this deep-fried sweet potato chips recipe with creamy garlic dip is sure to impress.  
Start by peeling and slicing four large, sweet potatoes into chips. 

 

Place them in a large bowl and toss them with 3 Tablespoons of vegetable oil before seasoning them with one teaspoon of smoked paprika, one teaspoon of garlic powder, and a fresh cracked black pepper.

 

Next, in a separate small bowl, mix 1/4 cup mayonnaise, 2 Tablespoons Greek yogurt, 1/2 teaspoon minced garlic, one tablespoon freshly chopped chives, a pinch of sea salt, and freshly ground black pepper until everything is well combined. 

 

Heat enough vegetable oil in a medium pot over medium heat so it reaches halfway up the chips when placed into the pot. 

 

To make the chips crispy, fry batches until golden brown, then drain on kitchen tissue paper before serving with the creamy garlic dip.
Prosciutto-Style Watermelon Slices
Adding a creative and tasty starter to a vegetarian dinner can be challenging, but Prosciutto-Style Watermelon Slices might be just the trick. To start: 
Get 1/4 of a seedless watermelon and cut it into 36 slices with a thickness between 1/4 to 1/2 inch. 

 

Then take 12 slices that match in size for the prosciutto-style presentation. 

 

Place two tablespoons of extra virgin olive oil in a shallow bowl, combine with two teaspoons of smoked paprika and marinate each of the 12 watermelon slices. 

 

Finally, spread two teaspoons of creamy goat cheese onto each slice before plating them in a beautiful wheel formation on the plate or cutting board. 

 

This dish will impress any vegetarian guests and leave them wanting more.
Portobello Fajitas Packed with Peppers and Onions
If you're looking for a vegetarian dinner party starter that will wow your guests, look no further than my Portobello Fajitas Packed with Peppers and Onions. This savory dish is sure to satisfy all palettes.  
Start with 6 Portobello mushrooms, cut into thin slices, and mix with one onion (also sliced), two bell peppers (varieties of your choice), and two cloves of minced garlic. 

 

Add a few tablespoons of olive oil to a large non-stick skillet and heat over medium-high flame. 

 

Once the oil begins to shimmer, add the mushroom mixture, and cook until the vegetables soften. 

 

Take off the heat and season with a pinch of salt and pepper; serve on warm tortillas for an extra fresh flavor. 

 

If you want an extra kick, you can top it off with a sprinkle of cayenne pepper or some smashed avocado slices for added richness. Enjoy this delicious appetizer.
Roasted Eggplant Crostini Topped with Pesto and Ricotta
This simple but stunning recipe is the perfect starter for your next vegetarian dinner party. Start by preheating your oven to 400 degrees Fahrenheit and gathering the ingredients: one whole eggplant, freshly ground salt, and pepper, 1/4 cup olive oil, one baguette of French bread or Italian bread, pesto sauce (homemade or store-bought), ricotta cheese (whole-milk ricotta is best), and freshly grated Parmesan cheese. To assemble the crostini:  
Slice the eggplant into thin rounds, brushing each side with olive oil, and seasoning with salt and pepper. 

 

Place on a baking sheet lined with parchment paper and bake in preheated oven for 15 minutes on each side until crispy and golden. 

 

Cut up the bread into slices about an inch thick, and top each slice with a dollop of pesto, ricotta cheese, one eggplant round, and a sprinkle of Parmesan cheese. 

 

Enjoy these delicious little bites that are sure to wow your guests.
Yogurt Dip Topped with Tomatoes, Cucumbers, and Feta Cheese
Serving a delicious dip for your vegetarian friends and family has never been easier. To make Yogurt Dip Topped with Tomatoes, Cucumbers, and Feta Cheese:
Whisk together a cup of Greek yogurt, two tablespoons of olive oil, some freshly chopped herbs like oregano and thyme, garlic powder, salt, and pepper to taste. 

 

Spread the yogurt dip on a plate or shallow bowl. 

 

Top it with finely chopped tomatoes, cucumber slices, and crumbled feta cheese. 

 

Serve with bruschetta, crackers, or pita bread for a fantastic starter to your dinner party. 

 

This tasty dish goes incredibly well with chilled white wine or fruity cocktails.
Tips for Making Creative Appetizers
With the rise in popularity of entertaining at home, creating delicious and visually engaging appetizers is simply a way of life. As a host, you want to offer your guests something special and unique, which can be daunting for even the most experienced home chef. Fortunately, following some tips for making creative appetizers can make this task more accessible and enjoyable. Sourcing quality ingredients and receptively plating are two essential components when preparing these eats. Additionally, adding bold flavors can take an ordinary bite-size dish to extraordinary heights. Creative appetizers done well will leave a lasting impression on your guests and make any gathering genuinely memorable.
How to Substitute Ingredients for Healthier Options?
While cooking and baking, it is possible to switch out traditional ingredients with healthier alternatives while still making a delicious recipe. For example,  
Substitute vegetable oil with coconut oil.

 

Replace white flour with whole wheat or spelt flour.

 

Cane sugar could be swapped for coconut sugar when looking for a sweetener,

 

Use Greek yogurt instead of sour cream or heavy cream without losing flavor – make sure to use plain yogurt, as flavored varieties contain added sugars. 

 
By making these simple adjustments, you can easily make your favorite recipes more nutritious with little effort.
Ideas for Adding Bold Flavors to Vegetarian Appetizers
Taking on a vegetarian lifestyle can be daunting when creating appetizers packed with bold flavors. Creating unique and tasty options doesn't need to be difficult, though.  
Think beyond simple lettuce wraps

 

Add layer upon layer of flavor by combining produce, grains, legumes, and herbs, then topping your favorite combination off with a delicious homemade dressing or dip. To start:

 

Chop colorful vegetables like bell pepper and cucumber to give texture and crunch. 

 

Add black beans for protein and earthiness or wild mushrooms for a rich, umami flavor. 

 

For brief cooking time-savers, pick some grilled zucchini or mini eggplants from the grocery store's salad bar. 

 

Finally, finish the dish with savory dressings such as creamy cilantro yogurt or smoky tomato sesame oil – each offering its unique flavor burst that carries through every delicious bite.
How to Make Appetizers Quickly and Easily?
Appetizers are a wonderful way to start a meal, and it doesn't have to be challenging to make them quickly and easily. Through clever planning, your favorite appetizers can be on the table in no time.  
Start by preparing ingredients beforehand- wash the vegetables, chop any ingredients such as nuts or meats, and measure out seasonings so they can be quickly mixed when you come to cooking. 

 

Arrange chilled drinks like juice or flavored waters ahead, adding another dimension to the menu. 

 

Use simple recipes like bruschetta for easy-to-assemble dishes that still look amazing. 

 

The layering of flavors is an integral part of making an appetizer tasty – combining different vegetables and herbs will deliver a greater depth of flavor than individual ingredients alone. 

 

Lastly, a good presentation goes hand-in-hand with appetizers, so adding a garnish or interesting shapes will complete the dish. With these tips in mind, you can make delicious appetizers quickly and easily between friends or family.
Summary
Creative vegetarian appetizers can be the key to making your next event or gathering memorable. Not only are vegetarian appetizers healthy and delicious, but they also offer the opportunity to get creative with ingredients and flavors that will tantalize everyone's taste buds. With endless possibilities for preparing vegetarian fare – from diced vegetables marinated in flavorful dressings to savory crostini topped with a variety of artfully-crafted spreads – the appetizers are sure to be an exciting highlight for all your attendees. Experimenting with different combinations of vegetables, herbs, spices, and other fresh ingredients can open up innovative ideas for tasty, economical, and vegan recipes.